Are you welcoming a new female dog into your life? Are you looking for cute girl dog names to choose from? Perhaps you'd like to have your imagination stoked by thumbing through some unique female dog names! Whether you're about to bring home a new puppy, or adopting a grown dog who needs a fresh start, when it comes to naming the newest member of your family, there is a universe of choices out there.
We're here to give you a number of exciting options that you might not have considered.
Awesome dog names are everywhere to be found. Think through your favorite books, pop stars, movies, or television shows and write out a list of the ones that stand out to you. Some folks will name their dogs as soon they encounter them. Going on instinct often yields good girl dog names that stick in our minds and in our hearts forever. For those of you who struggle to find just the right name before settling on one, let me reassure you, the right name can come from the most unlikely sources.
Awesome dog names I have known
My own history with girl dog names has been a bit haphazard. I've had two of the most wonderful female dogs in my life. One was named after a cartoon, the other after a llama, and both names worked out marvelously. I got my first dog in elementary school and named her Violet. The name came from a character in a cartoon I watched as a child, called Pound Puppies, based on a stuffed-animal line that was all the rage in my youth.
Who knows how many popular dog names are drawn from our childhood experiences? When I saw the dog for the first time, the name just seemed to fit! Violet the dog far outlived Violet the cartoon character, and she was a huge part of my life until she passed away when I was in college.
My family named the dog I have now. If you think about cool dog names, "Tina" probably isn't the first one that pops to mind, but I assure you, Tina is one of the coolest dogs I've ever had the joy of knowing. Cute puppy names can grow on you over time, as your dog begins to inhabit the name, until you can't think of her as possibly having any other.
So where did "Tina" come from? My parents are huge fans of Napoleon Dynamite and loved the pet llama in the movie, whose name was Tina. They thought it was a good name, and it stuck.
So my girl dog names have both been drawn from cartoons and movies. When it comes to sources for cute puppy names, I've been lucky that two relatively unlikely characters provided inspiration at key moments. Sometimes people will choose names based on what they mean; I've found that the meaning of names comes from the feelings you develop for a dog over the course of your lives and adventures together.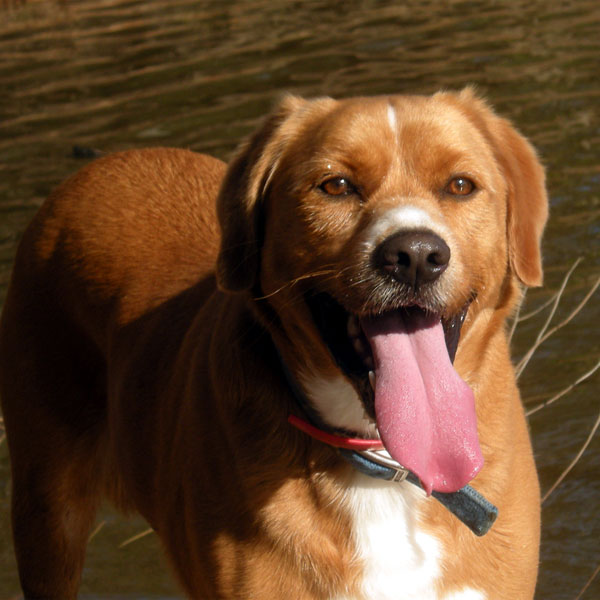 Cute girl dog names
That's enough about my dog names. You want cute girl dog names for your new dogs! I have loads of them for you! Try saying some of these aloud and see whether they appeal to you as possible names for your new companion:
Ace, Ada, Abbey, Adele, Alexis, Alice, Bella, Bunny, Buttercup, Charley, Clara, Dorothy, Dottie, Emma, Gracie, Hanna, Heather, Juliet, Kibbles, Kiki, Laurel, Libby, Lucie, Maddie, Martha, Molly, Olivia, Penny, Peri, Polly, River, Rose, Sarah Jane, Sally, Sam, Sandy, Sophia, Trixie, Sybil, Victoria, and Zoe.
Unique female dog names
Maybe you're looking for something more interesting, something with a pleasing cadence. A selection of unique girl dog names to ponder might help you decide. Well, I've got plenty of those as well! You are certain to find one among these wonderful and unusual dog names that will work for your new pet. At the very least, they will offer you a host of fresh ideas:
Adeola, Anji, Athena, Beulah, Cass, Daria, Dodo, Effie, Elinor, Elora, Eloise, Evelina, Flip, Galadriel, Hetty, Idris, Inara, Izzy, Lakshmi, Lara, Leela, Merivel, Naomi, Nubbles, Nyssa, Reinette, Rochelle, Romana, Romola, Rosamund, Ryoko, Scully, Suranne, Tegan, Topper, Washu, and Zelda.
Not a dull one in the lot!
Share your favorites!
What do you think? Do you have more ideas? What's the strangest dog name you know? We want to hear the stories of your favorite girl dog names! Where did they come from? Did you name your dog after a musician, a character in a book, or someone in a TV show or movie? Do girl dog names just come to you in a moment of inspiration or do you plan ahead and make lists? Share the names of your dogs, or names you're considering, in the comments!
Learn more about dogs with Dogster: