He's been called the clown in the cloak of a philosopher. Behind that serious mug lurks (or frolics) a comedian who specializes in catching you so off guard you can't stop laughing. His distant ancestors had a serious job — but for most of his existence, the French Bulldog's job has been to love and entertain. And he's very good at his job.
In the mid-19th century, many English workers emigrated to France, bringing with them their dogs, including undersized "toy" Bulldogs. The dogs — especially those with prick ears — became popular with Parisian women, and especially with the street walkers. By the late 19th century, French ladies also became enamored of the breed.
Back in England, traditional Bulldog breeders were only too happy to part with any of their dogs that were small or had what they considered undesirable prick ears — as long as the price was right. But they also didn't want the new dogs associated with their traditional dogs. The dogs became known as Bouledogue Français — French Bulldogs.
The little dogs became a hit in America, where they were so expensive only the richest could afford them. With backers like the Rockefellers and the J.P. Morgans petitioning the AKC to recognize the breed, the French Bulldog received full breed recognition in near record time, in 1898.
By 1913, French Bulldogs were among the most popular show dogs in America.
In recent years, the Frenchie has experienced another upsurge in popularity.
The term for the Frenchie's ear shape is "bat-ear."
Frenchies are a brachycephalic breed (the fancy term for short-nosed). Because they lack cooling areas in their mouths and noses, and have a large body mass compared to surface area, Frenchies overheat easily.
Frenchies tend to snore. In some the soft palate is too long and interferes with breathing, so surgery may be needed to correct it. Snoring may be common, but it is not normal and should be checked by a veterinarian, especially if the dog seems to have a hard time breathing, or gags up froth. Also check that the nostrils are fully open and not squeezed together.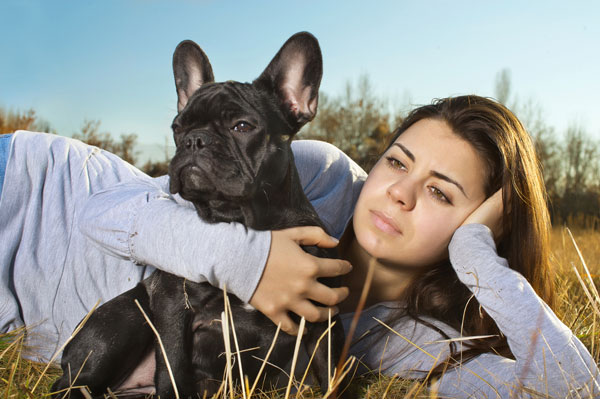 Frenchies can empty a room with their ability to pass gas!
Frenchies come in several colors, including brindle, fawn, white, and brindle and white; but should not be solid black, liver, black and tan, black and white, or white with black. But look closely: some brindles are so dark they appear black!
Most Frenchies swim about as well as a brick.
Proper grooming entails wiping any skin folds clean a dry every day.
Owners include Martha Stewart, Leonardo DiCaprio, Reese Witherspoon, Yves Saint Laurent, Michelle Trachtenberg, Hugh Jackman, Nathan Lane, Jason Priestley and the Grand Duchess Tatiana of Russia.
The French Bulldog is in the AKC Non-Sporting group.
Only one Frenchie has won the group at the Westminster dog show, and none has ever won Best in Show — yet.
The Frenchie is currently the 14th most popular AKC breed — up from 58th a decade ago!
Do you own a French Bulldog? Have you spent time with one? Let's hear what you think about this fascinating breed in the comments! And if you have a favorite breed you'd like us to write about, let us know that, too!
About the author: Caroline Coile is the author of 34 dog books, including the top-selling Barron's Encyclopedia of Dog Breeds. She has written for various publications and is currently a columnist for AKC Family Dog. She shares her home with three naughty Salukis and one Jack Russell Terrier.
Read more on Dogster about French Bulldogs: