Living on your own can be lonely at times. If you live alone and you are a senior citizen with no friends nearby, that loneliness and sense of isolation can be crippling. But thanks to the dynamic duo of Dulcie and Diego in Point Pleasant, New Jersey, seniors can now have more fulfilled, happy lives.
The dogs and their owner, Charlotte Aylor-Diaz, are part of the Caregiver Canines — Visiting Therapy Dog Program of Caregiver Volunteers of Central New Jersey, a group Charlotte helped establish with founder and director Lynette Whiteman in 2009. Dulcie and Diego were the first Caregiver Canine volunteers and currently visit Addie, a 96-year-old woman in the neighborhood who began getting visits in 2013.
"It's been such a blessing to me as well," said Charlotte, a 30-year pet therapy veteran who is currently on her third set of therapy dog duos. All of her dogs have been rescues, most of which were rescued from shelters as adult dogs. "You really develop a relationship in that environment."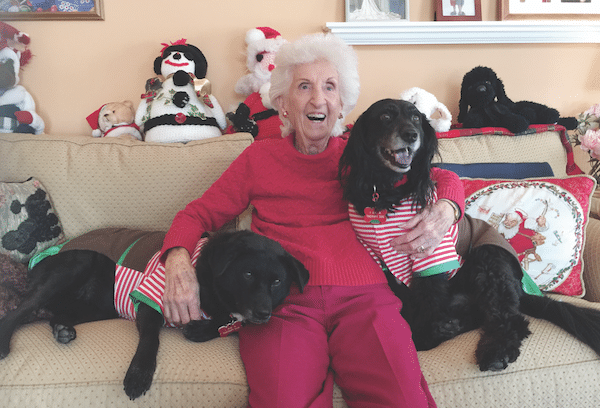 Most of the time, Addie enjoys the companionship of the dogs and the conversation and occasional household chore assistance of Charlotte.
"I find this the most important kind of pet therapy," she said.
Dulcie and Diego are not specialty-bred therapy dogs. This team came from some difficult beginnings. More than 11 years ago, Charlotte found a then- 4-year-old Chow/Border Collie mix in the Burlington County Animal Shelter. The day before, she had lost her beloved therapy dog to cancer and immediately knew she had to save another dog in that pup's honor.
"When I saw Dulcie, she was a miniature version of [my former dog] Layla," Charlotte said.
Officials rescued Dulcie from a hoarder situation where she lived with nearly 40 other dogs crammed into a dark, dank basement. She had never even seen the outside world. And she was pregnant, suffering from advanced heartworm. Charlotte knew she could help. While the pups could not be saved due to Dulcie's illness, she was. Months of medications and care breathed life back into this shy pup, and she blossomed.
For the past 10 years, Dulcie and her quiet, timid, sweet confidence have graced many facilities in her pet therapy work of all kinds. She forms a special bond with Alzheimer's patients, Charlotte said. She puts her big head in their laps, closes her eyes, and lets them pet her while they tell stories over and over again. She seems to have an innate ability to calm these folks when they get agitated, Charlotte said.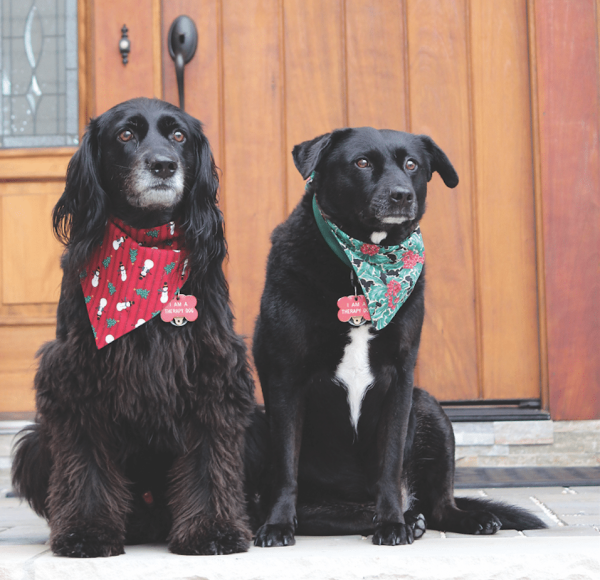 Diego, now nearly 9, is the anytime/anywhere therapy dog. This Cocker Spaniel/Coonhound mix is a natural in just about any therapy situation he's placed. But he, too, had a rough start in life. When he was 6 months old, Diego found himself homeless in a highkill Alabama shelter. Charlotte once again was looking to honor another dog who had passed away by adopting again, and she found Diego on Petfinder.
Yet once he was adopted, it was discovered Diego had a terrible cough and an enormous mass in his lungs. Pneumonia? Possibly. Cancer? Maybe. Vets treated the infection and hoped for the best. Diego seemed to improve but not completely. After nearly 18 months of this, Charlotte demanded a CT scan of Diego — only to learn the dog had no diaphragm. His lung mass wasn't a tumor — it was his liver and intestines encroaching into his lung cavity.
After a five-figure surgery and massive recuperation time, Diego emerged a healthy, happy dog. But all of those months being an invalid taught him to be calm, gentle, an observer. This solidified his track as a therapy dog, Charlotte said.
Diego and Dulcie became natural fits for at-home pet therapy visits. Charlotte, too, blossomed under this branch of therapy work.
"Once I started doing it, I realized these people are so grateful," she said. "They are so lonely. The need is so much more. They ask for so little. They are so grateful for the time you spend."
Addie never, ever fails to show her gratitude.
"She has to feed the dogs — a whole sleeve of Saltine (crackers)," Charlotte said. "We just can't leave until the whole sleeve is gone. She feels she wants to give something back to the dogs."