The holiday season is in full swing, and these days that means there are new tech toys and games for you and your favorite pups to check out. Whether dog-themed downloadable apps for fun and research or new electronic devices to help improve the quality of play sessions, here are 11 digital diversions — both long-loved favorites and new-to-the-market items — to give as gifts or keep for yourself.
Do you dream of a cable TV station created especially for canine viewers? Well, Dog TV is just that, offering what is billed as "thought-provoking content" for the modern dog. This would make an excellent gift for yourself and the pups in your home.
$6.99 and up at DogTV.com; the channel also airs on DIRECTV
2. PAW Patrol Rescue Run
Run and jump along with the Paw Patrol team of super pups in this cartoonish game based on the Nickelodeon franchise.
$3.99 at iTunes and Google Play
3. Kinectimals Unleashed
Take control of one of 85 four-legged furries and explore the canine isle of Villeria in this expansive sandbox game.
Free (with in-app purchases) at iTunes and Windows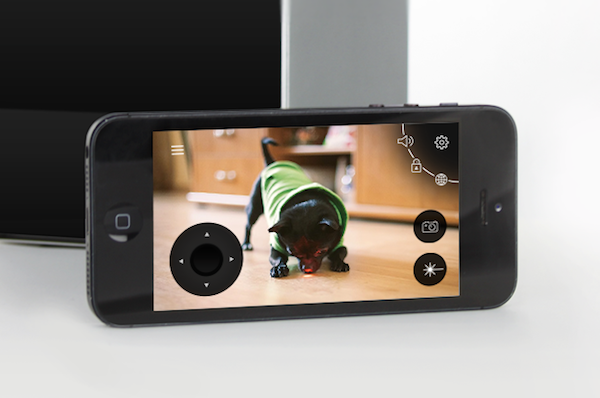 The PetCube Camera box offers a fresh twist on the world of Wi-Fi-enabled dog cameras by allowing you to engage in exercise sessions with your pet. Wondering how it works? Simple, you download the app on your phone and control a laser pointer that your dog can chase!
$199 at PetCube
5. Pet Vet Doctor – DOGS Rescue
Fulfill your secret desire to become a master of the veterinarian sciences in this canine-centric medical simulation game.
Free (with in-app purchases) at the App Store and Google Play
Thanks to the wonders of Wi-Fi, the PetziConnect Treat Cam lets you stay in touch with your beloved dog even while you're away at work. Through the built-in HD camera, you can take a peek at your pooch, record video, and even facilitate a quick treat session!
$169.99 and up at PetziConnect's IdieGogo page
This tricky new game co-stars a space cadet pup!
$2.99 at iTunes
The Foobler smart toy uses a mechanical alarm to time play sessions and treat at reward intervals.
$39.99 at Cynjo
9. Weather Puppy
Add Weather Puppy to your morning tech routine and enjoy daily weather dispatches presented by puppies.
Free (with in-app purchases) at the iTunes
Let iFetch help out when it comes to playtime with your dog, as this electronic toy flings out small balls for your pup to chase all day long. We tested it at Dogster!
$99.95 at iFetch
11. Bread Puppies
A spin-off of the popular Bread Kittens game, Bread Puppies is a beguilingly bizarre collect-'em-all title set in the off-kilter world of Woofshire.
Free (with in-app purchases) at iTunes
Share your gift suggestions!
Found any great gifts for dogs and their owners? Share the bounty in the comments!

Read more holiday gift guides on Dogster:
About Phillip Mlynar: The self-appointed world's foremost expert on rappers' cats. When not penning posts on rap music, he can be found building DIY cat towers for his adopted domestic shorthair, Mimosa, and collecting Le Creuset cookware (in red). He has also invented cat sushi, but it's not quite what you think it is.