My dog Riggins has more facial expressions than a silent-movie star. It's like Buster Keaton and Rudolph Valentino had a son who just happened to be an adorable black-and-white mutt.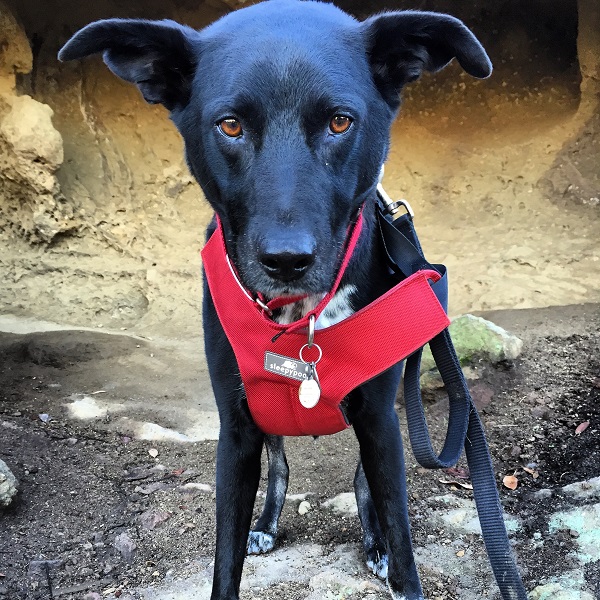 If he was a poker player, he'd lose his money before you could say "all in." If he was a high school student, I'd spend most of my time in the principal's office promising that Riggins would be punished for his constant eye-rolling at the teacher. If he was a bartender, his sweet soft eyes would make him millions in tips.
With that in mind, I thought I'd share with you just a few of Riggins' classic faces.
1. Doubting his mom
"Look lady, I love you and all, but I'm pretty sure you are off your rocker. I mean, seriously, are you okay? Are you running a fever? I'm concerned about your health. Only a sick person would make us hike ALL THE WAY up this giant hill just to turn around and walk back down. So, I ask you again, are you okay?"
2. It wasn't me
"Hmmm … what? Are you talking to me? What treats? I have been standing right here this entire time. I had no idea there was a box of treats on the counter. I mean, even if I did, I wouldn't do anything about it. I've never seen that box of treats before. I don't even see it now. I'm not even looking at it, THAT is how much I did not eat that entire box of delicious crunchy yummies. I'm hurt you would even ask."
3. Schoolyard coward
"Hey there, Mom! I just want to sit in your lap and say hi. I'm not afraid of that bully dog over there. I'm not afraid of him at all! I just wanted to see how you were doing and thought you needed a lap warmer. I'm here for you, not me. I am seriously not afraid of that other dog at all. At all. Ummm … is he still behind me?"
4. The thespian
"Nobody knows the trouble I've seen. Come on Hank, get in character, she is more likely to give us treats if we get in character. You have treats, right?"
5. Focused lover
"Choo choo! The love train is pulling out of the station. Now everyone be quiet. I'm concentrating."
6. Selfie hater
"Mom, geeze! Enough with the selfies already. Everyone knows you are my mom. There is no need to post pictures of the two of us all over the Interwebs. You are squishing me. Fine! Cheeeese. Cheeeeeseeeeeeee! Now get off me!"
7. Insecure hiker
"WHO HAS MY LEASH?!? What the … are they behind me? WHO IS BEHIND ME?!? This isn't funny, you guys. There is someone right behind me, AND THEY ARE HOLDING MY LEASH. Mom … Mom … help me! I can't say anything without causing suspicion so I'm just going to blink S.O.S. in Morse code to you. SHOOT I DON'T KNOW MORSE CODE! I'm going to die."
8. Loyal cuddlebug
"Mom, I do believe my darling cousin Kira told you that she wanted to be next to me and that you had to get up and leave the bed. Shhh. Don't be sad. There is more than enough of me to go around, but right now is Kira time, so I must ask you to leave."
9. Concerned friend
"I saw Shadow go toward that pack of dogs on the other side of the park, and she has yet to come back. This is serious. She left the protection of our sacred picnic table. I told her not to go. I begged her to stay with me, but she has an adventurous spirit that cannot be tied down. I don't know, Mom. I just don't know. This is a tough one. I'm just going to have to sit here for a little bit longer and figure out what we should do."
10. Eager playmate
"Hey there! You gonna find a ball and throw it for me? Sure, I'm not going to bring it back but that doesn't mean that you shouldn't throw it. I know you're tired and just sat down, but come on — you wanna throw the ball. For me? Please?"
Despite all the eye rolls and furrowed brows, I know my baby boy loves me and is always (well, almost always) happy to cuddle up for a selfie with his Mom!
I'm sure Riggins isn't the only pup out there with a variety of facial expressions. Share a picture of your pup's favorite face and tell us what it means in the comments below!
Read related stories by Wendy Newell:

About the author: Wendy Newell is a former VP of Sales turned Grade A Dog Sitter. After years of stress, she decided to leave the world of "always be closing" to one of tail wags and licks. Wendy's new career keeps her busy hiking, being a dog chauffeur, picking up poop, sacrificing her bed, and with other furry filled activities. Wendy and her dog, Riggins, take their always-changing pack of pups on adventures throughout the Los Angeles area, where they live together in a cozy, happy home. You can learn more about Wendy, Riggins, and their adventures on Facebook and Instagram.