Oh, the dreaded Cone of Shame. My sweet Dolly girl managed to get through the first 10 years of her life without having to wear one. And then the cancer on her right back leg returned. This time, I opted for radiation therapy on top of surgical removal of the masses.
The combination offers much better odds for beating the disease than removal alone, but the side effects extend recovery time. Those side effects — called "moist desquamation" by Dolly's oncologist — involve radiation-site oozing that scabs over and falls off, sometimes daily. Licking and/or rubbing of the area will delay healing by weeks at best and lead to infection and the need for skin grafts at worst.
I'm sticking close to Dolly as she heals, but I do occasionally need to shower or go to the grocery store. Hence the need for the dreaded Cone of Shame.
After putting on the standard vet-supplied hard plastic cone, I endured her look of misery for about 10 seconds before taking it off and looking for alternatives. Here are five that I found.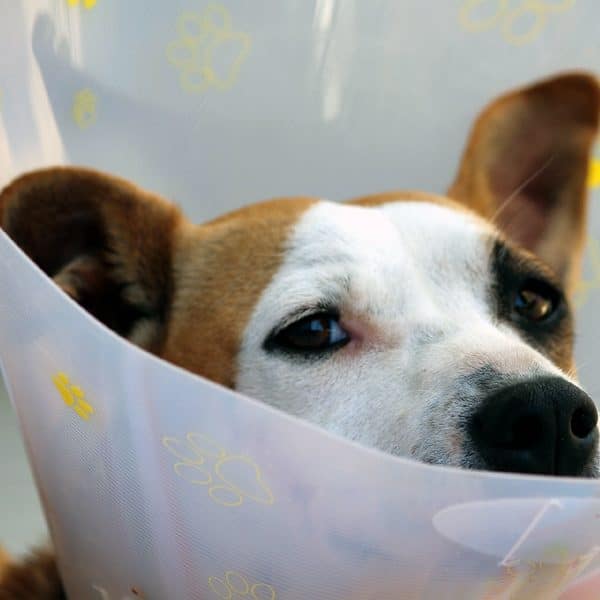 Inflatable collars such as this one do not extend beyond your pet's nose as the correct-size cone will, but they do limit neck movement for equally effective results in specific situations. I purchased this collar for Dolly only after ensuring she could not reach her radiation site while wearing it. If the area that needs to heal had been on a front leg, it would not have done the job.
The collar took just seconds to blow up, and the sturdy blue canvas surrounding the inflatable tube looks able to withstand any scratching she might attempt out of my sight. It fits over her regular collar and she tolerates it well enough (read: the look of misery quickly turned to annoyed acceptance). The collar comes in sizes extra-small to extra-large.
With its pliable fabric and adjustable drawstring, this cone certainly offers more comfort than those made from hard plastic. It also won't scuff furniture, floors, and walls like the plastic ones can.
The scrubs-green cone comes in a limited rage of extra-small to small, though, making it an option for only little dogs and cats.
This cone features nylon fabric over half-inch-thick foam, creating a comfy resting place for your pet's head. It also folds back easily so you don't have to take it off for meals.
Like the Kong soft cone, it won't mark up your house and will conform to your pet's position. It also has reflective stripes to make nighttime walks safer. It features elastic loops to slip your pet's collar through, keeping it securely in place. The cone comes in black and tan and in sizes small to extra-large.
This inflatable collar extends much farther out than the one I purchased. It simply fastens around your pet's neck with Velcro.
It comes in sizes extra-small to extra-large and does not have a protective fabric cover, but the manufacturer says it will work for cats with filed or trimmed nails. That said, it comes with a repair patch.
Like the inflatable products, this collar limits movement of the neck to control actions that stall healing. Made of foam covered by flexible plastic, it looks like a combination neck brace and dog collar, and attaches in a similar manner.
It has a chest stabilization strap that helps keep it secure and comes in seven sizes for dogs and two for cats, with the length of the neck determining size.
How to Shop for a Neck Collar
+ Measure your pet carefully before making a purchase. A cone must extend beyond your pet's nose to block access to the area needing healing, and it doesn't hurt to add an inch to account for tongue reach.
+ Consider the injured area's location. An inflatable or neck-brace style collar will not block paw access to the face and will not prevent licking of lower legs and feet.
+ Test the product before leaving your pet alone while wearing it to ensure it does the job.
As mentioned, Dolly has tested only the ProCollar inflatable collar so far. If you have found success or failure with any of these products or others, please let your fellow pet parents know in the comments below.