I have a big dog who has bad hips and knees, as well as arthritis. And Charlotte is just 5 years old! With careful management, she is very comfortable, but I do think a lot about how to ensure she remains that way for many years to come. Since 2012, Big Barker has been making orthopedic beds with dogs like Charlotte — and those much bigger — in mind, so I was really excited to review the company's product.
The Big Barker comes in three sizes: large (48 inches by 30 inches by 7 inches), extra-large (52 inches by 36 inches by 7 inches), and giant (60 inches by 48 inches by 7 inches). I selected the large for Charlotte, which was definitely the right size for not only for her, but also for my NYC apartment. This is a really big bed, so when the box arrived in the mail, I was surprised at how small it was — I had carefully read the measurements for the bed and couldn't figure out how they managed to get it into that small of a box!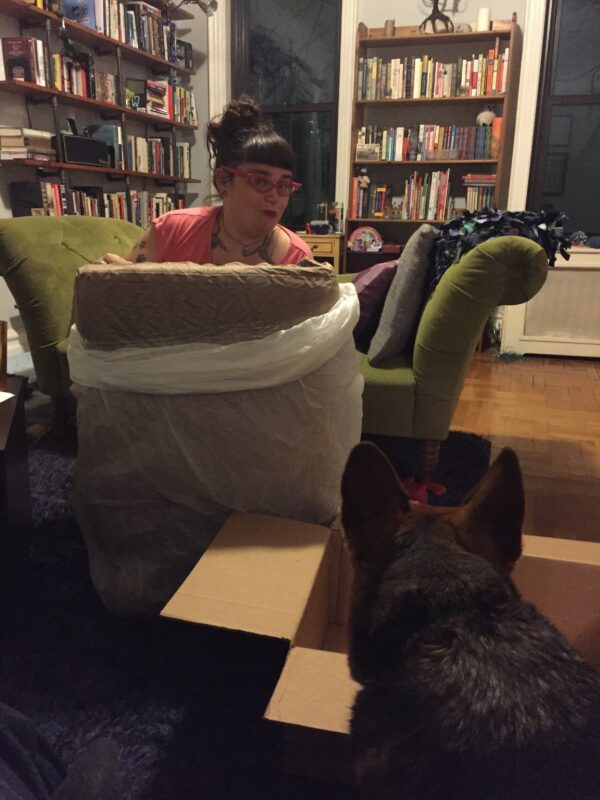 When I opened the packaging, I saw that the bed had been vacuum sealed, compressing it into a much smaller size. The instructions said it might take up to 24 hours for the bed to fully expand, but right away it got bigger, and by the next morning, the Big Barker was its full self.
What initially sold me on this bed was the research that went into meeting the support needs of big dogs. According to the company, designers used tactless pressure-mapping sensor technology to study larger breeds on four different types of beds. They placed the sensor on the floor under a Poly-fil bed, 4-inch memory foam bed, Crib Mattress (which Charlotte previously had), and the Big Barker bed. You can watch a video of the study they used as part of the design process for their bed's three-stage foam-engineering process, which uses super-supportive American orthopedic foam.
I was pretty freaked out by how many pressure points there were for dogs lying on the other beds, especially knowing that Charlotte already has joint issues. Big Barker is also embarking on a wider joint health study, but even with those results not yet in, the sensor mat research was pretty convincing for me.
The Big Barker bed has been in our living room for the past couple of weeks. Charlotte was a fan right away. It's about the same size as her old bed, but much sturdier. The one who loves it most of all, though, is my 12-pound cat, Thing! He was found as a stray feral kitten and raised by Charlotte, so he kinda thinks he's a big dog, too. Thing loves the bed so much that his new nickname is the Big Barker.
Dogster scorecard
Quality: A+ — This is a really nice dog bed, super well made, and clearly designed to hold up to heavy use from big dogs.
Style: B — I wish the Big Barker came in more colors — it's only available with a khaki, chocolate, or burgundy slipcover. The colors don't really work with the aesthetics of our home, but thankfully toddler crib mattresses sheets fit over this bed, allowing it to blend in better. Also worth noting, the slipcover is machine washable.
Function: A+ — It's REALLY thick, coming in at 7 inches tall and with foam that stays firm even with my big dog on it.
Creativity: A+ — High marks here as well. This company took a problem that big-dog parents are all too familiar with, and created a bed that eliminates pressure on joints!
Value: A+ — The Big Barker is definitely the most expensive dog bed in our house, but it's also the best. Prices range from $199.95 for the large basic bed to $399.95 for the giant bed with headrest. This isn't an inexpensive bed, by any means, but it comes with a 10-year warrantee, is really well made, and I believe will definitely save you money in the long run since you won't be regularly replacing less-sturdy dog beds.