Need a canine fix when you're traveling without your dog? The Craddock Terry Hotel in Lynchburg, Virginia, has you covered. The hotel recently appointed Wire Fox Terrier Penny Loafer to the role of Official Greeter and Concierge. Penny Loafer is taking over for 10-year-old Buster Brown, who is headed into retirement.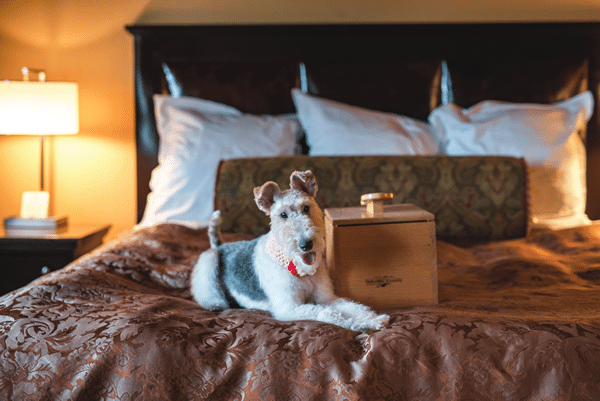 Penny Loafer is in charge of greeting guests of the 44-guestroom boutique hotel and accompanies visitors on walks to explore the neighborhood, which includes the Historic District and the Lynchburg Dog Park. Penny is extremely friendly and makes all of her guests feel welcome.
The Craddock Terry Hotel is obviously dog friendly and offers furry visitors treats, toys, a dog bed and bowl. Guests can also take advantage of the hotel's dog-walking service — their dogs can even go for a walk with Penny Loafer!
Penny may have big shoes to fill, but the guests love her already!
Learn more about Penny Loafer and the Craddock Terry Hotel at craddockterryhotel.com, and follow her adventures on Facebook @CraddockTerryHotel and on Instagram @craddockterryhotel. — Annie
Thumbnail: ©Lindsey Hinkley
Annie Butler Shirreffs has worked in the pet industry for 20 years and is currently the senior editor of Catster and Dogster magazines. A cat lover since she was a little girl, she has always had feline friends in her life. She and her husband share their Southern California home with their four cats, Agatha, Alastair, Jack and Mathilda, and an ever-changing clowder of foster kittens, all of whom enjoy being testers for cool, new products.
Find more fun activities for you and your dog on dogster.com: