When most people have to walk their dog in bitterly cold weather, they throw on a coat, hunker down, and head out into the world. One woman in Wisconsin has decided to go a little further than that and turn dog-walking into cosplay. The unknown woman, who identified herself to local television station WLUK as "Bumble," has been seen walking her Poodle, "Blizzard," while fully outfitted as the Abominable Snowman.
Anyone who's watched Christmas specials between now and 1964 will immediately recognize the character: His full name is the Abominable Snowman of the North — otherwise known as "Bumble" or "The Bumble." He was first seen in the 1964 Rankin-Bass television production of Rudolph the Red-Nosed Reindeer. Despite the fact that the quality of the stop-motion animation in the special is only slightly above what you would get in a flip-book, the show has charmed children and pop-culture geeks ever since. Even for those of us who weren't born in 1964, it's become lodged irrevocably in the cultural memory. The special's version of the Abominable Snowman is probably even more memorable than either the title character or Shermy, the outcast elf who just wants to be a dentist instead of making toys.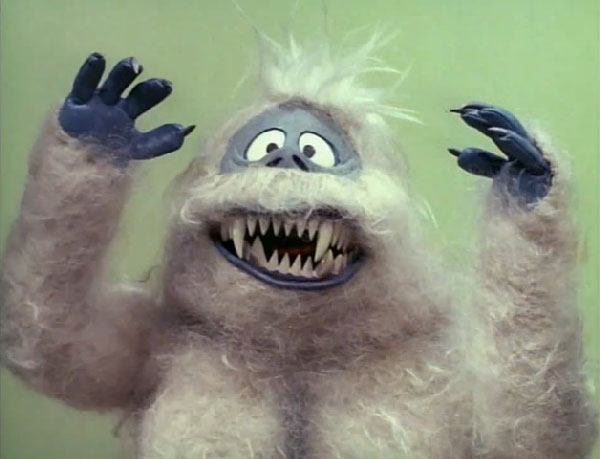 When approached by the station's news crew, the woman stayed in character, giving her name as "Bumble." The crew asked Bumble why she was visiting Allouez, and in a rough, gravelly voice, she replied, "Bring joy. Happiness."
She certainly seems to have done that. Since the word started to spread about Bumble, she's become a kind of mini-celebrity among local residents. Some people have even cruised the neighborhood hoping to spot her and take pictures, much like people do with Sasquatch, Nessie, or flying saucers. The difference is, of course, that you're much more likely to go home with pictures of Bumble.
"I drove down Libal, and she is walking down the street, and I thought, yes, they found her," said Pam Laabs, a local crossing guard, to the news crew. "When she turned the corner, I said 'Thank you, you gave me a smile on my face for two days.' I said, 'I just thought it was funny.'"
Bumble told the crew from WLUK that she had one complaint about Allouez: "Too warm," she said. On the surface, that might be a comparison to the weather near the North Pole, but maybe not; full-body costumes like the one she's wearing have a reputation for heating up very quickly. Even in someplace as bitterly cold as Wisconsin, it's a good way to keep warm.
The Poodle had no comment, but seemed to take all the attention in stride.
Via WLUK
Read more about dogs in the news on Dogster: