When you buy through links on our site, we may earn an affiliate commission.
You love your dog just the way he is, but helping him make a change or learn something new can be a fun bonding experience for the two of you. Learning a trick or discovering a new place can also be mentally stimulating for a pup, and helping an overweight dog lose weight can extend his life.
January is traditionally a time to set new goals for ourselves, and dogs can get in on the fun, too. These five New Year's resolutions will help your dog have a happier, healthier 2021.
Help your dog achieve his weight loss New Year's resolution.
Almost half of dogs ages 5 to 11 weigh more than they should. Excess weight puts pups at a greater risk for cancer, heart disease and joint issues. If your fur baby needs to trim down, there are many ways to help him get healthier while keeping things fun. Think daily 30-minute walks and games of fetch. Your vet can also help prescribe a healthy-eating plan.
Teach your dog a new trick this New Year
Not only can you teach an old dog new tricks — you should. It keeps them physically and mentally active, which can extend their lives (or at least up their quality of life during their Golden Years). The keys to helping your dog learn something new: Start simple, be ready to reward them with treats, like these soft puppy bites from Wellness (4.49, Chewy), and praise and pace yourself. Don't expect Fido to master it right away — stay patient and upbeat, and he'll likely master it eventually.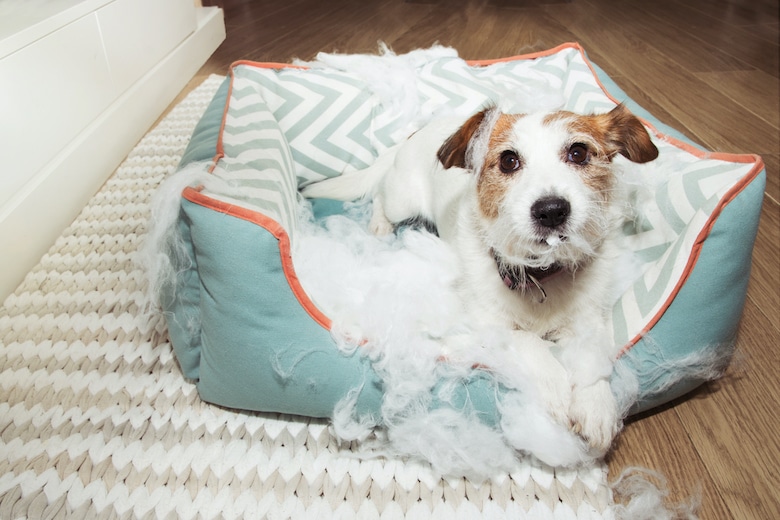 Stop eating the house

You love coming home to your dog every day. Finding out she ate your favorite throw pillow? Not so much. Help your dog stop chewing by understanding why her is doing it. It's not spite. Puppies are exploring, and older dogs may have separation anxiety. Part of getting your dog to nail this resolution is on you. You'll need to supervise her, and if you notice chewing, redirect her attention rather than scolding her. Give her plenty of acceptable toys, like a Nylabone Textured Ring ($5.99, Chewy), to chew on, and consider crate training her for when you're not around. Frisco's Fold & Carry crate ($31.09, Chewy) is easy to set up.
Help your dog fall in love with water
If your version of fun in the sun involves water, but your co-pilot pup isn't into it, it can put a major damper on your summer plans. There are steps you can try, including starting with a kiddie pool, keeping things pressure-free and letting your dog go at his own pace. Remember, though: You want this to be fun. Don't force it. If your pup really wants to stay landlocked, let him be.
Make traveling more your dog's New Year's Resolution

Hopefully, 2021 year will be a healthier year for humans and pups alike as we start putting COVID-19 in our rearview mirrors. Road trips became more popular this year, and even when the pandemic ends, they're still a fun option, especially because they allow you to bring your dog. Pack essentials, like a crate and ID tag, and plan ahead. If you're staying in a hotel or with a friend, ensure your pup is the perfect guest. Where should you go? The sky is the limit, but these dog-friendly national parks look fun.
Featured Image: AleksandarNakic/Getty Images
Read Next: Traveling with Dogs: 8 Things to Pack for a Road Trip with Your Pup