Dog grooming is a huge business, and many dog parents are excited that their puppy pals should look and smell their best when they go out in public. Of course, not every dog is going to strike a pose on the show stage, and it can be fun to craft your own homemade dog shampoo for DIY dog grooming. These homemade dog shampoo recipes you can make in the comfort of your home with your family and friends. There's one to fit any need, any budget, and whatever time you have available.
The ingredients for homemade dog shampoo are easy to acquire, most being ready-at-hand in the home, and most recipes are for single use, meaning there's no need for storage containers. You can try a new one each time you wash your dog. Exactly how to give a dog a bath is a different matter. As anyone who has tried can tell you, convincing your dog to submit to a bath can be a challenging proposition. Thankfully, making DIY dog shampoo is only as complicated as you want it to be.
How to make homemade dog shampoo: Common ingredients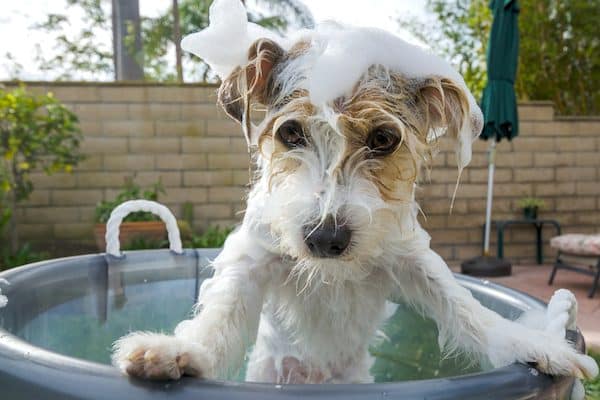 Things as simple as vinegar and baking soda show up as components in many homemade dog shampoo recipes. Other ingredients that can be picked up in grocery stores or drug stores include castile soap, which is olive-oil based, and glycerine, a sugar-based alcohol compound. In many cases, your standard baby shampoo or nontoxic dish soap is often incorporated into a homemade dog shampoo recipe to bind ingredients together. The recipes for homemade dog shampoo that we'll focus on here are very simple and require minimal preparation.
1. Homemade dog shampoo to combat fleas
There are several recipes out there for DIY dog shampoo for fighting fleas, one of which is not only very simple to concoct but is also ideal if you dog has sensitive skin!
This homemade dog shampoo for fleas requires:
1 quart of water
1 cup of white vinegar or apple cider vinegar
1 cup of baby shampoo or nontoxic dish soap (many sites recommend Dawn by name)*
For a lower-volume homemade dog shampoo to fight fleas or for a smaller dog or puppy, try:
1/2 cup of water
1/4 cup of white vinegar or apple cider vinegar
1/4 cup of baby shampoo or nontoxic dish soap*
Apply either solution with a spray bottle or a thoroughly cleaned-out condiment bottle to minimize waste. Work the homemade dog shampoo into your dog's fur, particularly along hard-to-reach areas down the spine, the base of the tail, the chest and under the forearms, and let it soak in for at least five minutes before rinsing. Comb or brush your dog during that time to remove dead fleas.
*Dawn and baby shampoo should not be used too frequently on dogs as it may dry out a dog's skin and should not be used on dogs with a dry skin condition. Instead, you may want to try a liquid castile soap, like Dr. Bonner's.
2. Homemade dry shampoo for dogs
If you bathe a dog too frequently, more than once a month or so, you run the risk of drying out your dog's skin. Between baths, a dog's natural hair and skin chemistry reassert themselves, and you should give them time to do so. One potential solution between traditional baths is a homemade dry shampoo for dogs. These DIY dry dog shampoos tend to involve baking soda, another item found in most homes and easy enough to get at any grocery store.
Massaging a dry shampoo into your dog's skin will give the dog the sensation of being petted and caressed without the resistance you might face in the traditional wet bath scenarios.
Several homemade dry shampoos for dogs also include baking soda. These tend to involve:
1 cup of baking soda
1 cup of cornstarch
A few drops of an essential oil* — lemon and lavender seem to be the most popular.
Not all essential oils are good for dogs, so only use one that is veterinary recommended as dog-safe and in a dog-safe quantity.
Sprinkle the mixture on your dog and massage it into the dog's skin with your hands or with a comb or brush. It is best not to use too much baking soda at a time — a cup for a mid-sized dog, half a cup for a very small dog or puppy— and not to apply this method too frequently, since the residue from the powder can accumulate, no matter how much a dog shakes himself afterward. A dry homemade shampoo for dogs is a good stopgap, but nothing beats the fun of having your dog shake water all over you or your bathroom from time to time.
Discover more homemade dog shampoo and grooming products.
3. A homemade dog shampoo for dry skin
If you bathe your dog more frequently, or if your dog tends to have sensitive, itchy or dry skin, you might want to try a homemade dog shampoo that will bring some degree of relief. Adding ingredients such as aloe vera gel or glycerine can help relieve itchy and dry skin. Glycerine is a sugar-based, water-soluble alcohol compound, much less frequently found around the house than vinegar or baking soda, but can easily be found in drug stores, pharmacies and online.
A typical recipe for dogs with sensitive skin involves:
1 quart of water
1 cup of liquid castile soap, like Dr. Bonner's
1 cup of white vinegar or apple cider vinegar
1/3 cup of glycerine
2 tablespoons of aloe vera gel
This recipe's addition of glycerine and aloe vera provide soothing elements for dogs with sensitive or dry skin.
Plus, discover some helpful information on hypoallergenic dog shampoo >>
What are your favorite recipes?
Have you ever created your own homemade dog shampoo? Are you a do-it-yourself aficionado? Do you prefer more sophisticated recipes? Do you enjoy the process of creating the shampoo as much as the results?
If you like putting things to boil, enjoy using specialty ingredients for fragrance and shine, or find that some methods work better for particular breeds of dog, let us know! Please, share your favorite DIY dog shampoo recipe in the comments!
Read more on shampooing and bathing your dog right here:
---
Featured Image Credit: toons17 / Shutterstock.