One in four dogs will be diagnosed with canine cancer in their lifetime, and cancer is the second leading cause of death in older animals. That's "16 billion dollars this year in cancer veterinary care, up from 12 billion two years ago," explains Rodney Habib, an award-winning blogger, lecturer and founder of the pet health movement, Planet Paws. So, if your dog gets diagnosed with canine cancer, what do you do? There are a dizzying array of treatment options and selecting a course of treatment for your dog is a very personal decision. You should feel empowered to ask your vet a lot of questions, seek second — or even third — opinions and not feel guilty for whatever treatment(s) you decide are best for your dog.
First: Breathe and Consult the Experts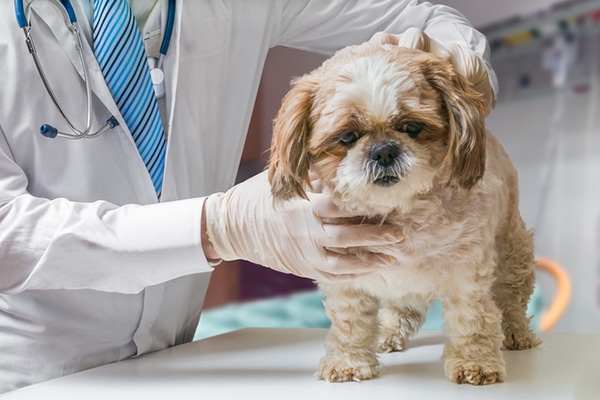 "The biggest piece of advice, the second you get that call, is to breathe," Habib encourages. "That is a really good time for reflection and mediation. You've got to pull it together for your pet." He also acknowledges that this is easier to say than do, but maintains that negative energy on our part can actually make our dogs even sicker. "The second all your energy and emotions shift, your dog will pick up on that," he advises."Your dog [will] become scared." Habib says this may lead to raised blood sugars, and increased growth of cancerous tumors.
Dr. Barbara Biller, Associate Professor of Oncology at the Colorado State University Flint Animal Cancer Center and a member of the American Animal Hospital Association Oncology Task Force, who we recently spoke with to help us understand tumors in dogs, suggests this first step after your dog receives a canine cancer diagnosis. "Schedule an appointment with a board-certified veterinary oncologist, since it's our job to know about the all potential treatment options — conventional and new, clinical trials, etc.," she says.
Traditional or Western Medicine Treatment for Canine Cancer:
If your dog is diagnosed with canine cancer, treatment options look similar to what is presented to a human battling cancer. Surgery, radiation, chemotherapy or a combination of these treatments are all likely what your veterinarian will recommend.
Veterinary medical advancements continue to provide pet parents with new and better cancer treatments specifically for dogs. "In the last couple of years, there are actually chemotherapy drugs that are designed just for dogs," Dr. Biller shares. "These are dog-only, chemotherapy-type drugs that are potentially more effective for dogs and are less expensive for owners."
Holistic Veterinarian Treatment for Canine Cancer:
According to the American Holistic Veterinary Medical Association (AHVMA), "The techniques used in holistic medicine are gentle, minimally invasive, and incorporate patient well-being and stress reduction." Treatment from a holistic veterinarian will focus on "taking in the whole picture of the patient — the environment, the disease pattern, the relationship of pet with owner — and developing a treatment protocol using a wide range of therapies for healing." Interested in finding a holistic veterinarian in your area? The AHVMA has an interactive directory on ahvma.org.
Integrative Veterinary Medicine for Canine Cancer:
Another approach to treatment is integrative medicine. The Integrative Veterinary Center describes integrative medicine as a focus "on treating the whole animal, partnership between the client and the veterinarian and use of all appropriate therapeutic options to achieve optimal wellness." Specifically, this means a veterinarian who is open to utilizing non-conventional treatment methods including massages, flower essences and herbal supplements alongside traditional or Western veterinary medical interventions.
Consult With Specialists, No Matter What
"The best place to start after hearing the news of a cancer diagnosis is a visit to any boarded veterinary oncologist, no matter if they are in private practice or academia," Dr. Biller recommends. If your dog was recently diagnosed with cancer, and you need a referral to a specialist, Dr. Biller suggests checking out the Veterinary Cancer Society. Its website includes a searchable directory for veterinary oncologists across the country.
Don't have specialists near you? Habib says another option for dogs is to "pay for a remote visit by phone or by Skype." He found that the cost for a Skype consultation is generally comparable to an office visit, but enables you to see specialists anywhere in the country. Those specialists will be able to video call with you and your dog, as well as gain access to digital copies of your dog's medical records sent by your vet.
Above All: Trust Yourself. You Are Your Dog's Biggest Advocate.
Habib began his journey into canine health and longevity in a quest to treat his own dog after her cancer diagnosis. Although he worked closely with eight different veterinarians to heal his dog, he maintained a very active role in his dog's cancer treatments. "The best doctor, the best researcher is you," he says. "It's your animal. It's your pet. It's your lifeline. My dog is my life. She is my whole life, it's up to me to do that research to try to find what I need to do to make her better."
This piece was originally published in 2017.
Thumbnail: Photography ©AmyDreves | Thinkstock.
Sassafras Lowrey is an award-winning author. Her novels have been honored by organizations ranging from the Lambda Literary Foundation to the American Library Association. Sassafras is a Certified Trick Dog Trainer, and assists with dog agility classes. Sassafras lives and writes in Brooklyn with her partner, a senior Chihuahua mix, a rescued Shepherd mix and a Newfoundland puppy, along with two bossy cats and a semi-feral kitten. Learn more at www.SassafrasLowrey.com.
Read more about how to handle canine cancer on Dogster.com:
Plus, consider feeding dogs with cancer a special diet. See some suggestions on Whole Dog Journal >>