Living in South Florida definitely has its perks, including balmy winter weather. For this thin-blooded gal, basking in year-round warmth and sunshine lends itself to a certain type of easygoing lifestyle accentuated by light, fresh foods that help me stay cool and don't weigh me down when temperatures rise. But what about the best dog food for summer? Such dog food, according to Traditional Chinese Medicine, is classified as yin, or cooling, food.
"In Chinese medicine, all foods have energetic properties and produce a thermal effect on the body," said holistic veterinarian Cornelia Wagner, Dr. med. vet., owner of Hawthorne Veterinary Clinic in Portland, Oregon. Some foods are yang (warming) foods, while others are yin (cooling) foods."
People and dogs can benefit from seasonally adapting their diet to consume more yin or yang foods. "In the heat of summer, it makes sense to incorporate more cooling yin foods into the diet, whereas in winter, the body benefits from more warming yang foods," Dr. Wagner said.
"Neutral" foods, which are neither predominantly yin nor yang, are appropriate year-round.
Check out these yin and yang feeding guidelines for keeping your dog cool this summer.
Proteins to Feed Your Dog in the Summer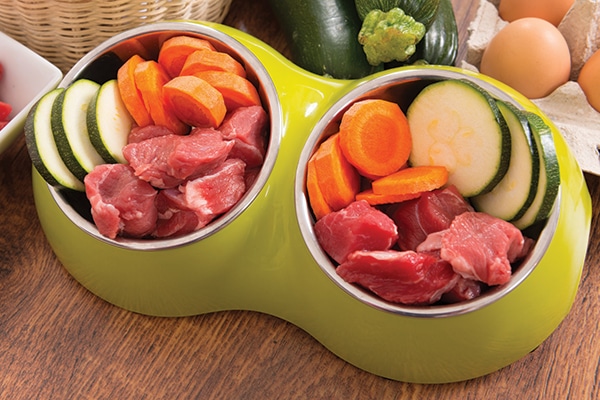 Ample protein is essential to your dog's health; however, cooling yin proteins can also help your dog battle the heat, whereas yang proteins provide warmth on a chilly winter day.
Yin: cod, duck, duck eggs, rabbit, tofu, turkey, yogurt
Yang: chicken, lamb, trout, venison
Neutral: beans (adzuki, broad, kidney, red), beef, beef liver, chicken eggs, cow's dairy, lentils, mackerel, pork, quail, salmon, sardines
Carbohydrates to Feed Your Dog in the Summer
Chances are that when the weather cools, you turn to dishes made from denser carbohydrate sources, such as a stew of root vegetables, to nourish and comfort you, whereas in the summer you seek out lighter carb-based dishes, like a cooling wild rice salad. Not surprisingly, these instinctual dietary choices also coincide with the concepts of yin and yang. "Yang foods tend to be slower growing and originate under the earth, whereas yin foods are faster growing, have a higher water content and grow away from the earth," Dr. Wagner said.
Yin: barley, buckwheat, millet, wild rice
Yang: oats, sticky rice, sweet potato
Neutral: brown rice, quinoa, white potato, white rice, pumpkin, yam
Fruits and Vegetables to Feed Your Dog in the Summer
If your dog loves a nice cold chunk of watermelon on a hot summer's day, that's no surprise. Watermelon, comprised mostly of water, is a classic cooling yin fruit. Here are examples of additional yin fruits and veggies as well as yang and neutral choices.
Yin: alfalfa sprouts, apple, banana, broccoli, Brussels sprouts, celery, coconut, cranberry, cucumber, lettuce, mango, melon, pear, watermelon
Yang: asparagus, cherries, green beans, green peppers, kale, red peppers
Neutral: beet root, beet greens, cabbage, carrots, cauliflower, peas, pineapple, raspberry
Ever break out into a sweat after eating a spicy meal? Then you've experienced the effects of yang spices, such as cayenne pepper. In the summertime, opt for more cooling seasonings to help your dog beat the heat.
Yin: peppermint, marjoram
Yang: basil, black pepper, cayenne pepper, cinnamon, dill, fennel seeds, garlic, ginger
Preparation of Dog Food Matters
Cooking method also determines whether foods take on a more yin or yang quality, according to Dr. Wagner. "In hot weather, cook foods briefly or feed raw," she said. "However, avoid feeding ice-cold foods, which are hard on digestion." Adding water to fresh food also increases the yin quality, while helping to promote hydration.
Avoid Extremes with Dog Food in the Summer
Accentuating yin or yang foods according to the seasons is beneficial, but feeding an overabundance of either can lead to imbalances in the body, resulting in an excess of one type of energy with a corresponding deficiency of the other. According to Dr. Wagner, acute yin deficiency might result in signs such as sensitivity to cold, lethargy or poorly formed stool, while too many yang foods might cause feelings of stress, increased thirst and dry, hard stools that are difficult to pass.
Consider Your Dog's Health When Selecting Dog Food
A dog's specific health issues also determine whether emphasizing yin or yang foods is appropriate. Yin diseases that benefit from more warming, yang foods include anemia, diabetes, chronic digestive issues, chronic kidney disease, dry skin, generalized weakness and hypothyroidism. Yang conditions warranting cooler yin foods include abscesses, acute fever, acute hepatitis, aggression, agitation, ear infections, infection, injuries, arthritis with inflamed or swollen joints, hot spots, hyperactivity and certain skin diseases.
Dr. Wagner also noted that while dry dog food is convenient, it is very yang. "Fresh ingredients, which are closest to a dog's natural diet, are far superior than highly-processed foods, regardless of the season," she said.
Thumbnail: Photography by duxx/Shutterstock.
Diana Laverdure-Dunetz, MS, is a canine nutritionist and co-author, with W. Jean Dodds, D.V.M., of two books, including Canine Nutrigenomics: The New Science of Feeding Your Dog for Optimum Health. Their online course, Complete Canine Nutrition, can be found at myhealthy dog.dog.
July is the CHILL ZONE on Dogster.com! Learn how to keep your dog cool, calm and collected this summer with articles on preventing summer mishaps, staving off stress and more.
This piece was originally published in 2017.
Read more about dogs and food on Dogster.com: