Thanksgiving is a great time to give thanks and extra love to your pup, but what Thanksgiving foods can you share with your dog — if any? Unfortunately, toxic ingredients, high fat and sugar content make some of our favorite Turkey Day treats dangerous for your dog. Let's look at what Thanksgiving foods are safe for your dog — and which foods you should absolutely avoid.
Not only should you avoid giving your dog treats from your Thanksgiving table, make sure that your guests understand the importance of not slipping table treats to your dog, too. If they do, the results could be costly for you, and life threatening for your dog! "The cost of emergency care for stomach issues can range from a few hundred to thousands of dollars," says Dawn Pyne of Embrace Pet Insurance.
Common symptoms of dogs treated by veterinarians over Thanksgiving weekend include: "vomiting, diarrhea, gastroenteric and xylitol intoxication," Pyne says. In addition to the stress of having a sick dog over the holiday, if your dog does get sick over Thanksgiving you might even have to pay extra for his care! Petplan Insurance found that over Thanksgiving weekend, visits to the vet can nearly double in cost.
So, what classic Thanksgiving foods are safe for dogs to eat?
Meat is safe for dogs, right? Actually, it's complicated. Lots of dog food includes turkey, but unfortunately, Dr. Jennifer Maniet, a staff veterinarian at Petplan, explains that the Thanksgiving turkey from your plate could make your dog sick because, "[it] has a skin that's full of fat and is often prepared with butter and oil. If ingested, it can cause gastrointestinal upset, pancreatitis or inflammation of the pancreas."
A plain, raw cranberry could be safe for your dog (though most dogs will avoid eating it because of the tartness), but cranberry sauces and dishes should be avoided, because of the other ingredients such as sugar and liquor, which could be toxic for your dog. "Cranberries are often accompanied with raisins in Thanksgiving dishes, which are very toxic for dogs," cautions Pyne. "Treating raisin intoxication can start at $300 and more."
3. Can Dogs Eat Stuffing?
Everyone's favorite side dish should be kept away from your furry best friend. Dr. Maniet warns: "This satisfying side dish contains toxic ingredients such as onions, leeks, garlic, raisins and various spices. If ingested, these ingredients can cause life-threatening conditions, including anemia, pancreatitis and kidney failure."
This one might surprise you because there are many sweet potato treats for dogs available. "Similar to potatoes, your dog can have plain sweet potatoes in moderation," Pyne says. Unfortunately, most Thanksgiving recipes involving sweet potatoes are bad for dogs. "Sugar and marshmallows are a sweet dream to humans, but can be a nightmare for your pet's digestive tract," cautions Dr. Maniet. Her pup-friendly suggestion? "A safer, pet-friendly option is to prepare a small amount of plain, roasted sweet potatoes without any added fixings."
5. Can Dogs Eat Mashed Potatoes?
Plain mashed potatoes are okay for your dog, but the addition of butter, cheese, sour cream and gravy may result in gastrointestinal upset and pancreatitis, explains Dr. Maniet.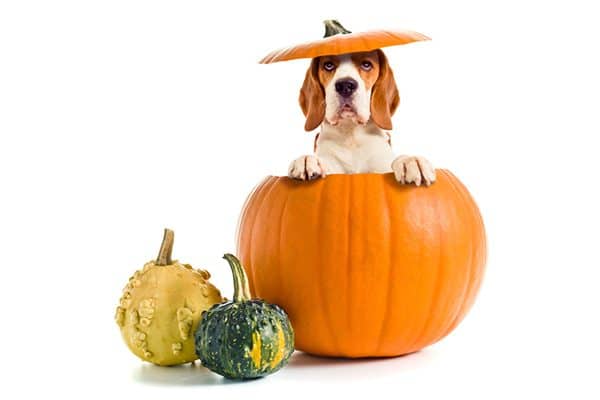 This delicious, seasonal dessert is also potentially toxic to your dog. "Sugar substitutes containing xylitol are highly toxic to your pets," cautions Dr. Maniet. Additionally, spices, sugar and whipped cream can all spell out gastrointestinal upset for your dog. "A safer option for dessert is to prepare a small amount of cooked or canned plain pumpkin puree, but be warned: the fiber content in pumpkin and potatoes can increase your pet's regularity — leading to more frequent trips to the yard," says Dr. Maniet.
7. Can Dogs Eat Fruit Cake?
This dish is the punchline of many holiday jokes — and it's dangerous to your dog! Dr. Maniet says that's because of fruit cake's common ingredients. Pyne echoes these concerns. "Be careful your dog doesn't steal fruitcake," she says. "The ingredients in fruitcake — raisins, currants, alcohol and raw yeast — pose a serious health risk for your dog."
So, what can your dog eat on Thanksgiving?
"If you don't want your dog left out from the Thanksgiving Day celebration, consider making a small plate with unseasoned white turkey meat without skin, fat or bones, unseasoned potatoes, plain green beans and a scoop of plain canned pumpkin — no scraps, no seasonings and no pie!" says Pyne.
This piece was originally published in 2017.
Thumbnail: Photography by Gina Cioli/i-5 Studio.
Concerned about your own Thanksgiving feast? Pile these healthy foods on your plate for a healthy Thanksgiving >>
Read more about Thanksgiving and dogs:
Sassafras Lowrey is an award-winning author. Her novels have been honored by organizations ranging from the Lambda Literary Foundation to the American Library Association. Sassafras is a Certified Trick Dog Trainer, and assists with dog agility classes. Sassafras lives and writes in Brooklyn with her partner, a senior Chihuahua mix, a rescued Shepherd mix and a Newfoundland puppy, along with two bossy cats and a semi-feral kitten. Learn more at www.SassafrasLowrey.com.