Quick Facts
Weight: 45 – 70 pounds (20.41 – 31.75 kg)
Height: 19 – 24 inches (48.26 – 60.96 cm)

The Look of a Dalmatian
Dalmatians are lean, medium-sized, well-proportioned dogs with distinctive black spots on white. Their muzzles are strong, eyes deeply set and their soft ears are set somewhat high. They have strong, arched necks, deep chests and level backs. Their tails extend out from their backs and curl up slightly without carrying over their backs, and they have long, well-muscled legs with round feet. Their coats are short, dense and sleek. Puppies are born solid white and develop black spots as they get older. Overall, Dalmatians have a dignified, powerful and alert posture with a steady gait.
Traits
Black spots
Energetic
Devoted
Protective
Intelligent
Ideal Human Companion
Singles
Active people
Families with older children
Firemen
What They Are Like to Live With
The Dalmatian we know today comes from a long line of "coach dogs," bred to chase horse-drawn carriages day and night. They are tough, dependable and have an incredible stamina. If you're a cross-country runner or daily jogger, you may have met your match: Dalmatians can keep up with the most intense runners. And for those who live on a ranch or farm, Dalmatians have an instinctive calming effect on horses that goes back to their carriage-guarding days.
Well-trained and socialized Dalmatians can prove to be both gentle and gentlemanly, displaying good manners and a quiet demeanor, even around strangers. However, they do have a boisterous side that comes from their incredible energy and stamina. For this reason, they may not be the best pets around very small children. But their intentions are always good and they make superb playmates for older children. They also have keen protective instincts that make them very effective guard dogs.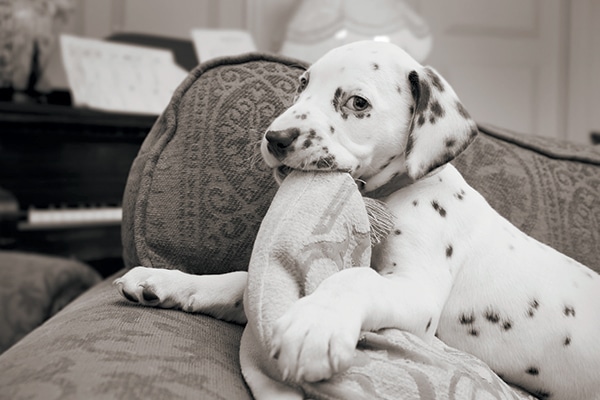 Things You Should Know
Dalmatians are people-oriented dogs. They should not be left alone in the house for long periods of time. Without adequate amounts of attention (and, of course, exercise) they can get a little destructive, digging up gardens, chewing objects and barking excessively.
These dogs like to wander. If allowed to roam, they could be gone for days, exploring different areas of the neighborhood—or county, for that matter—and feeding their curiosity. Make sure your backyard fence doesn't have any escape hatches, and keep your Dalmatian on a leash at all times in public.
Dalmatians are very clean and tidy, but they do shed quite a bit. They have heavy spring and fall shedding seasons, but also keep shedding year-round. Daily brushing is needed to keep up with the excess. Also, Dalmatians can be sensitive to cold. Don't leave them outside in cold weather and be sure they have a sweater for those winter strolls.
A healthy Dalmatian can live as long as 12 years. Common health issues include skin allergies and deafness (10 percent of Dalmatians are born with at least partial deafness). They can also get bladder stones, which can be limited with a low-purine diet.
Dalmatian History
Although Dalmatians have been living in Europe, Asia and Africa for centuries, little is known of their origin. Dating back to ancient Egypt, they have been used as guard dogs, dogs of war, circus performers, bird dogs, retrievers and of course firehouse mascots. But Dalmatians really made their name in the 19th century as "coach dogs"—their natural quickness, agility, protectiveness and affinity for horses made them perfectly suited for following horse-drawn carriages and guarding them when their owners went indoors. The American Kennel Club first registered them in 1888, and the Dalmatian Club of America was started seventeen years later.