Every so often, Trupanion, a medical insurance company for pets, dips into its database and releases the numbers on what travesty is befalling its canine members. It did so yesterday, in honor of Valentine's Day. What does Valentine's Day have to do with dogs getting into trouble? 
Chocolate. Lots and lots of chocolate, in boxes and in bags and in bars, being imported as gifts into homes and left on tables for all the world to see and admire. 
And for dogs to steal. Which they do. Last February, in fact, Trupanion received 35 chocolate ingestion and toxicity claims — more than one per day. And dogs have accounted for 99.4 percent of its chocolate ingestion claims since 2011.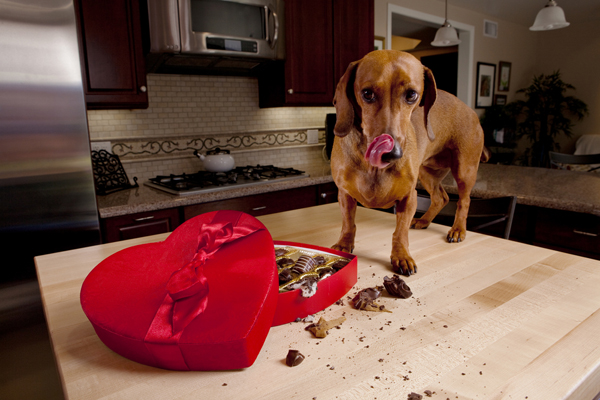 However, chocolate is not the only troubling thing about holidays such as Valentine's Day. Trupanion laid out some other "romantic" ingestibles that have landed doggies in hot water in the past year. If you give or receive any of these items as gifts this year, make sure your dog doesn't get any ideas:  
Earrings
In North Carolina, a Cavalier King Charles puppy noticed a pearl earring, gave it a sniff, and promptly ate it. Trupanion paid $1,077.66 for the X-ray, surgery, and follow up treatments.
An Old English Sheepdog in Ontario did that puppy one better, swallowing two earrings, and requiring X-rays and endoscopy, of which Trupanion paid $1,350.72. 
Underwear 
In Washington, a pet owner wondered where the hell her underwear had gone to. After an X-ray, exploratory surgery revealed the undergarment lodged in her dog's stomach; Trupanion paid $1,111.06.
Two pounds of fudge?
Yep. A Labrador Retriever in British Columbia collapsed after feasting on two pounds of fudge and milk chocolate lollypops. Trupanion covered $3,696.20 toward her diagnosis and treatments; among other problems, the sugar inflamed a stomach ulcer. 
Have a happy and safe Valentine's Day, and don't end up on Trupanion's next list. 
Read the most talked about news on Dogster: