Many people have heard the story of Koko the gorilla and her kittens. Koko uses American Sign Language to communicate with the humans at the Gorilla Foundation who care for her; in addition to knowing approximately 1,000 signs, she can understand more than 2,000 spoken English words. In 1984, she asked for — and received — a small kitten she could care for. Her human companions watched in awe as Koko treated the kitten, who she had named All Ball, as tenderly as if the cat were her own offspring. When All Ball was killed by a car, Koko painfully grieved at her premature loss, signing "bad, sad, bad" and "frown, cry, frown, sad."
Indeed, we can all identify with the feelings Koko experienced and spelled out, but she is only the start when it comes to the incredible relationships and bonds of interspecies parenting. 
"It's not unusual for animals to be nurturing toward other species," said John C. Wright, Ph.D., an animal behaviorist. "The instinct to care for another animal can be hormonal, or simply related to age. If they're young, their behavior is malleable, and they're open to just about any experience, opportunity or companion. Like humans, animals, for the most part, yearn for company."
Some interspecies parent-child relationships last for the lifetime of each animal, while some encounters last less than an hour. Of course, since the lifespan of most animals is much shorter than ours, their childhood can sometimes be measured in weeks and months, instead of years. It's much more common for the adult animals to help do whatever it takes to bring the young one back from the brink of death, stick around for a while to make sure the youngster can fly under his own power, and then step away so the young one can live the life that nature intended. 
I wrote my new book, One Big Happy Family: Heartwarming Stories of Animals Caring for One Another, because, like many people, I was intrigued at the stories about interspecies friendships that seemed to pop into the news every week or so. Once I started to dig a little deeper, I realized that many of the relationships were that of a parent and child, and even more amazing, several involved predator and prey, where an animal defied its natural predator instincts in encounters that would have usually resulted in injury or death. The simple truth is that the siren call of their maternal and paternal drive was stronger.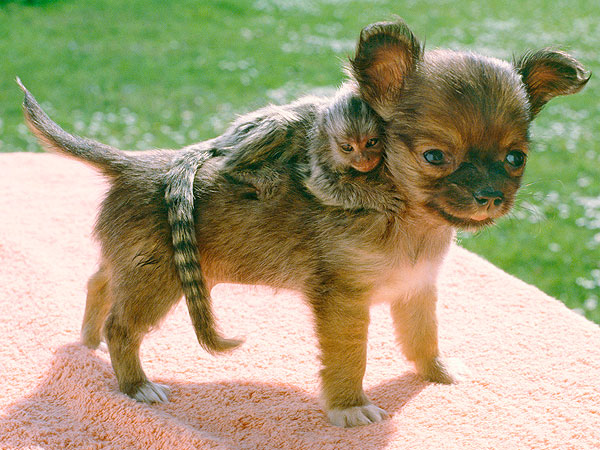 Now, enter to win a copy of One Big Happy Family!
Would you like the chance to win a copy of Lisa's book? If so, please do the following:
Create a Disqus account, if you haven't already, and include a valid email. It takes just a minute and allows you to better participate in Dogster's community of people who are passionate about dogs. If you already have a Disqus account, check it to ensure the account includes a valid email.
Comment below using your Disqus account, telling us about any interspecies relationships your dog has been a part of, the more nurturing the better. Our favorite comment wins. Bonus points for photos! Also, you must be a U.S. resident to win.
Check your email for a "You've Won!" message from us after noon PST on Tuesday, Dec. 17. We'll give the winner two days to respond before moving on to our next favorite comment.
Good luck! And if you aren't lucky enough to win, you can find the book at Amazon, Barnes and Noble, or a bookstore near you via IndieBound. 
Check out some cuteness with Dogster:
About the author: Lisa Rogak is the author of The Dogs of War: The Courage, Love, and Loyalty of Military Working Dogs and Dogs of Courage: The Heroism and Heart of Working Dogs Around the World, and editor of the New York Times best-selling Barack Obama in His Own Words, among many other books.