---
Did you know the Italian Greyhound may be responsible for the phrase "beware of dog"? Although most people assume the phrase originated to warn trespassers of guard dogs, it's actually believed to have originated to caution visitors that tiny house dogs, probably Italian Greyhounds, were underfoot. This was especially critical when women wore long skirts.
The phrase in Latin is "Cave Canem" and has been found in several ancient Roman households — households that probably were home to the dog we now know as the Italian Greyhound.
More interesting things about the Italian Greyhound
Artwork from Greece and other Mediterranean areas 2,000 years ago depicts small Greyhound-like dogs.

By the Middle Ages, Miniature Greyhounds existed throughout southern Europe; they were especially favored by Italian courtiers. They also became favorites of England's upper class once they arrived there in the 17th century.

An Italian Greyhound named Lilly was the first to be registered with the AKC, in 1886.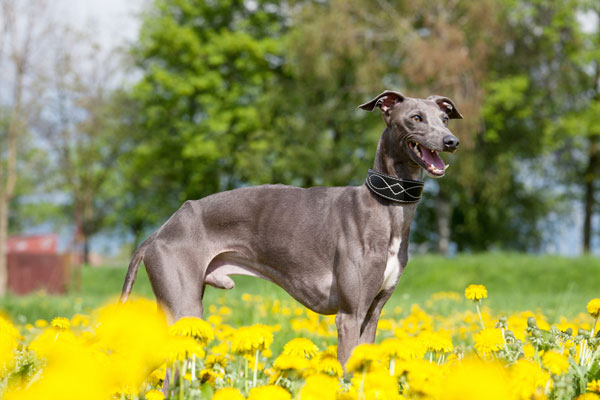 The AKC places the Italian Greyhound in the Toy group, but in most of the rest of the world, the breed is placed in the Sighthound group.

The breed's name is often abbreviated to IG or Iggy.

The only IG to ever win the Toy group at the Westminster dog show was back in 1965. None has ever won Best in Show there.

Italian Greyhounds may look frail, but they compete in many athletic sports, including agility, lure coursing and amateur racing. Some even compete in weight pulling!
The Italian Greyhound is the smallest sighthound and has a distinctive prance seen in no other breed.

An Italian Greyhound was in the movie Good Boy! Actually two dogs, Motif and Imp, played the role of Nellie.

Italian Greyhounds in music? Yes: The Shellac album Excellent Italian Greyhound was named for drummer Todd Trainer's IG, and the song "Stray Italian Greyhound" by Vienna Teng is said to have been inspired by one of Barack Obama's speeches.

Matt Damon once famously posed with a team of seven IGs that were wearing pro-Obama shirts.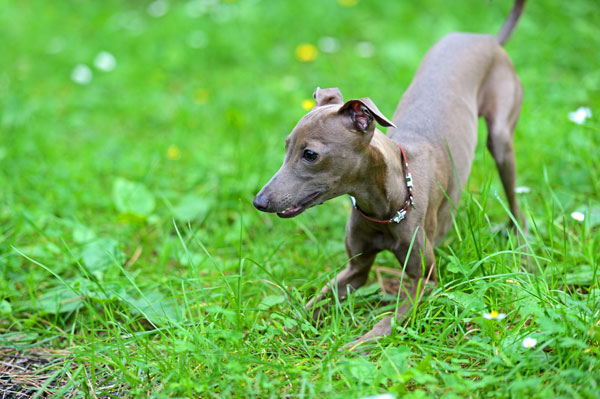 Owners include a lot of royalty: Frederick the Great, Catherine the Great, Mary Queen of Scots, Queen Anne, Queen Victoria, and Maud, Queen of Norway, as well as "lesser" royalty such as Baron von Steuben, Sigourney Weaver, Catherine Bell, Seth Meyers and Alexli Ashe, Uma Thurman, and Jocelyn Wildenstein.

Kermit may be the most viewed IG in history, appearing in a popular YouTube series with Jenna Marbles.

Some people may confuse the IG with the Whippet or Greyhound, but the Italian Greyhound is much smaller and finer boned than either and never comes in brindle. The IG may also be confused with the Manchester Terrier or the Miniature Pinscher, but the Italian Greyhound never comes in black and tan, his ears fold back and his body is more Greyhound-like with an arched backline.

The Italian Greyhound is currently the 66th most popular AKC breed, down from 51st a decade ago. 
Interested in other breed profiles? Find dozens of them here.  
Do you own an Italian Greyhound? Have you spent time with one? Let's hear what you think about this fascinating breed in the comments! And if you have a favorite breed you'd like us to write about, let us know that, too! 
Learn more about dogs with Dogster:
About the author: Caroline Coile is the author of 34 dog books, including the top-selling Barron's Encyclopedia of Dog Breeds. She has written for various publications and is currently a columnist for AKC Family Dog. She shares her home with three naughty Salukis and one Jack Russell Terrier.