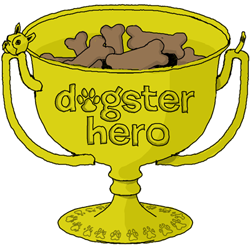 Most nine-year-olds want toys, books or fun outings for their birthday. But for his birthday party in March, Andrew Babaie, an autistic boy from Portland, Ore., invited Autism Service Dogs of America and three of their dogs to be his guests — and he requested friends attending the party to make donations to the organization instead of giving him gifts.
Andrew fell in love with the organization's dogs after attending an ASDA summer camp, where he and other campers were paired with service dogs as they romped in parks, went to the movies, bowled, and splashed in fountains and lakes.
Now, Andrew is anxiously awaiting the arrival of his own service dog, who is being trained by ASDA for the next six to 12 months.
For children like Andrew, service dogs serve as a magical link to the outside world, which helps autistic kids and their families avoid dangerous meltdowns and lead normal lives.
Children with autism often melt down in public or run off in ways that are dangerous to the child, says Michele Babaie, an MD and Andrew's mom. They may also experience anxiety, which can lead to disruptive behavior. But pair these children up with service dogs, and the kids' and their families' lives are transformed. The dogs serve as anchors, comforters, heroes, and friends.
"Our service dog, Hope, has had a tremendous effect on our lives," says Rhoni Golden, mother to an eight-year-old son with autism and author of the "Hope for Gray" blog. Before Hope, a black Labradoodle, joined their family, it was nearly impossible to go on outings as a family, she says. At restaurants, Gray would often get up, wander around, or take food off of other people's plates. At parks, he would sometimes run off, and once he sat down in front of a moving car.
As a result, the family often had to assign a sibling to watch Gray or leave him home with a babysitter, she says. But Hope changed everything. "With Hope, he knows as long as he holds onto her handle, everything will be okay," says Golden.
To help ensure everything will be okay, a handler or parent will often tether a service dog to an autistic child. "This helps them feel safe and secure and keeps them from running away," says Babaie.
What's more, for children like Andrew, the dogs can sense anxiety — often before the child or his parent is aware of troubled feelings in the child. The service dogs rush to the rescue by touching, kissing, sitting on, or applying gentle pressure to the child when needed.
"The dog might take a paw and put it on the child as a reminder and reassurance," says Babaie. "Dogs will do this at different levels, depending on how upset the child is." Dogs will start by placing a front paw on the child. But if kids are beginning to spin out of control, the service dogs will put their whole weight on the child or even pounce on them to keep them safe, she says.
ASDA makes this all happen with a training process that spans about 18 months and costs $20,000. Families donate about $13,500 to have a dog become part of their family, often after a fundraising campaign.
The dogs — generally Golden Retrievers and Labs who come from breeders — begin their training at eight weeks, living with volunteer coaches and attending training sessions, says Kati Wolfe, placement and training director for ASDA. Once they're three months old, they're placed with volunteer puppy raisers — nurses, high-school students, special education teachers, chiropractors and others who volunteer their time and home to raise and train the dogs. These volunteers teach the dogs basic commands.
"Everywhere the raisers go, the dogs go. That is crucial training. They are exposed to noises and crowds and smells and have to remain calm and well behaved," says Wolfe. As the dogs get older, they're trained in settings such as elementary schools and high schools.
For Wolfe, the training is all about building confidence in the dogs. "These dogs will go to school with kids, where a lot of unpredictable things can happen," she says. "We need to prepare them for unpredictability."
Ultimately, the dogs are the autistic kids' best friends. They help them communicate, control themselves, and feel safe, she says.
What's more, the dogs serve as a positive influence on kids and adults who don't suffer from autism. That was true at Andrew's birthday party in March. "Birthday parties can be so overwhelming and it's easy for kids to get sensory overload," says one of the moms who attended Andrew's Lego Minecraft party. "That's why it was so nice to have ASDA's dogs in a corner of the room. Kids and parents kept going over and petting the dogs, and it was so nice and calming for everyone, not just the autistic kids."
To learn more about the work of Autistic Service Dogs of America, visit the ASDA website or follow them on Facebook.
Read more about service dogs:
Read more about the bond between humans and dogs on Dogster:
Do you know of a rescue hero — dog, human, or group — we should profile on Dogster? Write us at dogsterheroes@dogster.com.
About the author: Lisa Cohn is an award-winning kids' dog book author who was recently featured on the Today Show. Learn about her Kickstarter, which aims to instill in kids a love of dogs.