Editor's note: Have you seen the Dogster print magazine in stores? Or in the waiting room of your vet's office? This article appeared in our February-March issue. Subscribe to Dogster and get the bimonthly magazine delivered to your home.
Wolves have always fascinated people by their beauty and the air of mystery that surrounds them. So it comes as no surprise that at one point, wolves and domesticated dogs were bred, creating not a hybrid animal (hybrids are a mix of two different species with sterile offspring) but a dog with wolf heritage. These dogs, called wolfdogs, are not considered wild animals, and the USDA classifies them as domestic, not exotic, animals.
But a dog with wolf heritage has special needs and is certainly not for everyone. Many of these animals are often misunderstood or bred for the wrong reasons, so they end up in shelters or abandoned by owners who think they can "fend for themselves" in the wild like a wolf.
But since 2002, a 17-acre sanctuary in the beautiful landscapes of Black Mountain, North Carolina, has been striving to give wolfdogs in need a safe home and to educate the public on common misconceptions of these special dogs.
Nancy Brown, the owner and founder of the 501(c)(3) nonprofit sanctuary, started Full Moon Farm at her home when she volunteered to help out in a big rescue operation and took in 16 wolfdogs. Nancy, whose love for wolfdogs began in 1994 with her first wolfdog, Red Cloud, has seen the sanctuary grow over the years. There are generally between 50 to 60 wolfdog residents at the sanctuary at any given time, but Nancy had 90 animals in her care in 2006 after rescuing 24 wolfdogs from a backyard breeding situation.
She explained just what a wolfdog is — and isn't: "A wolfdog has pure wolf within the last five to seven generations. They are not half dog, half wolf as most people believe. While it is possible to have a true first generation 50/50, it is not probable."
She also noted that in the last 15 years at the sanctuary, approximately 85 percent of the residents are the result of a wolfdog to wolfdog breeding or a wolfdog to dog breeding with more than three generations removed from a pure captive-bred wolf. The remaining percentage of animals, however, is in fact first- or second-generation animals from known captive-bred wolf lines.
And because the wolf traits in a wolfdog can vary, many people who buy a wolfdog puppy simply because they think it's cool to have such a dog often find them- selves with animals that are not at all adapted to their lifestyle.
Nancy said that wolfdogs, as well as breeds like Alaskan Malamutes and Siberian Huskies, have a very high prey drive and must be closely monitored around other animals and children. And those looking to buy a wolfdog as a guard dog might be disappointed if their pet hides under the bed, as wolves are timid around humans and not prone to attack.
The majority of the wolfdogs at Full Moon Farm come from animal shelters that picked them up as strays, from infractions of a leash law, because of an altercation with another animal, or having bit a human. Nancy pointed out that wolfdogs are illegal in some parts of the U.S., and, in legal states, a special containment or permit may be required to keep one.
While the majority of the sanctuary residents are not able to be adopted out due to their history, if a wolfdog is deemed a "pet quality" animal, Nancy will place it on a Life Foster Agreement and not as an adoption with a fee.
At the sanctuary, Nancy and her volunteers do everything they can to make the animals comfort- able. After assessment, the dogs are housed alone or in pairs and are never kept in a pack environment. Nancy explained that pack dynamics cannot be adequately duplicated in captivity. "We have enclosures that are hands off, with animals not wanting anything to do with humans," she said. "Many of our animals come from neglect and cruelty situations, where they were chained or kept in a pen with little to no human contact." The enclosures themselves average a roomy 2,500 square feet.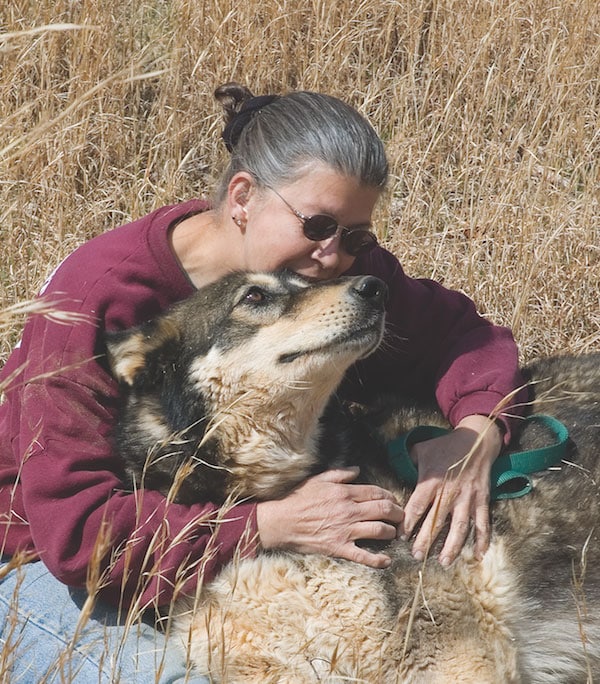 Wolfdogs from situations of abuse and neglect can, and do, blossom at the sanctuary. Nancy mentioned one of her "heart dogs," Zodiak, an abuse case who came to the sanctuary weighing only 40 pounds. He grew into a beautiful 119-pound low-content wolfdog and got along with everyone. Nancy said that for all he had gone through, Zodiak loved unconditionally and was a great ambassador for his breed. "He's been gone for a few years but not forgotten."
How much wolf is in a wolfdog?
Wolfdog breeders and experts talk about "percentage" and "content" when describing individual wolfdogs and their heritage. The genetic percentage of wolf in a wolfdog is impossible to know for sure unless the animal's line is traced back for many generations. The content of wolf — exhibited characteristics and traits of wolves — is usually determined by phenotyping, according to Nancy Brown, and making educated guesses based on physical appearance and behaviors. Nancy explained that con- tent can even vary between animals from the same litter.