What you select to put in your dog's food bowl and dole out as treats can make a difference in staving off — or at least, delaying — the onset of arthritis and other aches and pains in her joints.
Prime example: Debbie, a 7-year-old Boxer, the first of her breed to ever earn the American Kennel Club's Agility Grand Championship title.
"Her health in general, and particularly as an athlete, is a top priority for us, and nutrition is the building block to her life," says Cara Armour, professional dog trainer and president of Active Paws in Bolton, Massachusetts. "A lot of her success has to do with her conditioning, training and, of course, what she eats."
Cara's previous Boxers developed arthritis by age 6, so she consulted veterinarians to identify joint-friendly foods and supplements when Debbie was a young pup. Now, she makes sure that Debbie eats meals with cartilage and bone broth plus takes supplements such as glucosamine and chondroitin as well as green-lipped mussels and kelp.
"Debbie has only had one soft tissue injury in her shoulder, which is pretty remarkable given her constant training," Cara says. "I know that without good fuel in her body, she wouldn't be able to compete and to do so well."
Cara also weighs Debbie regularly to make sure she stays at her ideal weight of 47 pounds.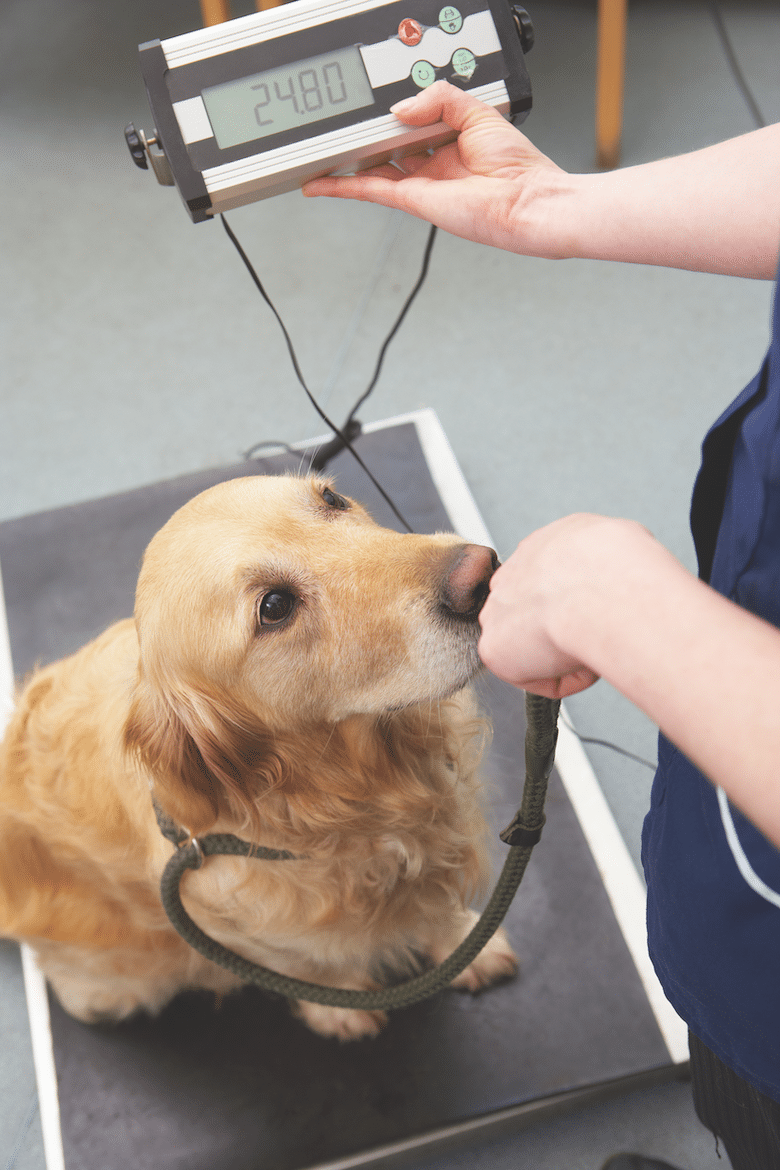 Keep your dog at a healthy weight
Extra pounds can tax a dog's joints, no matter the breed, says Dr. Zac Pilossoph, president of telehealth veterinary service ValidVet in Miami, Florida, and consulting veterinarian for Healthy Paws Pet Insurance.
"From bone and joint disease to metabolic conditions to even cancer, being overweight has been shown ➝ to be a negative contributor to a pet's overall well-being, regardless of the size or breed," he says.
Dr. Stephanie Liff, owner and lead veterinarian at Pure Paws Veterinary Care in New York City, also works with her clients to help keep their dogs at healthy weights.
"Excess weight means excess stress on joints and excess impact when exercising," she says. "As far as joint issues, Bulldogs and other chondrodystrophic breeds (dogs who sport short legs and long bodies, such as Corgis and Dachshunds) are especially prone to joint disease of the hips and elbows. Very active dogs of any breed are more prone to knee injuries, especially tearing the cranial cruciate ligament."
What to look for when choosing a joint-healthy dog diet
When searching for a joint-healthy diet for your dog, Dr. Liff urges you to work closely with your veterinarian.
"A balanced diet, in general, is important, but for joint issues, a diet supplemented with glucosamine, chondroitin and fish oils can be especially helpful," she says.
Try giving your dog sardines in water, as this fish is high in omega-3 fatty acids that are great for joint, heart and brain health.
"Omega-3s promote anti-inflammation in the body and are also a healthy source of fats," Dr. Pilossoph adds. "It is always better to absorb nutrients from a whole food source instead of trying to supplement diets piecemeal. So, adding foods with higher omega-3 and omega-6 rations are ideal." Top choices are crab, cod, salmon, flaxseed, chia seeds and some green vegetables (consult with your veterinarian).
Other key joint-aiding foods and supplements include:
✤ Green-lipped mussels. Heralded as arthritis-fighting superfood, mussels contain lots of omega-3 fatty acids, glucosamine and chondroitin.
✤ Kale and spinach. Both of these leafy green vegetables are packed with antioxidants that help against inflammation in joints.
✤ Glucosamine sulfate. This supplement may produce more "cushioning" around joints and slow down the rate of cartilage degeneration in active dogs.
✤ Chondroitin sulfate. This supplement is a go-to choice to reduce joint inflammation and to increase a dog's mobility.
✤ Turmeric root powder. Recent studies have shown that this yellowish powder aids in reducing arthritic inflammation and joint pain.
✤ SAM-e. Known formally as S-Adenosylmethionine, SAM-e is a dietary supplement that can help treat joint pain and osteoarthritis.
✤ CBD oil and treats. Cannabidiol (CBD) oil is an extract from the cannabis plant that does not contain the psychogenic, tetrahydrocannabinol (THC) found in marijuana. "We've been seeing promising research about the use of CBD products for pets with joint disease and arthritis," Dr. Liff says.
Related: CBD Can Ease Dogs' Arthritis Pain
Part of the daily diet
In some situations, the best game plan for your dog may be the need to switch her to a therapeutic diet developed for canines with joint issues. Among the popular diets requiring a veterinary prescription are Purina Pro Plan Veterinary Diets Joint Mobility, Hills Prescription Diet Joint Care (J/D) and Royal CaninVeterinary Diet Mobility.
What's the best game plan for your dog? Regular exercise, maintaining healthy weight and offering joint-supporting foods and supplements recommended by your veterinarian represent a formidable recipe to help keep your dog free of joint inflammation or pain.
"There's no doubt that food is the foundation for Debbie's fitness program," Cara says. "I always try to include joint-friendly foods from the time my dogs are wee pups and weaned. I make sure each meal is balanced, so they have all of their nutritional needs to grow into healthy, active dogs."
Featured Image: gmurrayroberts | Getty Images 
Read Next: What Vegetables Can Dogs Eat?