Roses are red.
Violets are blue.
I love my dog Riggins,
More than I love you.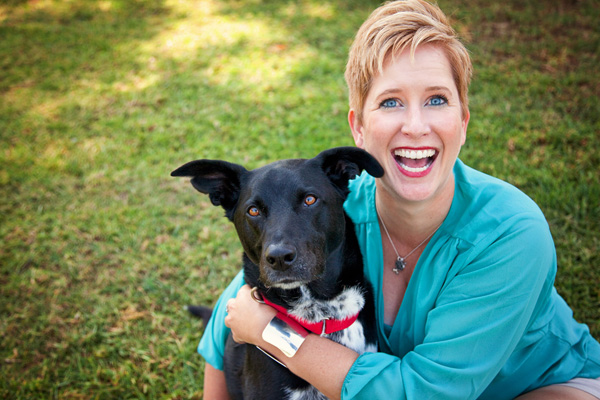 Don't feel too bad. I love Riggins more than I love 99.99 percent of the other living beings on planet Earth. He's been with me through thick and thin for just over nine-and-a-half years. That length of loyalty and unconditional love is unheard of in many marriages these days, and it's certainly the longest I've ever had anyone sleeping in the same room with me.
It helps that Riggins is a handsome devil. He has a shiny, thick black coat with a white-spotted chest and paws. People stop us when we are hiking together to admire his "socks." He can be a little thick around the shoulders and chest, much like a linebacker. That's okay as he is named after a football player, and I assure him it's all muscle!
Riggins is my loyal protector; his favorite spot in our house is in front of the door. I've had to add two baby gates, one stacked on top of the other, since I'm pretty sure he could bend the screen door and take down the mail carrier if he tried hard enough. It's not Riggins' fault he doesn't like delivery men. He didn't tell them it was okay to approach our house, and my sweet boy is going to make sure they know to proceed with caution!
That doesn't mean he doesn't like dudes. Nope. He LOVES most people, and guys seem to be his favorite, especially when we are out and about. Just today, at the dog park, he cozied up to a man who had crouched down to pet his own dog. Riggins wasn't going to let an opportunity like that get away from him. My silly mutt snuck his way in between the man and his dog just to get in some snuggle time. Typical Riggins move! When he does this, he usually turns back and smiles at me, "This one mom! Let's take this one home with us!"
Of course, he saves some snuggles for me. In the evening when I plop down on the sofa for some TV time, Riggins is happy to join me. As a dog sitter, I often have many dogs wanting my attention, but TV hour is Riggins' time. If there are other pups around, they shift until there is room for my baby to jump up, squeeze in between the sofa and me, and lay the top half of his body over my lap. Being a big dog doesn't mean he can't be a snuggly lap dog!
As my business partner, Riggins is half of our dog-sitting team. His patience is amazing as he allows a revolving door of good (and some bad) pups in and out of our lives. Riggins will let anyone cuddle with him or even use him for a pillow, but he is very careful when choosing play partners. That role is precious and handed out to a few of his favorite friends. For the rest of the troops, he prefers to referee their wrestling matches, watching carefully and barking his unhappiness when things start to get too crazy.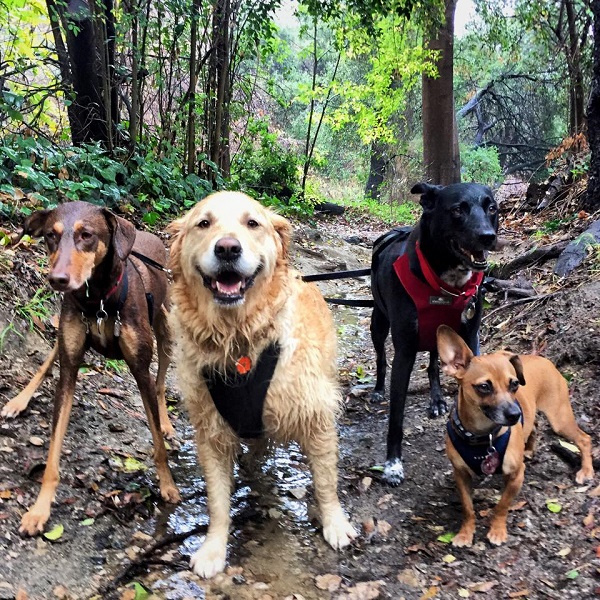 The most striking thing about my sweet Riggins is his big, pumpkin-colored eyes. The rustic orange color helps to create his adorable expressions and soulful appearance. His black fur just makes his eyes more electric and beautiful. When I look at those eyes, I have no choice but to plant a kiss right smack dab in the middle of his forehead.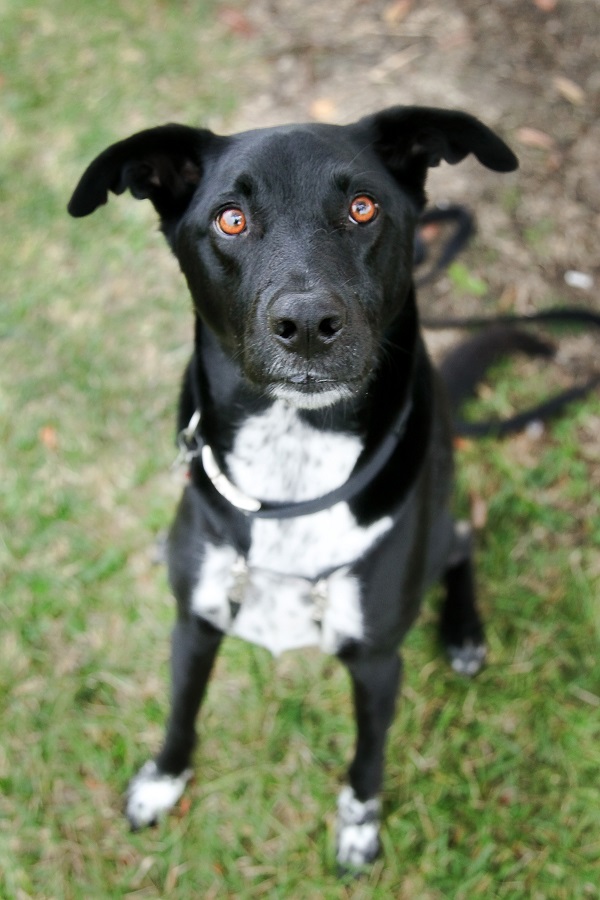 Before I became the queen of taking dog pictures with my iPhone for my clients, it was extremely difficult for me to capture Riggins on film. It's really hard to snap a picture of any black dog, especially when he is wiggly and full of energy. Usually, you just end up with a picture of a black furry blob, who you try to convince viewers is a magnificent dog in person, even if the camera doesn't love him.
In 2009, I decided I needed professional photos taken of my sweet boy. Someone who could capture him and his beautiful eyes and personality, despite his dark fur. I found a professional pet photographer, Lori Fusaro, and filled out her "get to know you" form. It wasn't until she agreed to a photo shoot that I dropped the bomb that Riggins was mostly black and hard to photograph. It didn't bother Fusaro one bit! She was able to capture Riggins in all his pumpkin-eyed beauty!
Now that I have learned to take better pictures, I love to catch Riggins in just the right light to show him off. I post the best pictures on my Instagram page and on my business Facebook page. Riggins' shots often get comments about how gorgeous his eyes are. They don't have to tell me, I know he's adorable! He's my beautiful baby boy!
When I look back at pictures Fusaro took, it's Riggins' eyes I'm drawn to first. They make him who he is and carry his personality in them. It's his eyes that first tell the mailman to back off and the guy at the dog park that he deserves to be snuggled. He uses his eyes to control and direct the chaos of other dogs in our house. Finally, it's his eyes that I look into and fall in love with him even more.
Let's hear from you, readers. Which part of your dog's appearance do you love most? Tell us — and show us with pics — in the comments!
Read more about life with Riggins by Wendy Newell:
About the author: Wendy Newell is a former VP of Sales turned Grade A Dog Sitter. After years of stress, she decided to leave the world of "always be closing" to one of tail wags and licks. Wendy's new career keeps her busy hiking, being a dog chauffeur, picking up poo, sacrificing her bed, and other fur-filled activities. Wendy and her dog, Riggins, take their always-changing pack of pups on adventures throughout the Los Angeles area, where they live together in a cozy, happy home. You can learn more about Wendy, Riggins, and their adventures on Facebook and Instagram.