Alice van Kempen creates some of the most eye-catching canine-themed photos you'll ever see. The pics star her Bull Terrier, Claire, and document their travels to abandoned buildings they scout out around Europe.
Let's take a look at some of the most impactful pictures this Dutch duo create.
Meet Claire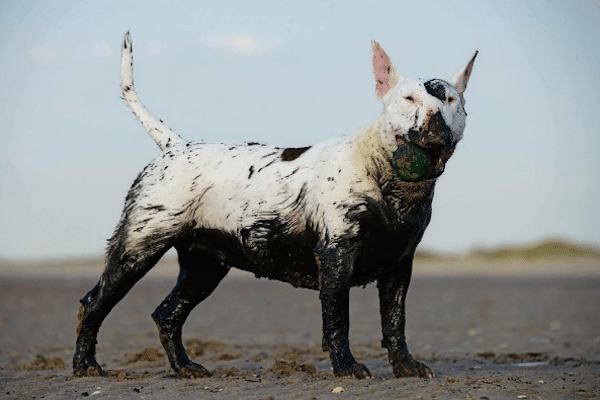 First up, let's take a look at Claire. As you can see from this recent photo, she's a dog who has no qualms about getting her paws muddy if the situation requires it. For Claire, adventuring and exploring are a way of life.
Location, location, location
This is a classic example of the type of photos Alice and Claire make. As you can see, the backdrop comes across like something from a blighted Anthropologie store that's been left to crumble, while Claire does her part by posing professionally on a chair that's altogether more shabby than chic.
Take the wheel
Having stumbled across a disheveled and discarded vehicle, Claire dons her driving scarf, hops up onto the driver's seat, and grabs the wheel. The scene looks like something out of a post-apocalyptic zombie movie, right?
Award tour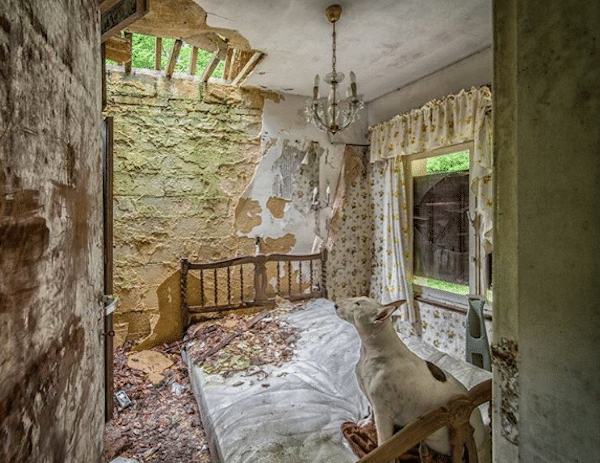 Alice and Claire have been seeking out decaying buildings for over two years now. Their itinerary to date includes abandoned military bases and prisons, monasteries and churches, plus coal mines and farms.
A new 'do
This is definitely not your cookie-cutter high-end salon for pampered pooches — although if you look closely amid the rubble, you'll notice that Claire has somehow managed to spruce herself up with a luxurious new bouffant.
Reading is fundamental
School might be out for the summer, but that hasn't stopped Claire from making some scathing commentary about the decay of the modern public school system.
Ticket to ride
Of course, when you're trekking around the world seeking out obscure deserted structures and hidden locations, the only civilized way to travel is by train.
Grub's up
Apparently, Claire is quite the professional subject when it comes to photo shoots. She will happily stay still until the perfect shot is ready to be captured. This Bull Terrier is also always willing to accessorize to help conjure up a vibe that's like a warped outtake from Desperate Housewives.
No task too small
When it comes to undertaking domestic tasks in the world's most ravished homesteads, Claire is a natural. Small matters like crumbling walls and floors filled with rubble don't stop her from getting through the Tuesday morning ironing pile. That's dedication.
Check out more from Alice and Claire over at their Facebook and Instagram pages.