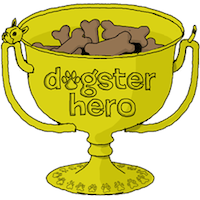 I'll admit I was surprised when I first heard that Hollywood tough guy Danny Trejo, the iconic actor best known for wielding guns and knives on screen, is a huge animal lover and advocate, and I was excited to talk with him about his life with dogs and work with rescues.
Like many of us, Danny has a history with dogs that dates back to his childhood. "Dogs have always been a part of the family," he said. "My Uncle Gilbert taught me that dogs are our running partners. I used to ride my bike, and my dog Butch would run right beside me all the time."
Danny also believes it's our responsibility to care for dogs. After all, we domesticated them and promised to take care of them. "The reality is that they are holding up their end of the bargain," he said. "We're not holding up ours."
He has always been the kind of guy to pick up strays, and he currently has four dogs of his own. Danny shared a funny story about Cash (who has since passed) during our chat: "You could spell "cookies," and he would start barking. And you could spell "walk," and he would start barking. One time, we had a party and everyone brought their kids. I told them OK, we're going to have a spelling bee, and there were like 10 kids. Tell me what this spells — "c-o-o-k" and woof woof woof woof. OK, Cash won!"
Danny first got involved in advocacy when his then-wife Debbie started doing rescue work and he "automatically fell in." Since then, he has worked with Spay4LA, Best Friends Animal Society, and Villalobos Rescue Center, and he talks to high school students about the importance of spaying/neutering. He really enjoys doing PSAs and promotional shoots for these organizations (like this silly one with an important message, which he recently shot with Friends of Animals).
"I love animals. Animals are just so cool," he said. "We've got one planet — this is it. Everyone thinks this is a dress rehearsal, but this is not a dress rehearsal. We've got one shot at this thing."
His connection with dogs changed his perspective about other animals as well. Danny hosted the Snaketacular special on the Discovery Channel in January, and he recently opened Trejo's Tacos in Los Angeles with a menu that includes vegan options.
One thing that stood out the most from my conversation with Danny was what he has learned since getting involved with rescues. It's something all dog lovers can relate to.
"I've learned is that all they need is love. It's unreal. When you've got people like Michael Vick … and yet his dogs have forgotten. They love. They're those dogs who go into hospitals. They'll forgive you," he said. "If by chance God lets him go to heaven, they'll greet him there with, 'Hey, we remember you!' They'll have forgotten the torture. They're all forgiving."
Danny Trejo is a great example of how dogs get into our hearts and soften us up. The actor described the feeling of coming home after being gone on a movie set.
"It's hard to be in a bad mood when you got a little puppy jumping all over you and wanting to lick you and wanting to tell you I love you I love you I love you!" he said. "It's so funny when I come home from a movie set and I've been gone for three days, and I come in and they're all screaming and I come in like, 'OK, puppy love!' and just lie on the couch, and they all attack me. It feels good to be home."