The nighttime routine is pretty well set in our household. We let our Miniature Schnauzers, Kramer and Dusty, outside with us to walk through the backyard, do their business, and then go back inside. They run up the stairs to the master bedroom, and we follow. Around 10 p.m., give or take a few minutes, this routine goes off without a hitch.
My wife, Kim, and I get ready for bed while Dusty chases Kramer around the bedroom, fending off any attempts by him to grab one of her many prized toys. This is their last burst of energy for the night, and it helps them wind down and sleep.
All of us pile onto our king-sized bed. In years past, the pups would sleep in their own comfortable crates. This would leave the entire bed to Kim and me. However, since Dusty started experiencing seizures during the night, we decided to allow her to sleep in between us on the bed so we could keep a closer eye on her.
Kramer continued to sleep in his crate for about a week while Dusty slept with us. One night, he snuck up while we were preparing for bed. He went to the head of the bed, between our two pillows, and curled into the smallest ball possible for a Miniature Schnauzer. He wanted to sleep on the bed with his family and showed us that he would not take up much room. Ever since, Kramer curls up like an armadillo at the head of the bed, never leaving that spot until morning.
As for our Dusty, curling up into a small ball is never in the plan. Instead, she will stretch out her two-foot-long frame to take advantage of as much bed as possible. Now, you would think she would choose the middle of the bed where there is ample room for a large dog, let alone a small pup like Dusty. Or, perhaps the foot of the bed where two dogs could easily rest comfortably for the night. No, Dusty won't have any of that. She has to be bumped against Kim or me in the center of the bed for the entire night.
When we first start to doze off, Dusty's insistence of being as close as possible is not a problem. It actually provides a little comfort knowing exactly where she is. Otherwise, we would be worried that she would accidentally fall off the bed, which is at least two feet off the ground. Also, we don't want to accidentally roll over on top of her while we sleep. By her being securely "fastened" to us, we know exactly where she is at all times.
The challenge comes with the amount of heat that an almost 10-pound dog surprisingly generates. Of course, during the winter months, it's nice to have the extra warmth against our bodies. Since she likes to steal the covers while we sleep, the added warmth she generates makes up for the difference. In the summer, however, it's a different story altogether. Even with the theft of blankets, her heat is less than desirable.
The other issue is Dusty's unique ability to slide gracefully into the crevasse we create when turning over on our side. Still positioned right up against us, Dusty stays warm and comfortable. However, after a few tosses and turns by us, we find ourselves clinging to the edge of the bed with no blanket, a sliver of a pillow, and legs and feet partially hanging off the side. At this point, we have two choices. We wake up, pick up Dusty, now fussing at us, and move her back to the middle of the bed. Or, do a little fussing ourselves and just deal with it. You can guess that on most nights, the latter option wins.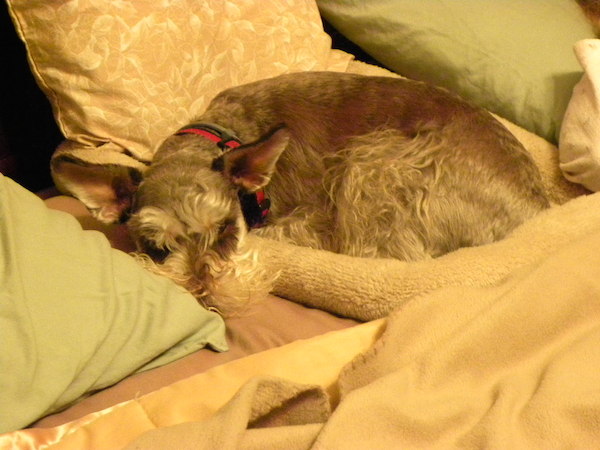 If there's one thing I have learned about initially getting into bed, it's to lie exactly where I should in order to gain the advantage over Dusty. I have found that if I don't, I end up almost off the bed by morning. If I do, there's less of a chance of not being pushed off the bed completely in the middle of the night.
Are your dogs bed hogs when sleeping with you? Share your stories and photos in the comments!
Read more Let's Talks:
About the author: Tim Link — All American guy, loves to rock out to Queen while consuming pizza and Pinot Noir, prefers to associate with open-minded people who love all critters, considered to be the literal voice for all animals – author, writer, radio host, Reiki Master, Animal Communicator, and consultant at wagging-tales.com.