O.K. I have to say that I do love comedian and actor Will Arnett (he's from Arrested Development and he plays Batman in the Lego movie) and the charming singer, writer and actor Alan Cumming (Instinct, The Good Wife). They are just two of the many stars in director Raja Gosnell's action and adventure comedy Show Dogs in theaters on May 18. And, the movie stars a bunch of dogs, which is always a plus when you're a dog lover.
The story pairs Max, a good-looking Rottweiler and police dog, with a human partner — funny man Will Arnett. Much to his dismay, Max is ordered to go undercover as a prestigious show dog in Las Vegas to solve a case of animal smuggling. Anyone who has ever watched a dog show knows it's not all just primping and preening, so we can imagine the rude awakening Max is in for.
Want to know more? Dogster got a chance to ask director Raja Gosnell about the movie.
Q&A About Show Dogs With Raja Gosnell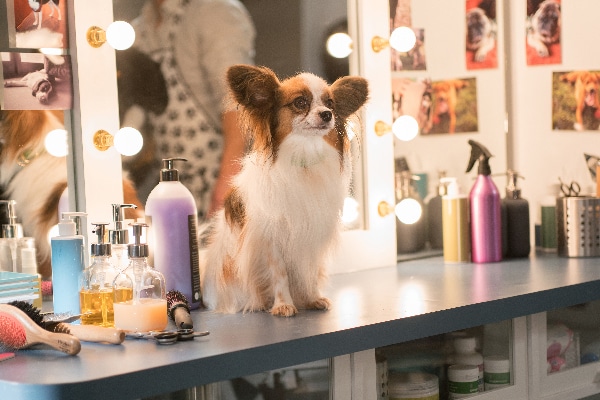 Dogster: What is the central theme of the movie?
Raja Gosnell: A macho, loner police dog, Max (voiced by Ludacris) is forced to partner with a human FBI agent Frank (Will Arnett). They go undercover at the prestigious Canini Invitational Dog Show in Las Vegas to rescue a kidnapped baby panda and bust the nefarious animal smuggling ring that kidnapped her. In the process, Max shakes up the stuffy social order of the dog show world, and Max and Frank learn to work together and respect each other.
The theme of the movie revolves around learning to trust others who are different from you. Show Dogs is a nostalgic, throwback talking-dog/buddy-cop/fish-out-of-water mash-up.
Tell us a little about the dogs and animal trainers of the movie?
Show Dogs stars a Rottweiler (Que), a Papillon (Razor), a Pug (Roxy), an Australian Shepherd (Elsa), a Komondor (Dar), a Xoloitzcuintli — Mexican Hairless (Mango), a Yorkie (Macho), a Basset Hound (Uzi), a Whippet (Romey), and a whole host of real-life show dogs and their owners. The lead trainer is Mike Alexander, who did Beverly Hills Chihuahua with me. The rest of the fantastic trainer team came primarily from the UK and Europe.
Any funny stories about the dog actors on set?
We shot the film in Wales in the winter and the dogs loved the cold, so we tended to keep the sets in the 50- to 60-degree Fahrenheit zone. While the human performers were shivering and the crew was in parkas, the dogs had the time of their lives. Even at that temperature Que, our star Rottweiler, drooled constantly. It was like a spigot! Mike had to wipe him down after every take.
The funniest thing I remember is our very proper Papillon trying to stay in character while watching strands of drool pour from the Rottweiler's mouth.
Elsa, the Australian Shepherd, loved people and would jump up into their arms knowing they would catch her. Sometimes you could be mid-conversation, gesturing about something and suddenly find an Australian Shepherd in your arms licking your face!
Are there any other animal actors in the movie, and what can you tell us about them and their roles?
While there are other animal characters in the film, they are all CGI created. A baby panda named Ling Li, a tiger named Deepak, and three wannabe cop pigeons.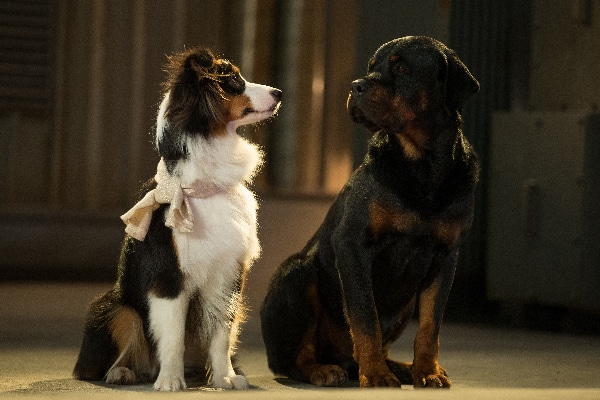 What would you hope viewers take away from this film?
Time for some throwback fun! And lots of behind-the-scenes dog show vignettes, told primarily from the dog's point of view. These characters are proud competitors, and take their world and their place in it quite seriously. Honestly, I hope the audience enjoys seeing gorgeous, real-life dogs doing what they love. While us humans had fun making this film, I'm convinced no one had more fun than these brilliant canines.
How does the film reflect the real world with dogs today? And are there any serious dog issues that it addresses?
Not in any on-the-nose way. Our characters have pretty universal concerns. Where they fit in the world (or pack), getting along with others, being good at what they do. I think those are emotions shared by humans and show dogs alike.
Catch the movie in theaters starting May 18 and find out more at #ShowDogsMovie on Facebook, Instagram and Twitter and on the movie's official website, showdogs-movie.com. Also, check out the trailers on YouTube.
Live Action Cast: Will Arnett, Natasha Lyonne
Voice Cast: Chris "Ludacris" Bridges, Jordin Sparks, Gabriel "Fluffy" Iglesias, Shaquille O'Neal, Alan Cumming and Stanley Tucci
Directed by: Raja Gosnell
Written by: Max Botkin
Rated: PG
Read more Dogster news on Dogster.com: