In August of 2013, the American Society for the Prevention of Cruelty to Animals assisted in a multi-state, federal dog-fighting raid across the southern U.S. Hundreds of dogs, ranging in age from just several days to 12 years, were found suffering in extreme heat with no fresh water or food.
Many were emaciated and had wounds and scars, and most were tethered by chains or cables that were attached to cinder blocks or car tires. The ASPCA managed the rescue and transport of the dogs to a temporary shelter, where responders began providing them with veterinary care and behavior enrichment.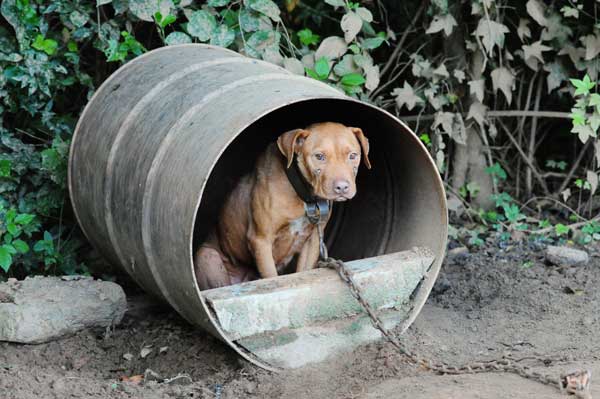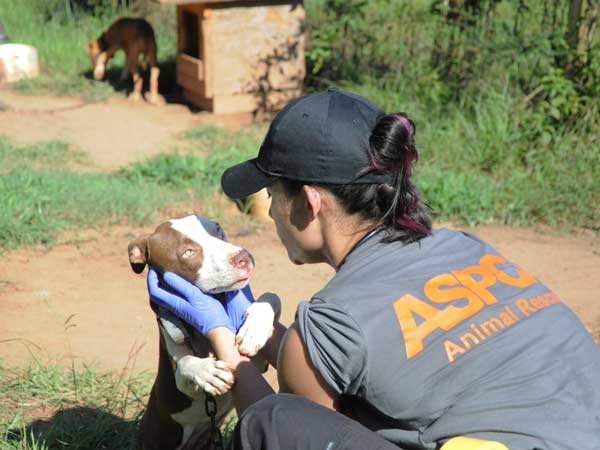 Fast-forward one year: the organization's field investigations and response team was seeking volunteers to help with the daily care of the dogs at the temporary shelter. Why were they still there one year later?
Many of the dogs were caught in a legal limbo that prevented them from being adopted or placed with rescue groups until criminal charges against their abusers were resolved, which just happened last month. While this was a sad, unfortunate situation, I realized how lucky the dogs were when I saw the attention and enrichment they received from the loving and caring responders, who worked hard to keep them happy and healthy every day.
I serve as senior social media manager for the ASPCA, but I hadn't had a chance to volunteer on one of our rescue missions, so I jumped at the opportunity to deploy to the temporary shelter. As part of my role in caring for the dogs, I cleaned cages, restocked much-needed supplies, fed the dogs, and took part in in daily enrichment sessions, which included teaching them manners.
Emotionally and physically, it was hard -– but so incredibly worth it. Being able to spend time with these beautiful dogs who have been through so much, and seeing their wagging tails when you approach their kennels, was an experience unlike any other. Even though they had been put through horrible experiences, as indicated by the scars on their bodies, they were trusting and grateful to be getting a loving human touch.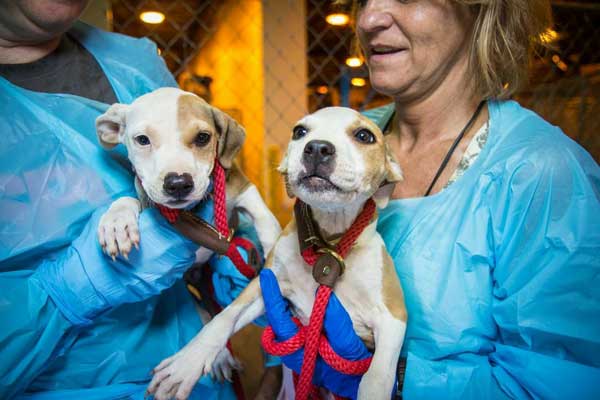 I had the chance to bond with one particular dog who was very shy around people, but who slowly opened up to me during my time at the temporary shelter. Day by day, I'd toss treats to her until she became brave enough to approach me and take the treat from my hand. One day, she let me pet and scratch her. I recently heard that she was placed in a loving home with a family in another part of the country, and I've been told that she's quite spoiled now -– which obviously made my day.
What really blew me away were the responders on the ground from whom I learned so much. It was an incredibly humbling experience to work alongside so many dedicated and committed individuals who want to help animals. It is clear how much they love the animals by the sheer lengths they go to in order to ensure that the dogs are comfortable, happy, and healthy. They also work tirelessly to prepare the dogs for their future homes by teaching them their manners, including how to walk on a leash and play well with others.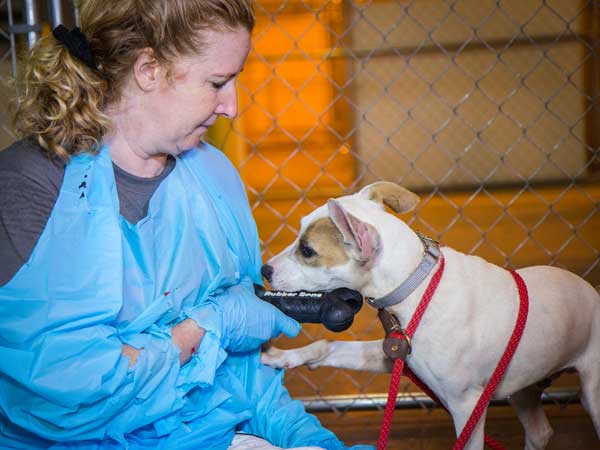 The job is not easy –- I only volunteered for one week, and I can only imagine all the hard work and dedication that goes into doing this for weeks, months, or years on end, as many responders do. As much as the dogs have been through, they are so lucky to have these individuals caring for them and preparing them for the next phase of their lives, which is in a forever home with a loving family.
Overall, the experience was truly life-changing. I was inspired to see all of the love and compassion that surfaced in response to such an awful situation, bringing volunteers from across the country together to help victims of dog fighting. It motivated me more than ever to help in the fight against this terrible, barbaric blood sport, which is a huge problem in our country, one that crosses state lines and involves people from all walks of life.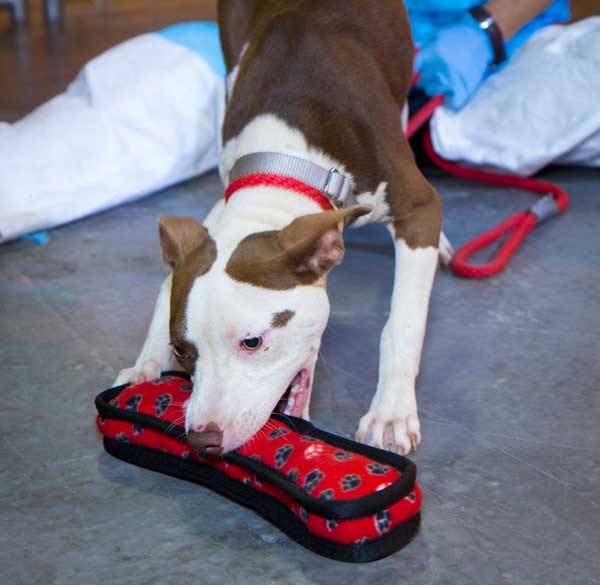 Ways you can help in the battle to end dog fighting:
Consider volunteering with your local shelter or the ASPCA to help animals rescued from cruelty, or you can open your heart and home to a cruelty victim who needs a second chance.
Raise awareness about dog fighting among your friends and family. The ASPCA has designated April 8 as National Dog-Fighting Awareness Day to inform the public about dog fighting and to encourage animal lovers across the country to take action against this brutal form of animal cruelty. Fight Pit Bull prejudice using your social media channels.
Visit your local shelter's Facebook page and share a photo of one of the adoptable Pitties; also share success stories of those who found their forever homes.
Pit Bulls, unfortunately, have a bad reputation as they are often exploited and used in dog-fighting rings. Yet another reason to volunteer at your local shelter to help adoptable Pit Bulls and Pit Bull mixes stay mentally and physically fit by exercising them or taking them to obedience classes. You also can lead a chew-toy drive to collect rawhides or hard rubber dog toys to keep them busy, or you can help create a fundraiser to support a free sterilization program for Pit Bulls at your local shelter.
Read more about this issue on Dogster:
About the author: Olivia Melikhov is the senior manager of ASPCA social media. Follow the ASPCA on Facebook and Twitter.