When Genevieve Frederick and her husband were on a trip in New York City in 2008, the sight of a homeless man and the devoted dog at his side stuck with her long after she had returned home to Nevada. She began researching the homeless and their pets and discovered that according to the National Coalition for the Homeless, more than 3.5 million Americans are homeless. And of these 3.5 million, between 5 and 10 percent have dogs and/or cats, with areas where the percentage reaches 24.
Frederick wanted to help, and so she started by placing a pet food donation bin at her own vet's office. From that grew(Feeding) Pets of the Homeless, a nonprofit volunteer-based organization that is dedicated to collecting food for animal companions of the homeless in the United States and Canada, as well as administering veterinary care.
Pets of the Homeless believes that no pet should go hungry or suffer, and its mission is to not only care for the animals of the homeless, but also to provide this community with compassion and support, thus relieving "the anguish and anxiety of the homeless who cannot provide for their pets."
And since its beginnings in 2008, Pets of the Homeless has been able to spend more than $190,000 on pet food, vet care and crates. Thanks to its more than 400 volunteers, the organization has helped more than 10,450 pets to date, by delivering donated pet food to food banks, homeless shelters and soup kitchens, which have agreed to distribute it to their patrons in need.
And while many people are quick to judge the homeless for taking on the responsibility of an animal, Frederick explains that oftentimes, having a pet is the only sense of normalcy that many homeless people have in their lives.
"In some cases, the homeless survive with the daily responsibility of pet guardianship," she says. "The human-animal bond has a powerful, measurable impact on people's lives; our organization is important to the homeless people that we serve."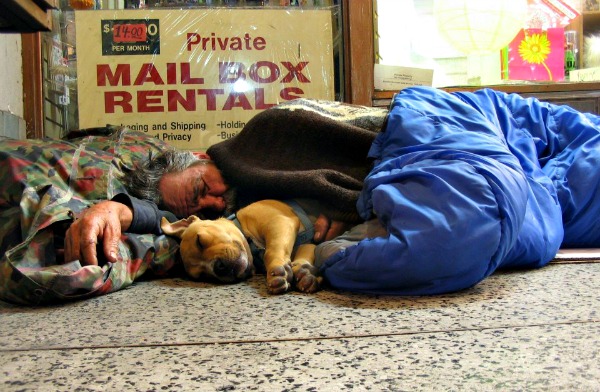 The response from the homeless community has been largely positive. Frederick says that "usually they are amazed that we [Pets of the Homeless volunteers] are here to help. Most cry because they are so grateful for our services."
Grateful recipients of the organization's help include Iraqi war veteran David Refuerzo, who was injured and disfigured during his service in Iraq and is now in the last stages of liver failure. He knew his beloved service dog, Girley, was terribly ill, but, like many veterans with service animals, he could not afford the veterinary care she desperately needed.
Thanks to Pets of the Homeless, Girley was able to be diagnosed with pancreatitis and kidney issues in time and receive IV antibiotics that would save her life. Her relieved owner says that she is getting her strength back and her tail is wagging once again.
"I am a disabled American veteran, and I have been disfigured during service for my country," Refuerzo explains. "When I finally had to ask for help for the one thing I hold dear to me, the only thing in the world I have left, I can say that Renee with Pets of the Homeless, you are a lifesaver and Girley's guardian angel … thank you so very much."
In addition to providing emergency veterinary care for dogs like Girley, Pets of the Homeless works with vets who volunteer their time to participate in wellness clinics. The organization provides funding that allows these vets to go out into homeless communities and administer vaccines, preventative treatments and spay/neuter services.
Frederick is also proud to note that more than 84 percent of monetary donations to Pets of the Homeless goes directly to funding the programs.
Programs like the crate project, which aims to get pet crates into non-profit homeless shelters that are willing to allow homeless patrons to come in with their animals. Often times, the homeless will prefer to sleep outside with their pet rather than accept a position in a shelter that does not allow animals.
Pets of the Homeless continues to grow and has inspired others to contact Frederick for help on how to model a similar organization in their own towns — requests that Frederick is happy to oblige, "because the need is so great," she says.
If you are inspired by the work Pets of the Homeless is doing, please check out its website and Facebook page for different ways to help out. And click here for a complete list of their many collection sites in both the U.S. and Canada.
Read more about the bond between humans and dogs on Dogster:
About Crystal Gibson: A child-sized Canadian expat in France who is fluent in French and sarcasm. Owned by a neurotic Doxie mix, a Garfield look-alike, and two needy Sphynx cats. An aspiring writer and pet photographer with a love of coffee and distaste for French administration, she can be found as @PinchMom on Twitter.