Every pet owner in New York City knows about the Animal Medical Center. Not just because this iconic veterinary hospital, located in Manhattan's Upper East Side, has been in existence since 1910 but also because it's considered the Mayo Clinic of pet hospitals. More than 100 veterinarians in a variety of specialties work 24 hours a day, 365 days a year to keep pets in the five boroughs healthy.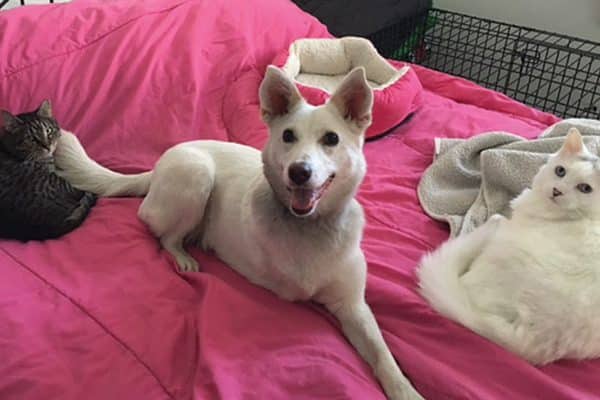 The Animal Medical Center's Community Funds
But the Animal Medical Center is much more than just a world-class veterinary hospital. The AMC also maintains nine community funds designed to help animals in need. The 401 K-9 Fund supports retired NYPD canines, while The Buddy Fund provides free or subsidized care for the treatment of cancer in animals. The Frank V.D. Lloyd Fund for Guide Dogs supports the AMC's visually impaired clients by providing free veterinary care for their guide dogs. The Honey Bunny and Rou German Shepherd Fund provides needed specialty veterinary care to German Shepherd Dogs — and rabbits — while the Patient Assistance Fund helps the AMC care for pets of people who can't afford the full cost of treatment for emergency veterinary services. The Monty and Minny Fund helps provide rehabilitative services for pets whose owners can't afford such care, and the Seniors' Animal Veterinary Effort provides free or subsidized general and emergency vet services for the pets of seniors who can't afford the cost of care. The Kiki White Umbrella Cockatoo Avian Fund helps
subsidize the cost of specialty vet care for birds for owners with limited financial means.
AMC to the Rescue Fund
One of the most special funds is AMC to the Rescue, established specifically to provide subsidized specialty care of animals being cared for by rescue groups, whose health has become an obstacle to their adoption.
One of the fund's recent recipients was a dog named Nora, who was found bleeding by the side of the road in Northern Iraq, her front leg severed above the elbow. A Good Samaritan brought Nora to a local vet, where crude measures were taken to save her. After several months in a foster home, Nora was transported to the U.S. by an Iranian rescue organization and ARME/Beagle Freedom Project. Nora was approved to be helped by the AMC to the Rescue fund and was treated at the AMC at no cost. Her leg, beyond repair, was amputated, but the couple that was fostering her fell in love with her and decided to keep her.
The AMC community funds survive on donations from pet lovers and have become such an important part of the New York community — and beyond. They are a big part of what makes the Animal Medical Center so special.
Thumbnail: Photography Courtesy of NYC's Animal Medical Center.
Read more news about rescue dogs on Dogster.com:
Audrey Pavia is a freelance writer and editor based in Southern California. She's the author of The Labrador Retriever Handbook. (Barron's)