Editor's note: Have you seen the new Dogster print magazine in stores? Or in the waiting room of your vet's office? This article appeared in our April/May issue. Subscribe to Dogster and get the bimonthly magazine delivered to your home.
Assistance dogs can change lives by allowing everyone from war veterans and amputees to those with chronic illnesses to children with autism gain independence, self-esteem, and companionship that goes beyond any sort of disability.
For health care network Baylor Scott & White Health, a partnership with world-renowned animal assistance provider Canine Companions for Independence meant an opportunity to provide its patients with innovative therapies to enhance physical and emotional quality of life.
In November 2015, the 9-acre Kinkeade Campus opened in Irving, Texas. It's the sixth training center for CCI and was made possible in part by donations from Baylor Scott & White. CCI plans to graduate 60 service dog teams a year from this campus.
The location was a logical choice for the new center. While the need for highly trained service animals is nationwide, Texas has the second largest number of dis- abled individuals after California, according to the American Community Survey. And the training facility is located near several military bases, which allows for veterans in the program to remain closer to home during the two- week training period when they are matched with a dog.
At the Texas training facility, individuals or families who receive assistance dogs undergo intensive training sessions to prepare them for life at home. Participants can stay in one of six dormitory rooms, and the center also features 24 kennels for its canine members, as well as a veterinary clinic and grooming area.
"While a highly trained, quality assistance dog can cost up to $50,000, participants in the program receive their dog, initial training, and ongoing follow-up services all free of charge," explained Julie Smith, director of media relations for Baylor Scott & White Health, based in Dallas. "The dogs are taught more than 40 commands, such as turning on and off light switches, retrieving keys, opening doors, and much more. They are trained to help with physical tasks but also they can improve one's emotional state."
Before the dogs are carefully matched with the program's human participants, CCI's volunteer puppy raisers have already helped prepare the pups for their new roles.
"These animal advocates play an important role in the success of the program," said Carolyn Covey Morris on behalf of Baylor Scott & White Health. "When the puppies are old enough to enter training, their puppy raisers take them to classes and teach them manners and public etiquette."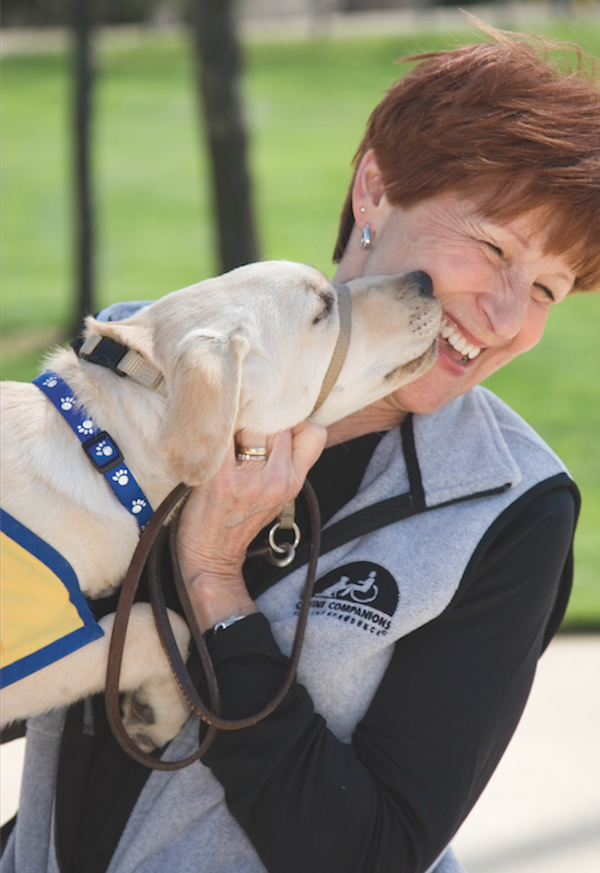 The specially bred puppies, all Golden Retrievers, Labrador Retrievers, or mixes of the two breeds, grow up in loving homes before being placed with deserving recipients. Annabelle was one of those puppies who, thanks to her puppy raiser, was taught basic commands and prepared for life as a service dog. The beautiful yellow Lab was paired up with Stephanie Clark's son, Peyton, who has autism.
Peyton and Annabelle graduated from one of CCI's training programs in March 2015, and Stephanie said her son's anxiety has improved since having the dog.
"Annabelle is the friend that Peyton doesn't have anywhere else," Stephanie said. "She pro- vides anxiety relief to him, even though he doesn't express that he is anxious. She has brought our family together."
Baylor Scott & White Health's partnership with CCI will continue to provide people like Peyton with life-changing assistance dogs.
"Baylor Scott & White is shap- ing the future of health care, and we are proud to be the first health care system in the nation to embrace a program like Canine Companions for Independence," Julie said. "We view it as an integral component to delivering overall wellness care to our patients and the communities we serve."
She added that CCI always needs more volunteer puppy raisersand program applicants, as many people are not aware that they are eligible to receive an assistance dog. In addition to the new campus in Texas, Canine Companions for Independence has training centers in California, Florida, Ohio, and New York.