Millions of viewers turned on their televisions on Thanksgiving Day not just to watch 2,000 beautiful dogs prance around at the National Dog Show, but also to enjoy the expert hosting of John O'Hurley. The actor has been the announcer for the celebrated pet competition since it launched in 2002 and believes it was one of the greatest decisions of his career.
I recently had the chance to chat O'Hurley up about his experiences. Here's how it went:
John, how did you get involved in hosting the National Dog Show?
My involvement started 11 years ago with a phone call from NBC that started off with "Woof woof." As odd as the opportunity seemed at the time, I sensed it would be a success. Today, I still believe it is one of the best programming decisions that I can remember. I'm proud to be attached to such a quality show.
Who are some of your favorite dogs from the show over the years?
I have certain dogs that are favorites of mine that are show favorites, but not necessarily dogs that I would own or would be correct for my lifestyle. There are a couple of breeds that I can't help but turn my head when they come into a ring. It's like looking at a beautiful woman. I've always loved the Irish Setters. I think the auburn hair, as it flies into the ring — and the perfect gait on that dog — is one of the most stunning things you can see at a dog show.
Also, parallel that with the Afghans. I love them. I think they are just as beautiful in the ring. Then, there's the cute factor. I love the Pekingese — the thing that's closest to the ground and basically mopping up the floor. It's just a joy to watch them. They're the hardest little workers, because they have to cover the most ground.
Have you had any embarrassing moments at the show or witnessed any embarrassing moments for any of the canine competitors?
We had one year where a Great Dane passed the NBC booth, stopped, turned around to look at us, then squatted down and apparently left us a personal commentary on our performance. It did stop the show. Someone with equipment used for an elephant had to come out and clean things up.
What do you think it is about the National Dog Show that draws millions of people and has become part of their holiday tradition?
This is not only a source of great family entertainment, but it's television done well. It's two hours of something that everybody can watch, from five-years-old to 95-years-olds. We're providing something on TV that is so value driven, and it supports so many of the right things that we should be doing on Thanksgiving.
On top of that, it's become such an educational format. It has shed light on the way that dogs are just a wonderful service to us as medical therapy dogs, psychological therapy pets [and more]. Dogs do so many extraordinary things that people are not aware of, and part of the show has been a format to celebrate the rich history of breeding, [as well as to show] what dogs do for us and their presence in our lives.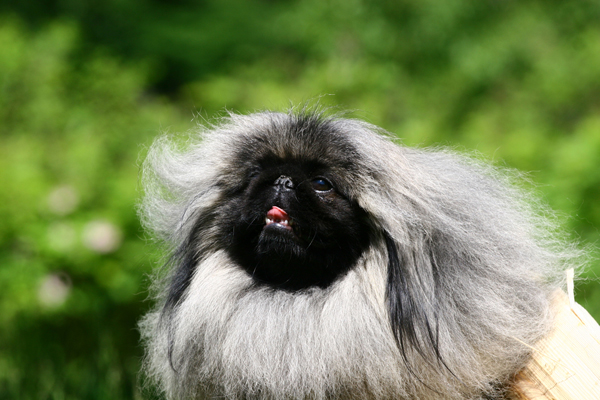 There has been a lot of criticism about stage mothers recently with the popularity of shows like "Toddlers & Tiaras" and "Here Comes Honey Boo Boo." Have you met a lot of obsessed pet parents?
I am a Red Sox fan and have met people who can't speak about anything that is not about that team. I am an actor and have met other actors who can't discuss anything but their careers. Obsessiveness has no boundaries in the human experience. Obsessive dog owners are more of a cliche in the world of dog shows than the rule. For many exhibitors, it is a family affair and a genuine community of people who love their dogs.
This article first ran on our friend site, Pawnation. See more recent stories from that site:
Photos: The National Dog Show 2012
National Dog Show New Breeds
Dog Nurses Three Tiger Cubs