---
The very picture of petite elegance, the tiny Maltese, with her cape of shimmering white hair and melt-your-heart eyes, is as sassy as she is sweet. There's a reason one of the most famous Maltese of all time was named Trouble.
More interesting things about the Maltese
The Maltese may be confused with a number of other longhaired toy breeds, but the Maltese is always white, with hanging ears and a long silky coat.

The Maltese is among the most ancient of breeds; very possibly the oldest known toy breed. Greek vases depict dogs resembling Maltese as long ago as 500 BC, and the breed is thought to be much older.
Aristotle mentioned a tiny dog he referred to as a Canis Melitae (the name for Malta in those times), and drawings on Greek and Roman pottery show small, long-haired dogs of general Maltese type.

They are a member of the Bichon family of dogs, which originated in the Meditaranean region. Other members include the Bichon Frise, Havanese, Coton de Tulear, and Bolognese.
The breed has gone by several names: Ancient dog of Malta, Roman Ladies' Dog, Maltese Lion Dog, Maltese Terrier, and Bichon Maltaise. A modern slang for the breed, originated in the 1960s in the United States, was Cokie — and we have no idea why.

Early sailors probably took the dogs with them to act not only as ratters but trade items. They were thus spread to distant ports.

Maltese were favorite lapdogs of the upper class in 1800s England. They were one of the first breeds exhibited at dog shows, but were called Maltese Terriers then.
Early Maltese came in many colors. Only in the 1900s did show standards around the world gradually require them to be all white.

The Maltese remained fairly unknown until the numbers started rising slowly in the 1950s. The dog reached the list of 15 most popular breeds in the 1990s.

Maltese at dog shows appear as parade floats, with their long white coats draped to the floor. For most pet owners, such coats aren't practical, as they require the hair to be combed and then folded into wrappers for safe-keeping, giving the appearance of a women in curlers! Pet Maltese are generally clipped into a shorter pet clip.

Although they've competed at the Westminster dog show since 1979, a Maltese has yet to win Best in Show there. Five have won the Toy group there, most recently in 1992.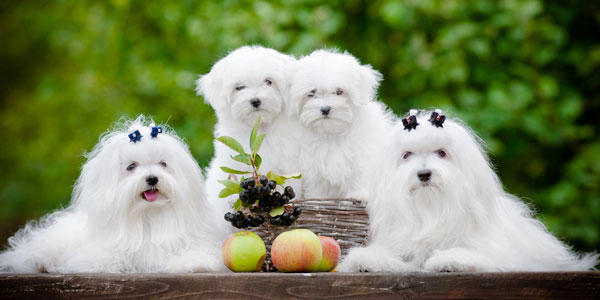 The Maltese is the 27th most popular AKC breed, down from 20th 10 years ago.

The 1915 novel Seventeen featured a Maltese named Floppit who was the center of attention of the female love interest, much to the main character's chagrin.

Owners include Elizabeth Taylor, Barbra Streisand, Marilyn Monroe, Elvis Presley, Tony Bennett, Liberace, Heather Locklear, Halle Berry, Britney Spears, Anna Nicole Smith, Torrie Wilson, Sarah Michelle Gellar, Brooke Shields, Billy Ray Cyrus, Eva Longoria, and Lindsay Lohan.

The richest dog in the world was a Maltese. The controversial Leona Helmsley left her Maltese, Trouble, a $12 million trust fund in her will. The will also stated Trouble would be buried next to her in a mausoleum, and an additional $3 million was earmarked for the mausoleum's upkeep. A judge ruled with her upset family members, and only gave Trouble a paltry $2 million. How can any Maltese live on that?
Do you own a Maltese? Have you spent time with one? Let's hear what you think about this fascinating breed in the comments! And if you have a favorite breed you'd like us to write about, let us know that, too!
Interested in other breed profiles? Find dozens of them here.
Read more about small dogs:
About the author: Caroline Coile is the author of 34 dog books, including the top-selling Barron's Encyclopedia of Dog Breeds. She has written for various publications and is currently a columnist for AKC Family Dog. She shares her home with three naughty Salukis and one Jack Russell Terrier.