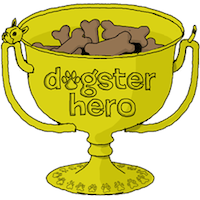 Take a stroll through the ancient capital city of Kathmandu, Nepal, and you won't be able to miss them – stray dogs walking along roads, dozing in the sun, hanging out in ancient temples, scavenging on garbage scattered by the roadside. Some appear to be in decent condition, while others suffer from advanced skin ailments, infected wounds, broken bones, and starvation – a sad sight to behold, especially for dog-loving tourists drawn to the valley for its world-renowned mountain trekking. Far from being revered, Kathmandu's strays are typically considered a nuisance and often fall prey to abuse at the hands of local residents. And the dogs are everywhere – according to Kathmandu Animal Treatment Center (KAT), there are over 22,000 "road dogs" living in Kathmandu valley alone. But while programs exist to help the city's disadvantaged people and orphaned children, there are very few resources to help the dogs.
Enter Pravin Sharma, owner of Le Sharma Trading Inc., a fair-trade pet product company that sells natural dog chews and artisanal dog toys, beds, and accessories made in Nepal. He decided to set up a street dog feeding program to not only care for these desperate creatures but also to spread awareness about their plight.
"Every day, hundreds of dogs go hungry and are abused in Kathmandu valley," says Sharma. "This fact always bothered me when I lived there, and I used to take some measures on a small scale – feeding them, taking care of the ones around my house and encouraging others to do so. Since I was born and brought up in Nepal, I wanted to give back to the country and society in any way I can. Thus, with the income we receive by selling dog products in developed countries, we try to invest a significant amount in doing something good back home."
So Sharma rallied together a small team of kindhearted locals to feed the dogs and provide basic emergency veterinary care. Meals consisting of water buffalo meat, rice, bread, and biscuits are served three times per week in different locations around the valley, including the Pashupatinath Temple, one of the most famous and sacred Hindu temples in Nepal, and the Boudhanath Stupa, considered the holiest Tibetan Buddhist temple outside of Tibet.
In one year alone, this feeding campaign has nourished more than a thousand hungry canines, with Sharma's volunteers making a point of involving locals whenever possible in an attempt to change their negative perceptions about the dogs.
"Nepal is an extremely delightful nation, and generally, the Nepalese are delicate and kind, but like every nation, it has a savage side," explains Sharma. "Although there are a few local and international organizations that work for the welfare of the stray dogs in Kathmandu valley, there are no legal protections, so animal abusers act with full freedom, throwing stones or boiling water at them, or casually kicking them as they pass by. This is all due to lack of awareness. Thus, we were inspired to carry out these programs not just to feed the dogs, but to also make people aware and inspire them to stop abusing these creatures."
Although Sharma agrees that his feeding program is not the ultimate solution – he intends to provide more extensive veterinary services for the dogs once greater funding can be secured – he is doing what he can in the face of a daunting situation. After all, Kathmandu is a city still recovering from a 7.8 magnitude earthquake that claimed almost 9,000 Nepalese citizens in April of last year, so with the community focused on surviving and rebuilding, its road dogs have become nothing more than an afterthought.
"Due to the recent devastating earthquake, a lot of dogs lost their lives, and many lost their homes and were forced to become strays," says Sharma. "Our feeding program will improve this issue for the short term, but our hope is that the awareness we've been spreading by involving locals in the program will help us solve this issue for the long term."
Nepal isn't the only developing nation long known to have street dogs as part of its landscape. Humane Society International estimates that there are 250 to 300 million free-roaming dogs wandering the globe. And just like in other countries where stray populations have exploded, Nepal's is a human-created problem derived from a lack of awareness, education, and most importantly, access to sustainable, affordable, and humane canine population control. But faced with the potential of rabies outbreaks and other threats to human health, Kathmandu has also mirrored many countries including Indonesia, Malaysia, Kenya, Egypt, Russia, much of eastern Europe and the Baltic countries in turning to mass killing campaigns as a quick and immediate "solution" to their stray problem (despite the fact that these inhumane methods have been proven to be ineffective and unsustainable). But after street children died from consuming poisoned dog food, the government decided to abandon the cruel practice, says Sharma.
"People have the mentality that stray dogs should be killed instead of taken care of and fed," he said. "That is the first thing that needs to change if we want any progress for street dogs in Kathmandu or in any part of the world. Besides trying to spread awareness and involve more people in our programs to change this mentality, we are also conducting humane education campaigns by going to different schools and teaching children how to treat and care for animals. That way, they won't have to face in the future what we are facing now."
Luckily, help has come to Nepal in the form of Humane Society International's Street Dog Welfare campaign, which was launched in Kathmandu on April 20. As it is doing in 10 other countries, including Bhutan, The Philippines, India, and U.S. territories such as Puerto Rico, HSI will help Nepal establish a mass sterilization and vaccination program to humanely manage street dog numbers, prevent disease, and most importantly, provide a permanent solution to a problem that has plagued Kathmandu valley for generations, says Kelly O'Meara, HSI director of companion animals and engagement.
"It's going to start off as a pilot program, which means it will be carried out within a period of time with the intent to show its breadth, success rate, and possibility," explains O'Meara. "We'll be training local talent and personnel, including veterinarians and government officials, and setting it up from start to finish so we'll be able to hand over a program that's fully implemented, and has the resources in place to maintain it in the hope that the government will carry it on from there."
When told about HSI's new program, Sharma is thrilled.
"This is a team project that cannot be achieved by just one group of a few dedicated dog-lovers, so I'm very excited to hear about this," he says. "The more people that can help the dogs, the better. Attitudes are changing and improving in Kathmandu, pet stores are opening up, and you can see how people love their dogs, but we have to work harder at teaching the new generation. We have to help them understand that dogs are living beings, too."
If you'd like to learn more about Le Sharma Trading Inc. and support the street dog feeding campaign by purchasing some of its handmade, eco-friendly pet products, please visit their website or donate here. You can also find out more about HSI's incredible Street Dog Welfare initiative and how to become a Street Dog Defender here.
About the author: A devoted dog mom, journalist, and animal activist, Lisa uses her writing to spread awareness about animal welfare and cruelty issues. She lives in Atlanta with two spoiled German Shepherds, one entitled Pug, and a very understanding husband. Read more of her work at her blog and website, and follow her on Twitter.