For a little kid, the witness box might as well be the eye of a hurricane. Victims of child abuse are often overwhelmed by the legal storm brewing around them, especially when they are asked to continually relive the worst moments of their lives. In this way, the judicial process can feel more like a re-victimization than justice. It's a kind of trauma few people can understand, but a dog named Rikki has proven she gets it — and that sometimes a dog can make a kid feel safe even when the justice system can't.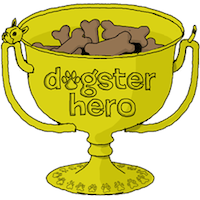 Rikki's ability to relate to kids as an incredibly empathic dog may be rooted in her own history of trauma. When Hurricane Katrina headed for New Orleans, forcing people to make desperate choices, she was just a little puppy. During the storm, an unprecedented number of pets were abandoned. Some drowned, some starved, and the luckiest were saved by brave animal rescue teams.
Dog lovers across the country — including Chuck and Patti Mitchell of Tallahassee, Florida — offered refuge to pets who'd lost their homes and families.
"We had contacted our local humane society and animal shelter and said, 'We've got a big, friendly Lab and a fenced yard, we'll be happy to foster some of these animals that are coming into town and hang onto them until we can reunite them with their owners,'" Chuck Mitchell tells Dogster.
The Mitchells ended up fostering three Golden Retrievers — Rikki, her mom, and one other female pup — none of whom were microchipped.
"Then her mom got adopted out, her sister got adopted out. Rikki was kind of sickly and frail and withdrawn. I think she got a little more traumatized by the storm than her sister," says Mitchell.
The family decided to offer their little foster pup a permanent place in their home, and worked to nurture Rikki and make her feel as safe as possible. Animal therapy wasn't something that was on the Mitchell's radar until Rikki was about 6 or 7 months old, when Rikki suddenly showed an aptitude for it. The pair were out for a walk and Rikki was straining at her leash, trying to meet and greet every person they encountered. According to Mitchell, the life-changing moment occurred when he and Rikki approached a neighbor who had been diagnosed with Parkinson's disease.
"Even though she likes dogs, she asked me if I could keep Rikki back a little because she didn't want Rikki to jump on her and knock her down," Mitchell recalls. "As soon as we got within 20 feet of [the neighbor], Rikki's entire demeanor changed."
Mitchell says he was shocked to see his usually wiggling, lunging puppy completely calm down.
"She lowered her head and just walked very slowly and gently up to Mary, and just slowly leaned against her leg so Mary could pet her."
When Mitchell told his vet about the unusual incident, she recommended he check out a small animal therapy group, and Rikki's career began. The Mitchells became immersed in animal therapy work, bringing Rikki to see sick kids in hospitals and also schools, where she worked as a reading education-assistance dog.
"So, Rikki had gotten a lot of experience around not just children, but children who were experiencing trauma or stress in different ways," says Mitchell.
He felt Rikki's connection with children in crisis made her a great candidate for working within the judicial system as a therapy dog, something that wasn't commonly done in Florida at the time. Mitchell credits Florida's state attorney with being open minded enough to see the difference that Rikki and dogs like her can make for young victims as they seek justice. He says she gives kids who've suffered horrific abuse something else to focus on when they're in the witness box.
"When they think back to that experience in court, they think about Rikki, and the fact that they got to meet this great dog. That every time they went to court they had to bring a package of carrots because that's Rikki's favorite treat — she'll do anything for baby carrots," he explains.
Mitchell says Rikki not only inspired Florida lawmakers to pass legislation allowing therapy animals into courtrooms statewide, but has also inspired some of the children she's helped to help others.
"One of these girls has actually gone on to get her own therapy dog, and her mission in life is to set up a courthouse therapy dog program in the back hills of Kentucky where she lives, and to do this kind of work herself so that she can help other girls."
Of course Rikki makes a big impression on the kids, but she's a big hit with adults at the courthouse, too. She provides stress relief to just about everyone working a trial.
"I've even had defense attorneys get down on the floor and pet my dog after they've spent an hour interrogating a client I've been working with," Mitchell says.
Although much of Rikki's work is within the justice system, Mitchell says she works in several different environments, including the Florida State Hospital, the largest psychiatric hospital in the state.
"She's working on average four days a week," he says. "We figure that on average, Rikki probably interacts with 25 people every time she goes out. You can do the math, and you can see more than 25,000 folks that we've interacted with over the years."
Those years are adding up for Rikki. Now 10 and a half, she has suffered what Mitchell calls a couple of medical setbacks (including cancer, which is now in remission), but he says she's in remarkably good overall health for a Golden of her age.
If Rikki ever does decide to retire, her legacy will undoubtedly continue. The stories about the copper dog who gave frightened children someone to hug will live on in the courthouse halls — and in the new book by journalist Julie Strauss Bettinger, Encounters with Rikki: From Hurricane Katrina Rescue to Exceptional Therapy Dog.