Katherine Heigl has been in the public spotlight for much of her life. Best known for TV series Grey's Anatomy and the very funny movie Knocked Up, she now stars in State of Affairs, debuting tonight on NBC.
While you can read plenty about her personal life on celebrity-gossip websites, one aspect that doesn't get nearly enough attention is her animal rescue work. So I sat down to discuss that with her.
Dogster: When did your love of animals begin?
Katherine Heigl: I've always loved, respected, and cared deeply for animals. Our family always had animals, and I was born into a household of two dogs and two cats.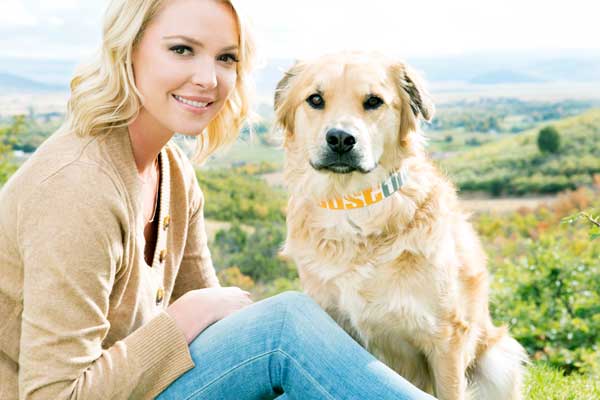 Please tell us about your current pets.
I have eight dogs and three cats. Pi Piper (10-year-old Chow/Shepherd-mix rescue), Stella (14-year-old Schnauzer), Weezer (eight-year-old Schnoodle), Tamber and Flora (three-year-old sibling Shepherd-mix rescues), Oscar (six-year-old Potcake rescue from Mexico), and now a new little Boxer puppy named Baba, who was rescued with his whole litter when their mother died when they were three days old. Of course, there's Gertie, my constant companion, a 10-year-old Chi, who was rescued from an East Valley shelter.
I also have three cats, all rescued from shelters: Stanley, Charlie, and Whiskey. They now live at my ranch in Utah and love it there. I also recently added one of the Sochi dogs, Billy Bean, to my group. BB loves the ranch in Utah.
Tell us why you named your rescue foundation after your brother, Jason.
Jason influenced our family in every way possible. He was always looking out for and caring for the voiceless and the innocent. He really especially loved a big black Labrador we had named Ben Davis. When Jason was hospitalized for the week after his accident and died, Ben Davis ran away, and we all thought he was out looking for Jason. Finally, after about five days, we found him and brought him home. I believe he knew Jason was gone and missed him the whole rest of his life.
When we first fully realized the plight and terrible situation for so many companion animals in this country, we knew that we had to do all we could to stop this unnecessary killing of so many good, healthy animals. It was obvious to us that the foundation's work and purpose would enable Jason's compassion and kindness to still go on even though he had died so young. So, of course, it became the Jason Debus Heigl Foundation and helps us honor the memory and the heart of a wonderful brother and son who we will always miss.
Why did you want to get involved with rescuing animals?
Along with my brother, having been around companion animals my whole life, I know their immense value in our lives, which a lot of studies have proven, and how individual and valuable each one of them is.
Tell us a little about the Heigl Hounds of Hope.
When we started working with shelters in Southern California, we saw so many big dogs who just did not have a chance to make it out alive. Our existing transport program can generally just place the small ones, but we could not turn our backs on the others. So we take just a few special dogs each year who become Heigl Hounds.
They are usually dogs who need special help, whether it be medical, training, or otherwise. We have had bait dogs, dogs with advanced cancer who needed hospice, dogs disfigured by illness or abuse, dogs deemed aggressive who needed training. They stay with us until healed physically or mentally enough to go up for adoption.
Any advice to someone who is thinking of rescuing a shelter animal?
I want to encourage people to always adopt, big or small dogs. They are all wonderful companions and truly enrich our lives. Shelters are packed and many need to kill animals because there just is not enough space. These dogs are not being killed because of behavior problems.
Most people do not know that 25 percent of all the dogs who come into the shelter are purebreds. There are breed-specific rescues for every kind of dog and cat! And a lot of people think that the shelters are filled with used or otherwise undesirable dogs. That could not be further from the truth. The dogs and cats at shelters all deserve another chance to be loved and live!
How can the general public get involved with the Jason Debus Heigl Foundation?
Anyone anywhere can do three amazing things to help animals: 1) Get your pets fixed, 2) adopt your next pet, and 3) help spread the word about the first two! If they are outside Southern California, they can donate to us or their local animal shelter. If they are in Southern California, we invite them to visit our site and become a foster, a dog walker, or get involved with our transport team.
What is the best thing about rescuing a dog?
When you choose to adopt a dog, you are not just saving that animal's life, you're also saving the dog who was never bred, the one who now has more time at the shelter to find a home, and, of course, the one you're taking home! I actually believe and have seen for myself that rescued animals are even more grateful to be with you and seem to know that you have saved them.
What have you learned from your pets?
That life can turn on a dime! My little furry (Gertie) was next on the list to be killed at a Los Angeles shelter. When we pulled her, she had no teeth and was underweight. Other rescues passed her up, but we saw a diamond in the rough. Now she eats eggs at the Four Seasons and travels in the plane with me wherever I go. Talk about keeping hope alive!
The best part of having animals in my life is just having animals in my life and home. They enrich our home with their unconditional love and loyalty. They bring laughter and fun with their individuality and special personalities. They help teach my children about caring for others, and help me to always remember the important things in life and that all life is a gift that we need to value.
Anything else that you would like to share with us?
Just that we at JDHF are so grateful to all the people who recognize the value of our companion animals and are helping us to accomplish the goal we have set to stop the senseless killing of so many of these valuable beings.
Learn more about Heigl's rescue work by visiting jasonheiglfoundation.org and following her on Twitter and Instagram.
Read more from Brian Fischler:
About the author: Brian Fischler is a standup comedian and writer. He has been seen on The Today Show and Top Gear USA, and he was featured in Maxim Magazine as the Comedian of the Month. Fischler also runs Laugh For Sight, a bicoastal comedy benefit featuring the biggest names in comedy that come together to raise money and awareness for retinal degenerative eye disease research. Connect with him on Facebook and Twitter.