It's not every day that two school-aged boys decide to launch a nonprofit in honor of their beloved pet. But when Josh (15 years old) and Bryce (12) Benbasat thought of how to celebrate the memory of Sashi, their smart and loving lhasa Apso who developed a stomach tumor, they knew that cancer research was the way to go.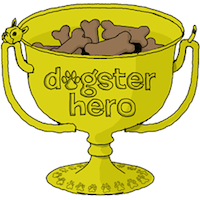 "Cancer is the No. 1 disease-related killer of dogs and cats," Josh says, giving emphasis to the incredible scope of this health issue in our cherished pets. In fact, it's estimated that half of all dogs over the age of 10 will develop cancer in their lifetime. Armed with this new but disheartening knowledge, the Florida brothers set out to establish PAWSitively Curing Cancer to raise money for curing the disease.
The first steps were to find a willing corporate sponsor and to create a product that would represent the goal of supporting cancer research. Josh and Bryce didn't have to look far before they realized their father, Steve Benbasat, president of Trimline Manufacturing, could be their biggest source of assistance. Since he manufactures soft collars for pets recovering from surgery, the boys thought a new design would help raise awareness. With their grandmother — a breast and lung cancer survivor — in mind, Josh and Bryce decided to give the comfortable, American-made collar a pink trim and a special PAWSitively Curing Cancer label. With a timely launch last November to coordinate with National Pet Cancer Awareness Month, the charity is donating a portion of the profits to the University of Florida College of Veterinary Medicine.
"We would like to raise as much money as possible in order to help find a cure for pet cancer," the Benbasat boys note. "So far, we have raised almost $5,000."
The funds are going to various research initiatives at the university, including the study of bone cancer and oral melanoma in dogs. And the potential implications are enormous. "The cancers our pets are getting are very similar to humans'," says Dr. Rowan Milner, associate professor of oncology and chair of the department of Small Animal Clinical Sciences at the university. For example, osteosarcoma — common in large dog breeds — is genetically very similar to the same cancers in older children and young adults. Because of an animal's shortened lifespan, Dr. Milner and his team can study the disease from beginning to end. "And we can make use of treatments that are having good results in humans in our pets. It's a two-way street," he says.
Nearly 400 dogs with melanoma at the university have received a vaccine that can extend their lives. And the money from PAWSitively Curing Cancer helps fund the lab work investigating cancer vaccines. But starting a nonprofit was a big leap for Josh and Bryce Benbasat.
"We were extremely intimidated," they remember. "Once our dad told us what was required, we were worried; however, we knew that it was for a good cause and that is what kept us going."
The boys' dad helped them figure out everything, from filing paperwork to applying for nonprofit status with the IRS. "There are a great many lessons my sons have learned, beginning with perseverance," Steve Benbasat says. "They have learned that anytime something seems challenging, they have to keep on learning and trying. In addition, they have learned to become lifelong citizens of the world by giving their time and energy. Equally, the running of a business is something that will help with any profession they choose."
Since establishing the nonprofit three months ago, Josh and Bryce have been planning additional outreach efforts, including opening school clubs and placing donation boxes in veterinarian offices. "We are still brainstorming some creative fundraisers as well," they say.
For now, dog lovers can purchase the Trimline Recovery collar in support of cancer research at any local veterinarian. Just be sure to ask for the soft blue and pink-trimmed collar. You can also make a direct donation at cureforpets.org.
Do you know of a rescue hero — dog, human, or group — we should profile on Dogster? Write us at dogsterheroes@dogster.com.
Read about more Dogster Heroes:
About the author: Whitney C. Harris is a New York-based freelance writer for websites including StrollerTraffic, Birchbox, and WhattoExpect.com. A former book and magazine editor, she enjoys running (with Finley), watching movies (also with Finley), and cooking meatless meals (usually with Finley watching close by).