On a recent walk home from the dog park, I speak with no fewer than 10 of my neighbors. Well, Ace speaks to them, really, using her big eyes and her wiggly butt and her lolling tongue. I am in a supporting role here, being helpful by providing some information about Ace's stats: Boston Terrier, 15 pounds, two years old; yes, she is kind of a chocolate color; no, she is not male.
I am meeting some of my neighbors for the first time, like the young couple who had a few questions about adopting a BT. Some of my neighbors are familiar to me because of past encounters intermediated by Ace, like the woman at the dog park who recognized my accent. It takes Ace and me 20 minutes to walk two blocks home.
And yet, I'm an introvert. That's just how I'm built. I enjoy spending much of my free time alone, with occasional visits from a friend or two. Large groups and parties wear me down. Living in a city, I can be around people without engaging them directly, though sometimes I need to fully recharge with a hike in the countryside.
Ace is an extrovert, through and through. She thrives on interactions with humans and other dogs. Sure, she's obsessed with fetch, tug, and shake, but if her ears detect the admiring tone of a nearby human's voice, she's practically singing and dancing for their attention.
I think I created this gregarious monster. I was determined to do everything I could to socialize Ace. In a class at the SPCA, the instructor emphasized the importance of early socialization during a puppy's first four months of life. He described how he had carried his own puppy around in a baby sling against his chest, high off the ground, away from parvovirus and other dangers. I bought a secondhand baby sling from a woman advertising on Craigslist -– I'll never forget the look on her face when she asked me to tell her about my infant child.
Imagine the most adorable puppy you could ever want, then imagine her in a baby sling. People went completely insane with delight wherever we went. I think half of San Francisco must have petted and kissed her little spotted head within those first few months. Puppy kindergarten and daycare helped her socialize with dogs, too, though most of the other puppy parents had to get a hug and a kiss in with Ace before the class was over.
Those first few months were absolutely exhausting, as all my free time was consumed by Ace's engagements. I had to learn to relate differently to my neighborhood and my city because of Ace. Instead of moving through the streets anonymously, Ace drew people towards us for conversation and connection. All those brief exchanges sapped my little introverted heart of all its energy, while Ace's just grew and grew.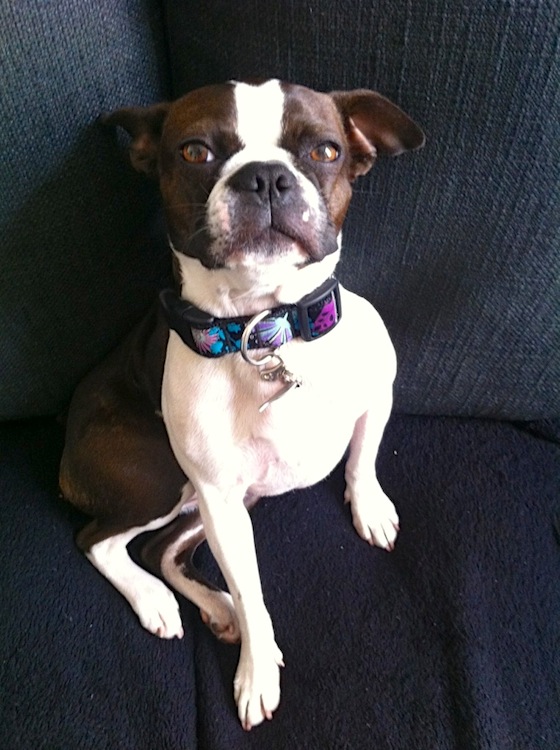 Over time, I've adjusted to this new way of interacting with others in public spaces. These moments of shepherding around my little celebrity are no longer so draining. In fact, they can be quite rewarding!
For other introverts who want to support and perhaps even enjoy their dogs' bustling social lives, here are a few tips:
1. Respect your own boundaries
Although nothing makes me happier than seeing Ace happy, I often must remind myself that it is my job to set the boundaries in these interactions. Mama is in charge! So if I don't much feel like chatting, or if I don't like the way someone is petting Ace, or if I have somewhere I need to be, I politely bid Ace's newest friend good-bye.
2. Write a cheat sheet
You know how you always think of the wittiest or smoothest thing to say about two minutes too late? I've memorized a few stock responses to common questions about Ace, sort of like a FAQ. That way, when I'm tired or distracted, I can more easily interact with excited strangers.
3. Talk shop
Often, I don't know what to say to strangers (or sometimes even friends). If someone shows interest in Ace, I know we have at least one thing in common: We like dogs. It's easy for me to talk about dogs, so that's what I fall back on if I'm having an awkward moment with an Ace-worshipper.
4. Spread the Good News of Dog
Some people have had negative experiences with dogs or have negative preconceived notions about different kinds of dogs (for example, that small dogs are poorly behaved). I have watched Ace destroy such fears or beliefs just by being herself with strangers. When we're approached, I feel more like chatting if I think about Ace as a little ambassador.
5. Share the love
When I'm out and about on my own, I rarely make eye contact or show my emotions. With Ace, people seem to come alive all around me, smiling and laughing, letting their guard down. Pretty soon I'm out of my head and in the present moment, smiling.
Dogster readers, can you relate to aspects of my experience, or are you the social cheerleader while your pup is more of a wallflower? How do you navigate these differences in personality? Let's discuss in the comments section below!
About the Author: This East Coast transplant enjoys the bounty of San Francisco, including its microclimates, farmer's markets, and secret stairway walks. When she's not walking with, talking about, or kissing the face of her Boston Terrier, Ace, she blogs about Ace's adventures. Product reviews writer and guinea pig at Dogster.