This post is brought to you by:
Why do trainers use really good treats to teach dogs new behaviors? Because like us, dogs LOVE to eat. Positive-reinforcement training says "Yes! You did that right!" when a dog offers the correct behavior, and in my experience, really good dog treats are the best and easiest way to tell a dog "Yes!"
Dogs—just like humans—are individuals, though. I hate cooked cabbage, but you may love it. So not every dog will love every food motivator. Here are three quick tips to help you figure out your dog's favorites and to use those treats to make training sessions successful.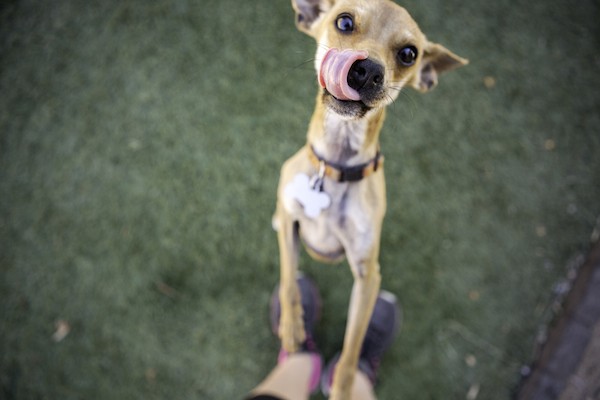 1. Determine the kinds of treats your dog likes
Many dogs enjoy table food such as cooked chicken or steak, but human food isn't the best choice. If you use treats for training, seek out high-quality treats with real meat as the #1 ingredient. You can easily tear these treats into smaller pieces and use them for training over time.
Also keep in mind that some dogs may have allergies or sensitivities to certain meats. A stomachache after eating it may cause them to avoid meat treats in the future. If you have one of these dogs, consider dog-healthy fruits and veggies. Some dogs go gaga over apples or blueberries, for instance.
2. Figure out which dog treats your dog loves most
You can do so with a taste test. Have someone hold onto your dog as you lay out several different types of treats. Do this at least five times in a row because as your dog gets fuller, he will become pickier. It's important to know which treats entice your dog because that allows you to adjust your training.
For example, if you are inside working on a simple obedience skill such as "sit," your dog's kibble or even a less enticing treat may work well. If your dog is fearful of other dogs and you are out in the neighborhood, a boring treat may not be good enough to get and keep your dog's attention. When working with emotional issues such as fear or anxiety, I want to know for sure what floats a dog's boat so I can use those treats in potentially fearful environments.
3. Use a treat that falls in the middle to calm your dog
Some dogs are highly food motivated, or as one of my clients calls her dog, food crazy. They become too excited by certain treats. My dog Monster will spin and even start "speaking" (I taught him to bark on cue) if I bring out a certain high-value reinforcer.
If this describes your dog with a favorite treat in sight, start with a less exciting treat, such as kibble. Then work up to the "big guns," like an all-natural meat treat, and if the dog gets overly excited again, switch to toys or something less yummy.
It is vital in positive-reinforcement training to know what your dog loves and what he just likes. We humans are the same in this regard. Try motivating me with cooked cabbage and see how far you get. Bring me some chocolate, and we will have begun a very positive, highly reinforcing friendship indeed!