Do you think your pet is pampered? Well, you ain't seen nothing! If you're looking for some outrageously over-the-top expensive bling this holiday season, here's our gift guide for dogs enjoying luxury and living in a high income bracket.
This decadent dog collar features an 8.5-carat sapphire as its centerpiece. If that's not enough bling for your dog, then surely the 600 handset diamonds will sparkle brilliantly to frame your dog's visage. With a sturdy yet fashionable ostrich leather band, the Amour de la Mer fastens comfortably around your dog's exquisite neck.
At only $899,000, this "jewel of the sea" is actually a bargain compared to the Amour, Amour collar from the same jewelry collection. That one retails for more than $3 million and has been called the "Bugatti of dog collars."
When you've got a pooch who has everything, what do you do? Well, you'll just have to get her something she already has. In this case, you can pick up a mink fur hoodie. Custom colors are available on request to ensure that the mink hoodie doesn't clash with her current coat. While I personally wouldn't wear a mink coat even if you paid me a million dollars, this hoodie costs a mere $1,259.
Nothing says understated like traveling in style with a Louis Vuitton monogram canvas dog carrier. This designer bag features leather handles, a washable lining, and golden brass accents. You can also get it monogrammed with your pet's initials. Such high fashion is a steal at only $2,780.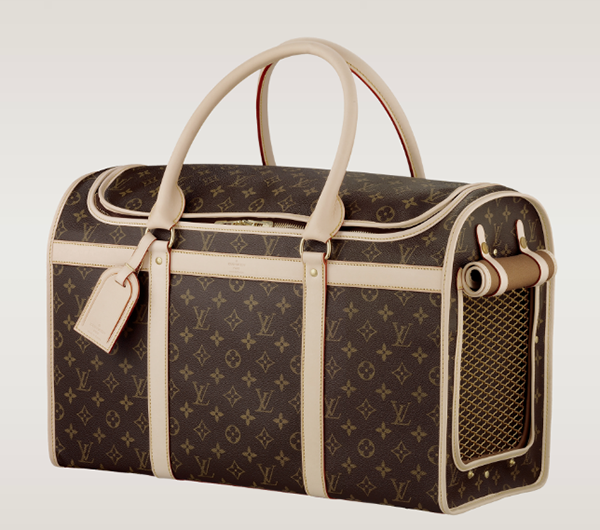 We know you love your dog, so why not immortalize her on a holiday ornament? And do you know what's better (i.e., more expensive) than a cheap plastic frame with your dog's photo? The answer is her custom portrait painted onto a Christmas ball ornament for only $625. Of course, you can't decorate your 10-foot tree with just a single ornament. Order a set of 12 for only $7,500.
If your dog indulges in too many treats over the holidays, he can work off the extra calories with his own doggy treadmill. The Extra Large Pro Dog Tread is perfect for large dogs, but can also be used for smaller dogs too. Talk about getting value for your dollar! The treadmill has an LCD console and a whisper-quiet motor and comes with a training video and 30-day exercise program. With this treadmill in the home, your dog is sure to have buns of steel. The extra-large dog treadmill sells for only $1,399. Smaller sizes are also available.
The CUBE dog bed will fit in beautifully with any modern minimalist decor. Place it right next to your Mies van der Rohe Barcelona chair so that you and your dog can luxuriate in classic modern design. The CUBE features quality leather on a solid wood frame. It's available in a minimalist palette with four flattering neutrals to choose from. This stylish dog bed can be yours for only $1,585. Plus, it comes with free shipping!
For the dog lover who has everything, we're betting he probably doesn't have gold and diamond paw print cufflinks. While they're made with only 14K gold, the sparkling diamonds that complement the design have a total weight of one full carat. These puppies are available in two color combinations: yellow gold with brown enamel or white gold with black enamel. If your schedule is filled with holiday parties, you might want to get both. A single set will set you back $2,895.
Every dog loves riding in a car while sticking his head out the window. Give your pooch the ultimate driving experience with this motorcycle trike pet carrier. While it's designed specifically for trikes (three-wheel motorcycles), it can also be used with regular motorcycles, scooters and golf carts. Made from fiberglass, it's both strong and lightweight and can also be custom painted to match your bike. At only $750, it's a drop in the bucket compared to the price of pimping out your Harley-Davidson trike.
Life in the fast lane can be pretty stressful for a millionaire dog. That's why the perfect gift is a year's worth of dog massages. A single session is only $85, but you can save by buying a 10-pack of sessions for only $700. That makes your dog's weekly massages total less than $4,000 for an entire year. Of course, if you want to include a few extras like cold stone massage, yoga ball exercise, or aromatherapy, the additional services will add up. Plan on spending $5K to keep your pet pampered and happy for the year.
Forget the run-of-the-mill dog treats when you can indulge your pet with Wagyu American Kobe strip steaks. They're aged for up to 28 days and are the perfect blend of robust flavor and tender goodness. It's only $359.95 for eight 10-ounce strip steaks. That's less than $3,000 a year to treat your pet to a Kobe-style steak each and every week.
About Holly Tse: Holly Tse is a lifelong environmentalist, practicing Taoist, Dragon Spirit Guide and Chinese Reflexologist who can bend reality at will. She's totally into alternative healing, but her Achilles' heel is reality TV cooking shows. As a Canadian expat, she uses an American spell checker for her Dogster articles. Check her out at her Chinese reflexology website.
Read more Dogster Gift Guides: