Going on a hike with your dog and sharing the beauty of nature can be one of the greatest ways of making memories, getting exercise and having adventures. That is, if you and your dog are capable and prepared — if not, things can go horribly wrong. Don't be scared off by that last part; things are less likely to go wrong when we are prepared with proper gear, physical conditioning and knowledge.
Get in shape
Conditioning and your pup's age are two of the most vital aspects of hiking with dogs. Start off on short hikes with a forgiving terrain and easier trails, and work your way up to longer hikes over time. If you are planning on a 5-mile hike, your dog should be able to walk 10 miles, and the same goes for you.
If you are new to hiking, take it slow, and take easy trails. If you are experienced, still go slow and take easy trails for your dog. (Note: Brachycephalic dog breeds — smoosh-faced — don't make the best hiking partners, as they are prone to breathing issues.)
Watch the weather
The next important aspects are the weather and knowing the trail conditions. Checking the weather and planning for it is of utmost importance. Respect the weather. Heat exhaustion happens too often on hikes. Hike with your dog when the weather is cool enough to avoid any possible heat exhaustion. During the hottest part of the day, be done with your hike and off trail, or stop at a planned scenic spot for a snack, some water and some playtime, too. For cold weather hikes, dress accordingly and also have a jacket for your dog if needed.
Choose the best trail
Choose trails with even terrain and ones with trail signs, blazes and markers, like the well-maintained trails found at state parks, nature preserves and green belt systems. (Reminder: Not many national parks allow dogs on the trails, but on the ones that do, dogs always need to be leashed.) Hike only on established trails with even ground that is not too rocky. Most hiking trails are packed dirt with sure footing and are the best option for hiking with your dog.
Don't get lost in the woods
Learn how to read a trail map, and always stay on the marked trails. Print out a trail map or get one from the park office. If there is a sign-in sheet for the trail you've chosen to hike on, sign in, say hello, and be memorable in a good way at trailheads.
Use the right gear
Choose a comfortable harness that works with your dog's physiology, not against it, and one that helps you lift your dog, like the Ruffwear Flagline Harness. My other No. 1 piece of gear on a hike is my hydration pack that holds up to 3 liters of water, plus first-aid supplies and snacks. Nothing is more important beyond health than having water on a hike.
If you choose to use a backpack with your dog, your dog needs to get used to the backpack slowly over time before your first real hike. Help him work his way up in carrying up to the maximum 15% of his body weight. Dog backpacks also need to be packed properly, with even distribution of weight on each side. If your dog is going to carry his own water, the water should be drunk first (before the extra water you are carrying for the dog), so the weight he is carrying decreases as the water is used. Sixteen ounces of water weighs roughly 1 pound — keep this in mind when packing your dog's backpack.
Dog booties are also important. Get your dog used to wearing them for hiking. He may not need them on the hikes, but in case of a paw injury, it is super handy to have booties on hand.
I've had to carry out a dog from a hike for about 3 miles. So I'm really happy that a few years ago a very experienced hiker with a great love of dogs invented the Pack-a-Paw Rescue Harness by Mountain Dogware. This rescue harness is a must-have for anyone who goes hiking with their dogs, especially those who do it regularly.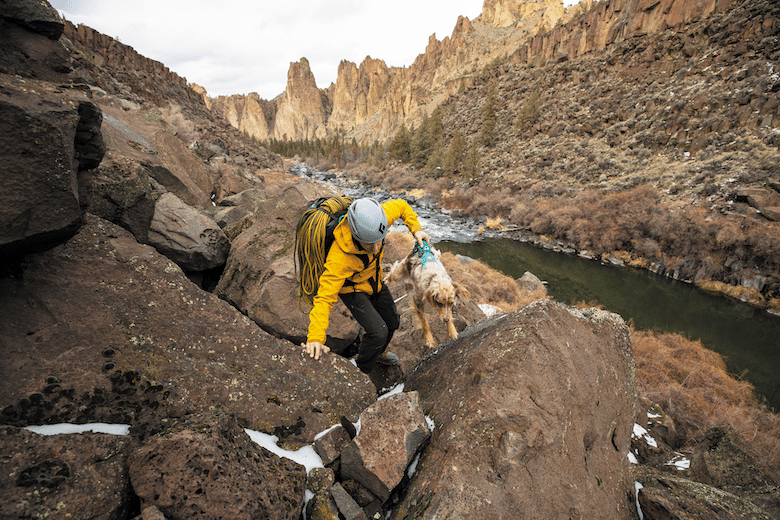 Train your dog for a hike
Having your dog already good with loose-leash walking makes hiking all the more enjoyable. Training your dog to "check in" with you is one of the biggest advantages, beyond recall. One of the most respectful things to do as far as sharing the trails, is being able to ask your dog to come check in to you whenever you see someone else enjoying nature just like you are.
If the trail you choose to hike on lets dogs be off leash (note: most require your dog to be on leash), it does not mean your dog is welcome to run up to anyone else on the trail. So instead of running your dog off leash, use a long line safely. Long lines are amazing for hikes. They are a great way to improve the recall cue as you go, plus long lines are a very respectful way to ensure your dog doesn't interrupt anybody else's adventure on the trails. Long lines also allow you to manage your dog's ability to chase after wildlife.
Follow trail etiquette
Technically, as you and your dog are walking, you have the right of way to bicycles and/or horses (although avoid hiking trails that allow horses). People going uphill on a trail system also have
the right of way. Move to the side of the trail and let people pass you easily; sharing mixed-use trails goes a long way for having a good day.
Also, a very important and helpful courtesy for your fellow hikers is to announce your presence. I also announce the presence of my dogs if coming up on someone from behind. Let other hikers know you are there by saying, "Hello." If you can't see around the corner and are concerned that
someone might be coming from the other direction, call out "On trail." Don't let someone surprise you or be surprised by you or your dog.
A few last tips for hiking with your dog
Expect the unexpected. If things go wrong, don't sit around and complain. Assess your options, act accordingly and move forward. Here are a few final must-know tips:
Having a first-aid kit with you is better than not having one when needed. Thankfully there are plenty of dog first-aid kids available for purchase that are already assembled.
Read up on canine CPR before going on a hike with your dog. One early sign that a dog is getting tired and possibly overheated is that his tongue will loll out of his mouth, hanging lower than normal. Know your individual dog.
Ensure your phone is fully charged in case of emergencies on the trail. Always bring a portable battery pack for your phone.
Dogs should also be up-to-date on shots and vaccinations and cleared by your veterinarian to go on extended hikes. Most of all — be prepared, have fun, get outside and have adventures with
your dog.
Top photograph: tommasolizzul | Getty Images
Read Next: Have a New Puppy? Here's how to Socialize Your Dog While Social Distancing