Things are not going well for the Milwaukee Brewers this season. After Tuesday's games, they had the worst record in all of baseball (8-19), and earlier this week they fired their manager. But, even in these worst of times, there's still a beacon of hope and happiness. The Brewers still have Hank.
Milwaukee's Ballpark Pup, a stray Bichon Frise who was rescued by the team during Spring Training and won the hearts of millions — was the hit of the 2014 baseball season, including his own "BobbleHank" night in September that drew a sellout crowd to Miller Park.
Now, it's time for a Bobble Sequel. On Sunday, in honor of Mother's Day, a new BobbleHank will be given to fans attending the Brewers' home game against the Cubs. This new bobblehead features a happy-faced Hank wearing his usual "K-9" Brewers uniform, but with a pink bandana tied around his neck.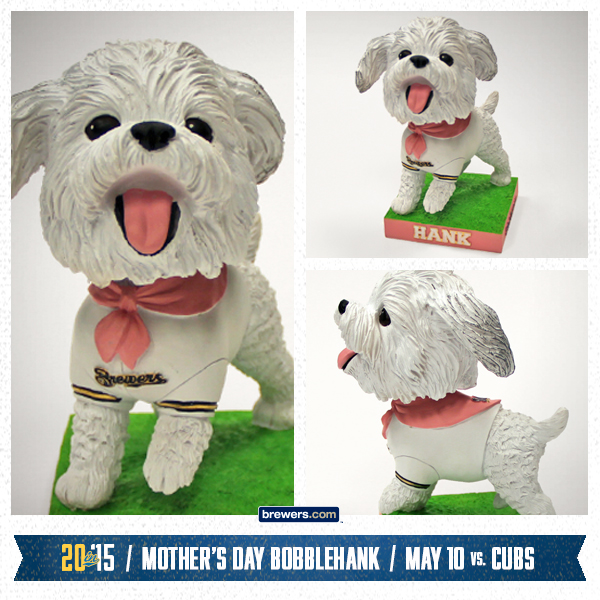 The Brewers have mastered the promotion of Hank and his merchandise — with 20 percent of proceeds going to the Wisconsin Humane Society. Capitalizing on Hank's popularity and the demand for Hank-related merchandise in 2014, the Brewers added a Hank merchandise kiosk called "Hank's Hangout" to the concourse at Miller Park.
"The demand for product is just to the point now where it's not really slipping, and he's worthy of his own store," Brewers chief operating officer Rick Schlesinger told the Milwaukee Business Journal last month. "We keep coming up with different items of merchandise."
The Brewers once again took to social media to help promote Sunday's giveaway. In a video featuring Schlesinger, Hank is recruited to become a security dog at Miller Park, but his training goes humorously awry.
And if anyone needs a little humor these days, it's Brewers fans. And the demand for Hank keeps growing.
"You would think it would slow down in a year, but the volume of requests we get locally and nationally for Hank is not slowing at all," Schlesinger said. "First and foremost, he's a pet and we don't want to overdo it, so we have to figure out which cause for him to be involved in and which appearance. It's almost like you need a full-time Hank handler. I don't have that on the payroll yet, but at some point I might have to."
Read more about Hank the Ballpark Pup on Dogster:
Via Milwaukee Business Journal
About the author: Jeff Goldberg is a freelance writer in Quincy, Mass. A former editor for MLB.com and sportswriter for the Hartford Courant who covered the University of Connecticut's women's basketball team (Huskies!) and the Boston Red Sox, Jeff has authored two books on the UConn women: Bird at the Buzzer (2011) and Unrivaled (2015). He lives with his wife, Susan, and their rescue pup, Rocky, an Italian Greyhuahua/Jack Russell mix from a foster home in Tennessee, hence the name Rocky (as in Rocky Top).