Do you have a dog tattoo? Do you want one? I have many tattoos that I have collected over the years and five of my biggest are specifically dog related. Three are portraits of my dogs. The other two are more stylized representations: paw prints for the dogs I had as a kid and then a dog agility course map to represent the years I spent training and competing in the sport with my dogs as a teenager and how that experience shaped my life and future profession. I love carrying my dogs everywhere as part of my body, and I enjoy the conversations that my tattoos inspire with other dog lovers!
What are the most popular dog tattoos?
Tattoos are one way that many dog lovers memorialize a beloved dog after they pass, but they can also be a fun way to permanently mark the relationship you have with your dog while they are still alive. Money.co.uk a pet insurance comparison site, was curious about dog tattoos and recently conducted a study looking at Google, Instagram and Pinterest data to uncover what dog breed tattoos are most frequently posted and searched for around the world. Unsurprisingly popular breeds like the Pug and the French Bulldog topped the list of most commonly posted/searched dog tattoos. Did your dog's breed make the list?
Top 20 Most Tattooed Dog Breeds
| | |
| --- | --- |
| Dog breed | Total posts and searches |
| 1. Pug | 27,557 |
| 2. French Bulldog | 13,589 |
| 3. Doberman Pinscher | 8,464 |
| 4. Chihuahua | 6,332 |
| 5. Dachshund | 5,661 |
| 6. Greyhound | 4,009 |
| 7. Boston Terrier | 3,007 |
| 8. Rottweiler | 2,775 |
| 9. Poodle | 2,710 |
| 10. Labrador | 2,144 |
| 11. Beagle | 2,012 |
| 12. Whippet | 1,670 |
| 13. Schnauzer | 1,533 |
| 14. Pomeranian | 1,486 |
| 15. Shih Tzu | 1,341 |
| 16. Jack Russell | 1,134 |
| 17. Golden Retriever | 1,013 |
| 18. Border Collie | 976 |
| 19. Staffordshire Bull Terrier | 853 |
| 20. Chow Chow | 448 |
Thinking of getting a tattoo for your dog? Here are a few do's and don'ts for getting some dog inspired ink! Also, be sure to check COVID-19 restrictions and regulations in your area as they relate to tattoo shops.
Do's for dog tattoos
Be creative – Think about a design that you want on your body forever, and that represents your dog's personality and/or your relationship. You can use a portrait, or something more stylized depending on your aesthetic.
Find an experienced artist – You want to have an artist whose style you like. It's ok to take your time to find an artist that you feel comfortable with and whose work you want on your body forever. Tattoo artists will have portfolios available online and/or in the shop that you can and should review. This will give you an idea of an artists' style and skill and help you make the decision about who you want to tattoo you.
Give your artist lots of reference materials – When you approach an artist about scheduling a tattoo of your dog you'll want to provide lots of reference material. This can include photographs of your dog, and any other inspirational images you want your artist to incorporate into the tattoo. Whenever possible bring photos of your dog that are clear and well-lit so that the artist can make sure to get the details of your dog accurate in your tattoo.
Trust your artist – Once you have taken the time to find a good tattoo artist whose style you like you want to trust your artist's skill and experience. Always speak your mind if you are uncertain or uncomfortable with something but if the artist makes a suggestions about the design or size of the tattoo — she's the expert and you want to trust her!
Ask questions – Especially if this is your first tattoo, ask questions about anything that feels confusing . This is your body and you should feel comfortable with the process. A good tattoo artist will be happy to answer your questions about what they are doing, what the tattoo will look like, and what their sterilization process looks like.
Tip your tattoo artist! – Tattoos aren't cheap, and in addition to getting what you pay for when it comes to tattoos you want to make sure to tip your artist. Twenty-percent is generally an average amount to tip tattoo artists.
Don'ts
Don't bring your dog – When you go to get tattooed bring your dog at home. Tattoo studios must maintain a sterile working environment for the safety of everyone involved meaning they aren't an appropriate place for your dog.
Don't be afraid to go big!– Tiny tattoos don't tend to age as clearly or well as larger tattoos. The smaller the tattoo the more likely it is to get blurry over the years. This tattoo will be with you forever so you want it to remain as clear as possible. In addition with small tattoos your artist won't be able to include as much detail so if that' important to you your artist will likely encourage you to go with a larger design.
Avoid getting cheap tattoos — Sometimes you really get what you pay for. Good tattoos aren't cheap as they shouldn't be because tattooing is a highly skilled art form. This is art who will be on your body for the rest of your life so you might need to save a little bit to get a high quality tattoo of your best friend.
Try not to copy other people's tattoos — In tattoo culture it's continued rude to copy someone else's tattoo. It's ok to bring in photos of other people's tattoos as part of your reference material, but instead of asking your artist to copy it, work with your tattooist to design something new/unique that represents your dog or your relationship to your dog.
Don't wait! There are no rules about when you can get a tattoo for or inspired by your dog. You don't have to wait until your dog has passed away to get a tattoo for them. My first dog tattoos were memorial pieces, but I then discovered I much prefer to get tattoos for my dogs while they are alive. Whenever feels right to you is the right time to get a tattoo for your dog.
Stories of Dogster Readers With Dog Tattoos:
1. Scott Lorenz Andresen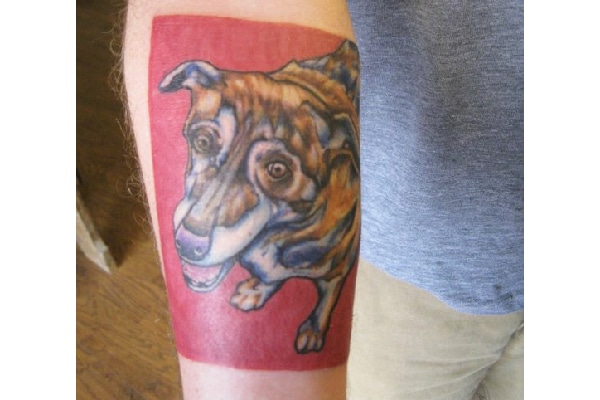 Tattoo of a painting of Scott's late dog, Sprey.
2. Cari K.
"I got Keener shortly after my first dog died. We took a whole bunch of classes together. I knew I wanted to try nosework with him and we both loved it. That's why I chose to have his nose in the tattoo. We've traveled a few thousand miles together for training, seminars and competitions. He opened me up to an awesome new world. We have met so many great people. I never in my life thought I would have it in me to travel 'alone' (wait, I guess it's not alone when your dog is with you) out of state."
3. Jack Jackson
"We're in Toronto Ontario. I'm from the U.K., so she's my only family here and she's the absolute love of my life. She makes me so happy every single day."
4. Rae
"This is a portrait of my Corgis (Machete Corgéz and Knives the Corgi) based off a painting my friend Amanda gave me for Christmas one year. [This tattoo was] done by Alex Dawes. [It's] not a memorial tattoo — just a lot of things I love all in one."
5. Christa Faust
"I live in Los Angeles. The tattoo is by Graham Chaffee. Butch was my heart dog, my little shadow and my constant traveling companion. I'm a crime writer and he attended several conferences with me, which is where he got the nickname Noir Dog. This tattoo is on my left calf, so that he will always walk by my side." ­
6. Lisa Clark
"Although [it's not a tattoo] of my dogs — it will happen, trust me, I have two dogs, I've had foster dogs and I volunteer at my local SPCA — I had this infinity symbol with paws done to represent my dogs, my fosters, and the many dogs I've loved and cared for in my lifetime that [have] offered me unconditional love and companionship. They are man and woman's best friend." ­
7. Jae
"I have a tattoo of my retired guide dog's paw (to scale) with a purple Hamsa in the middle because his collar is/was purple. He guided on my left, and his eyes were my eyes and protected me from so many near-misses with cars, random cut-outs on sidewalks and finding my way home."
Tell us: Do you have a dog tattoo? Please tell us about it in the comments!
Read more tips from Dogster.com:
Sassafras Lowrey is an award-winning author whose novels have been honored by the Lambda Literary Foundation and the American Library Association. Sassafras is a Certified Trick Dog Instructor and assists with dog agility classes. She lives and writes in Brooklyn with her partner, a senior Chihuahua mix, a rescued Shepherd mix, a Newfoundland puppy, two bossy cats and a semi-feral kitten. Learn more at sassafraslowrey.com