Looking for a place to camp where your pet will be as welcome as you are? Just near the foothills of the mountains in beautiful North Carolina is a place where camping is all about the dogs.
The 34-acre Four Paws Kingdom campground was the brainchild of Meik and Birgit Bartoschek, after years of traveling the east coast in an RV with their beloved Corgi, Schroeder. During their travels, the Bartoscheks often had difficulty finding dog-friendly campgrounds, and if they did, the dogs had a very limited area to do their business and play.
And so, after compiling a list of amenities they would like to see in a dog-friendly campground, the Bartoscheks decided to open their own, only theirs would be dedicated to dogs.
"When I turned 40, I wanted to tackle one more big project, so we sold our nice house in Florida, cashed in the pension fund and started to look for the place to build the place we were never able to find," Meik explains.
In 2004, they opened Four Paws Kingdom in Rutherfordton, NC, and are are now celebrating their 10-year anniversary.
While it may be different in the sense that it's the first and only dog-dedicated campground in the United States, Four Paws Kingdom is also a standard, fully-equipped campground.
The camping sites were integrated into the existing forest and can accommodate everything from small trailers to giant RVs. All sites have full hook-ups, cable TV (some with Direct TV hook-ups), and free Wi-Fi service. There are also three beautiful cabins available to rent, as well as a bathhouse that caters to both the human and canine visitors with its private bathrooms, laundry facilities, and doggy bathing and grooming stations.
And while you don't need a dog to stay at Four Paws Kingdom, dog lovers from all over the United States go there to take advantage of all the amazing doggy-centric features of the campground, including nine fenced-in dog parks and playgrounds (with one being reserved just for the little guys under 20 pounds); a large dog pond, which is shallow enough to allow those with stubby legs to enjoy it too; 16 acres of trails; a beautiful creek; and an agility dog park with all the bells and whistles.
The camping season starts at the beginning of April and closes at the end of November. However, due to the summer heat in the area, the park closes from the end of July to mid-late August. Bartoschek uses that time to do any repairs or updates to the facilities.
And while it was initially open to families, Four Paws Kingdom campground has revised its policy concerning children.
"We found out [after testing it for a couple of years] that small children and our dedication to dog-related activities just don't mix," Bartoschek explains. "Since there are thousands of campgrounds already open to families, we thought it was time for us to build one that caters to the fur-kids crowd."
As such, the campground caters to an 18-plus crowd, with events such as potlucks, seminars, training sessions, theme weekends, and catered dinners.
For Bartoschek, the most important thing at Four Paws Kingdom is the common bond that instantly unites the campers because of a shared love of their pets.
"Over the years, we have seen people and dogs cultivate lasting friendships, and we have become a meeting point for dog lovers from around the country," he says. "It makes us proud to be an integral part in the lives of so many people."
The Bartoscheks take great pride in the campground they created for dog lovers and their pets, and the success of this one-and-only dog-dedicated campground proves that people want to be able to enjoy the camping experience with their dog.
You need only check out the testimonials section of Four Paws Kingdom campground to see that this campground is doggone great!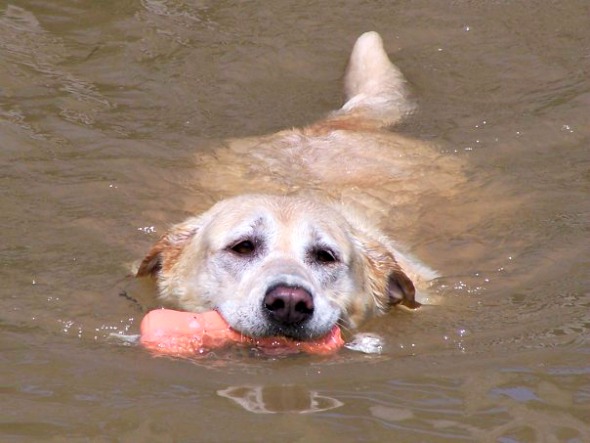 Four Paws Kingdom campground is located in Rutherfordton, North Carolina, and is open from April to November. For more information about rates and reservations, please check out its website.
All photos via Four Paws Kingdom's website or Facebook page unless otherwise noted.
Learn more about dogs with Dogster:
About Crystal Gibson: A child-sized Canadian expat in France who is fluent in French and sarcasm. Owned by a neurotic Doxie mix, a Garfield look-alike, and two needy Sphynx cats. An aspiring writer and pet photographer with a love of coffee and distaste for French administration, she can be found as @PinchMom on Twitter.