These days, there are so many dog sports, how do we choose? I've tried obedience, herding, and agility, but I hadn't tried musical freestyle, until today. I played a country song on repeat, reviewed some obedience work, and gave two of our family dogs turns as my dance partners. My choreography was basic; the dogs were biddable. But just 'cause you put your boots in the oven don't make 'em biscuits! I clearly lacked basic freestyle skills: Classes were in order.

Perhaps you, too, are game for a new dog sport. Let's review some of the most popular:

Obedience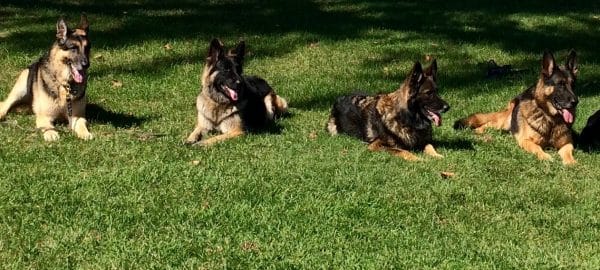 Ready to start with the basics? A proper fitting collar and leash for your dog, some comfortable walking shoes for you, and you're good to go. Your dog will learn to heel, stand for examination, and come when called. Keep in mind that some obedience foundation training — like a solid recall, reliable stays, and good attention — is a prerequisite for sports such as agility. Perhaps start with a puppy or Canine Good Citizen® (CGC) Class, and then move up through Novice and Open Obedience to a Utility competition. For advanced training (your dog will need a strong desire to work and please!), you'll need equipment such as dumbbells for retrieves.
To put obedience titles on your dog, find an American Kennel Club event nearby. Entry fees are about $30, and mixed breeds are welcome. Just don't forget to pack your patience when you head to a trial; some dogs, like people, find tests stressful.
Agility
Agility is a fun, fast-paced sport that is naturally gratifying to many dogs and their people! Some breeds, such as the Shetland Sheepdog and Papillon are renowned in agility, but any dog who loves movement (and following directions!) will thrive in agility. The obstacle course includes jumps, tunnels, weave poles, A-frames, teeters, and more. The team completes the obstacles in order, within the allotted course time. A novice course starts with fewer obstacles; the Excellent/Masters courses are the most difficult.
To participate in a group agility class you'll likely spend some $20 to $30 per week. Once you're ready for a competition, typical American Kennel Club entries are some $45. Some dog parks are now including agility equipment, or look for an agility club near you. Once you've learned the basics and want to practice at home, you can accomplish quite a bit with a jump or two, a plank on the ground, a few 2-by-2 weave poles, and maybe a tunnel. Game on!
Rally
In the obedience companion sport of Rally, the dog (any breed or mixed breed) and his handler move as a team, at their own pace, through stations. A sport designed with the novice in mind, Rally's emphasis is on fun rather than precision (but of course at advanced levels, Rally can become quite challenging!) A sign at each station gives directions, such as Sit and Stay, Left About Turn, etc. Scoring is not as rigorous as formal obedience, and a handler may praise, speak, and encourage his dog.
Classes are priced similarly to obedience or agility classes, and it's an easy sport to practice at home.
Musical freestyle
Ready to dance? Musical freestyle is a sport blending obedience, tricks, and dance unique to each dog and handler team. Costs and equipment are minimal: Come up with a costume and a few accessories. Routines are custom created so you can showcase your individual dog's strengths and characteristics. You'll both stay fit too. Don't worry if you live in the country; you can perform your work via video competitions.
If you like the idea of both dance and rally, consider the new sport of RallyFrEe. The sport blends freestyle, rally, and obedience skills, all the while encouraging creativity. Take a glimpse at a car-wash routine for inspiration.
Flyball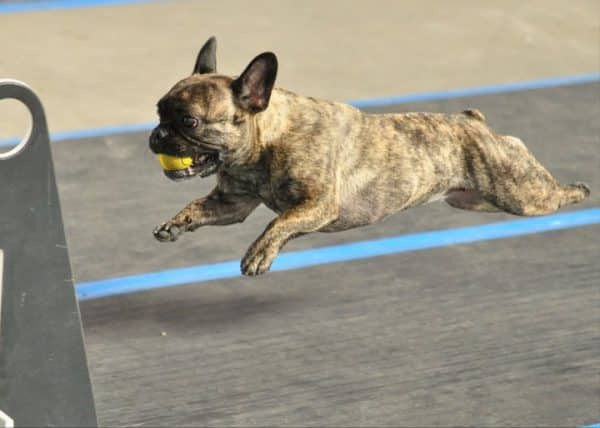 In the speed-packed sport of Flyball, two teams (with four dogs each competing) relay race side by side down a course, taking jumps along the way and retrieving balls. The dog releases the ball from a spring-loaded box. Can you practice at home? Well, you can train ball retrieves, turns on the box, and jumps, but you'll need a venue to practice the sport as a team. Teams practice anywhere from roller skating rinks to barns, or wherever they can find 80 feet. While breeds such as Whippets score big in this sport, just about any dog (including mixed breeds) that loves balls, running, and jumping can participate.
Entry fees for competitions average about $100 per day per team. Jump height is determined by the smallest dog on the team — so small, fast dogs are an asset to the team. Senior dogs are also included, for in the veteran class, the dogs must be at least 7 years old and the jumps are lowered. Choosing a team name adds entertainment too. I liked the team name Fur in a Blur!
Herding
In the initial Instinct Test (check out my senior dog's performance), a judge will evaluate your herding breed's natural ability to control livestock. Eligible breeds include all those in the herding group such as the Collie and German Shepherd Dog, and a few others such as the Boxer and even the Kerry Blue Terrier.
If your dog passes the initial test, consider moving into the competitive herding program to give him a chance to use his natural talents. Attending a herding event allows you to connect with local herding clubs and participants. Your main cost may be transportation, depending on where you live. Few of us have the space for a flock of sheep!
Barn hunts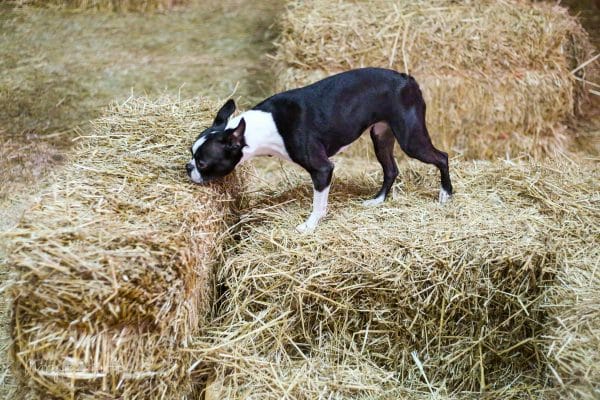 Barn hunt is a sport founded on the historical work of many breeds developed to rid homes and farms of rodents. But while Terriers may relish the sport most, barn hunts are inclusive to any breed or mixed breed. Barn hunt has levels of increasing difficulty, but the main challenge may be finding the venue for the fun. And don't worry about the rodents; they're safely held in aerated tubes for the dogs to find.
Lure coursing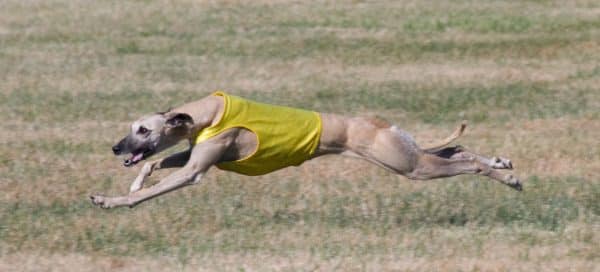 Lure coursing is a sport that uses mechanized lures and pulleys to duplicate the idea of chasing live prey. Dogs of eligible breeds (sighthounds such as the Borzoi and Greyhound) have a blast racing across a field in the pursuit of their fake prey. Although the sport was designed for sighthounds, come casual sporting groups now invite any breed or mixed breed to explore the fun of chasing a plastic bag on a string!
Tracking
Tracking is a sport making use of our dog's natural abilities to follow a scent. It's also a great sport for dog owners who enjoy the outdoors (and some early mornings too). All dogs have a natural ability to follow a scent; we simply train them that following a certain scent leads to rewards. Any breed or mixed breed can enjoy the sport. You'll simply need some books, a tracking class or club, and an instructor to teach you the basics.
For this sport, you won't need cones, jumps, or weave poles, but you may want a warm jacket and a thermos of coffee! Once you've ready to test your work, it's your turn to track down events!
There's even more!
And if all these choices aren't enough, you can also consider (depending on your breed and his health): carting, skijoring, conformation showing, weight pull, dock jumping, disc dog, protection sports, earthdog trials, and more. But no (if your slightly lazy dog asks!), Couch-potato-ing isn't a sport!
Top photo: Rat Terrier enjoys agility. (Courtesy Deb Stevenson/Rich Knecht Photography)
Homepage photo: Bearded Collie competes in Rally (Courtesy Heather Gahres)