Stay-at-home orders have led to a surge in dogs finding their forever and foster homes. As a best practice, shelters typically advise new pet parents to sign up for training classes. But in many states, pet trainers are not considered essential employees, and even as parts of the U.S. reopen, social distancing will likely be part of a new normal for some time.
This leaves pet parents at a disadvantage, as well as trainers who need to earn a living.
Related: Have a New Puppy? Here's how to Socialize Your Dog While Social Distancing
But Fun Paw Care CEO Russell Hartstein, CDBC, CPDT-KA, notes trainers and pet parents can work together safely to help dogs become the best versions of themselves.
"Social distancing is not difficult when dog training," Russell says, adding that this applies to both in-person and virtual sessions.
Russell shared tips on how to help your dog learn to sit, stay and come even in unprecedented times.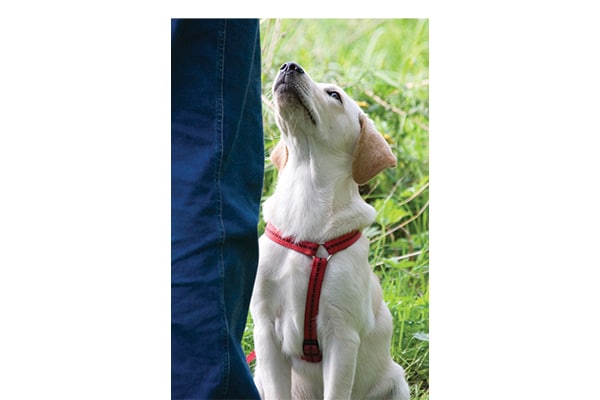 If doing in-person dog training
Follow the basics
You've heard it from doctors and on PSAs for months: Wash your hands. Carry hand sanitizer if you can, and if the grocery store is out of stock, Russell advises just to bring water and some soap. "Practice social distancing … I'm no longer hugging my clients or shaking hands with them," he says. If you are comfortable, you can have the dog come to you while mom and dad stay socially distant, but that will make thorough hand washing even more important as people have touched leashes and harnesses.
Be set for success
Russell says that Fido's surroundings will affect whether or not he can get the most out of his training session. "Generally, it's the trainer or behaviorist's responsibility to set up the environment to set the parent and client up for success, so that thought process will have to happen beforehand," he says. If you're not used to asking a ton of questions before a session, now is the time to start. In addition to learning about the dog's behavioral needs, find out any environmental quirks. Is the dog easily distracted by squirrels? Consider picking a parking lot instead of a park, where there is more wildlife.
What you need to know about virtual dog training
Have a mock trial
Time to jump on the Zoom happy hour train (if you haven't already) — or at least test out the technology with a friend on the other line. "You don't want to troubleshoot technology issues when you are charging them per hour," Russell says. Ask the client to do the same, so you aren't talking them through issues on their end.
Also, make sure your lighting is correct, the sound is on and you have a backdrop that isn't distracting like a blank wall.
Do your prep work
If possible, send a video of your dog's behavior before the session. Don't trigger it, especially if it's a defensive behavior like growling at the family cat, but instead to catch the pup in the act. "Oftentimes, the parent's description is way off from what is actually going on," Russell says. For example, sometimes growling is a playful behavior, which newer pet parents may not know.
See the house
Before COVID-19, Russell would have unstructured in-home sessions and would have pet owners ask all the questions they wanted right off the bat. When doing video consultations, he always starts by asking to see the home first just in case they run into video issues later. "The best way to change the behavior is to change the environment," he says. Seeing the home gives him a window into what might be triggering certain behaviors.
Trade off video
Video can use up bandwidth and slow down a computer, hurting the connection and quality of the consultation in the process. Russell doesn't place a premium on video. "A lot of video consultations I do, do not have video on the entire hour or two hours," he says. "I really need to be able to see the home, see what is going on, where the dog sleeps, what type of equipment they are using." From there, he often turns off his video or alternates with the client. When he's showing a technique, he puts his video on and asks the client to mute it. Then they switch off when the client tries to replicate it so he can see it and give feedback.
Invest in dummy dogs
Russell prefers to use stuffed dogs over real-life models, especially if Fido isn't great with other pups. These are especially helpful during virtual consultations, when he can't go over the behavior with the client's dog. "I have dummy dogs in different sizes and shapes, and I will go over with clients equipment like leashes and harnesses and … the movements, motion [of the skill]," he says. He likes the dummy dogs from Melissa and Doug.
Top photograph: Courtesy Pawsitive Practice Training and and Behavior Consulting
Read Next: What's Really on My Dog's Mind?