Hunter and his father were abandoned in a dry lakebed near Joshua Tree, California, and left to die all alone. The lakebed at night gets bitterly cold with piercing high winds that go right through your body, making it an unbearable place to live in the winter. There is no food in sight and all the rabbits disappear. Months later the dogs were discovered living in a gully, surviving on a tiny pool of water and game they caught, but they were in horrible condition. Hunter, just a puppy, had little to no interaction with humans.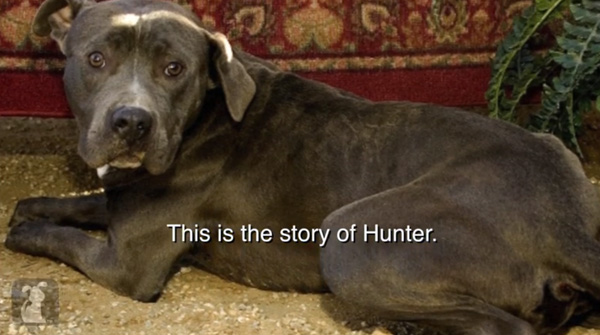 The Morongo Basin Humane Society brought them food, water, a doghouse, blankets, and even made a bonfire to warm up rocks so they could coerce the frightened dogs to come back with them. Once they got the dogs, they realized they had many problems, including parasites, ear infections, malnourishment, and ticks; they were also extremely dirty. Hunter's father was later adopted, but the Pit Bull had plenty of rehabilitation to go through.
The first critical months of Hunter's life, where he was supposed to be growing up and learning about his surroundings, were spent in isolation. Hunter didn't know how to interact with humans. He didn't even know what treats or other pets were. The world was a very scary place to him.
The organization has worked with Hunter to help him be more confident and become the dog he is supposed to be. Hunter has finally figured out just how comfy and cozy blankets actually are; he keeps discovering new things every day. He is learning to trust and love again, after all he has been through. Before he was afraid to go near people, but now he prances, wiggles, and dances around when people come up to him. He has a huge spirit and still acts like a puppy. The organization hopes that when people come to see Hunter, they see the lovable dog he really is.
Hunter has come so far. Won't you help him find the forever home he deserves?
To learn more, visit the Morongo Basin Humane Society's website.
Do you have a Tail of Hope or Survival? We'd love to hear it! Visit us at thepetcollective.tv and tell us your story! Visit The Pet Collective Website for more amazing Tails of Hope!