Do you want a good reason to bag your dog's poop when you take them on a walk? Here's one: too much poop lying around could spread disease and the community could wind up losing a very nice space for humans and dogs alike.
This isn't just some abstract possibility: In Rockland, Maine, the city is seriously considering shutting down Snow Marine Park, according to the Bangor Daily News, because of elevated levels of E. coli bacteria, which can cause urinary tract infections, diarrhea, and in certain strains, kidney failure or anemia.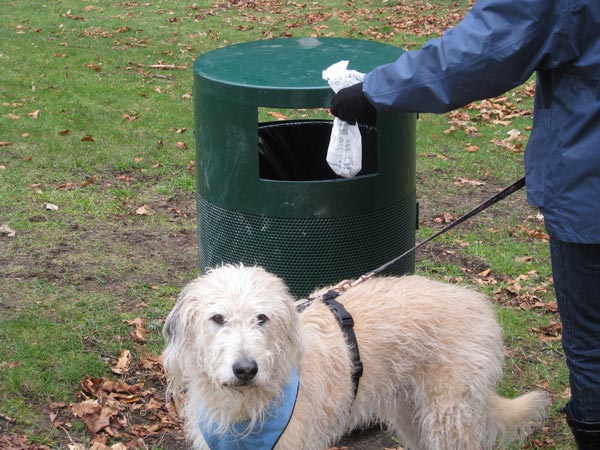 Terry Pinto, director of the local wastewater treatment plant, gave a report this week at the City Council meeting where he said that E. coli levels in the park's surface water are higher than any he's ever seen. The safe level for E. coli is 400; the most recent tests in the park's water show levels of 16,000. The reason for the bacteria seems to be the dog poop left sitting around the park by visitors.
So now the city is looking at its options. Most of those options don't look good for dogs and their owners to continue using the park. Pinto recommended that the park be closed temporarily while lime is spread to disinfect the area. Afterward, the park could be reopened, but with dogs banned.
Other people aren't so eager to have dogs banned from Snow Marine Park, which officials say is a "de facto dog park," although it's not designated as such. Interim City Manager Tom Luttrell recommended that other options could include more signs reminding people to scoop up their dog's poop, paired with better enforcement.
Whatever happens to Snow Marine Park, the point remains: Dog poop isn't just something icky that you have to scrape off your shoe. When dog owners can't be bothered to pick up their dog's poop, it can become a real health hazard. E. coli isn't the only disease-causing agent that lives in fecal matter. Various parasites such as hookworms and roundworms live in dog waste, as well as infectious diseases including the Parvo virus.
Here's hoping that Rockland can find a way to keep the park dog-friendly, and also that dog lovers everywhere learn to love those plastic bags.
Learn more about dogs with Dogster: