Editor's note: This story originally ran in January of 2014, but we wanted to highlight its helpful tips during February, National Pet Dental Health Month.
A few months ago, a routine trip to the vet led to a nasty surprise. My vet pointed out advanced tooth decay in my dog, an obvious suppurating hole. I felt very guilty about not having paid any attention to this dog health issue before.
Prior to this, every vet had praised my dog for his immaculate shiny teeth. A dedicated chewer, he had never needed a cleaning. And here he was going under a general anesthetic for multiple tooth removals. Because he is an older dog with cardiac disease, I imagined worst case scenarios until I got the call that he had come out of recovery and was perfectly fine.
Since then I have adopted a second dog with a condition that causes gum inflammation if tooth tartar is allowed to build up, so I have spent a lot of time looking at my dog's teeth. Here's what to keep in mind so things don't get as bad as they did with my dog.
1. Check with the vet
I am not a veterinarian, and I had delayed my annual checkup to see my vet. Make sure you ask about your dog's teeth during checkups, and try to get that checkup at least annually. You can also ask the vet whether your dog is at particular risk of dental health problems and what kind of preventive care she might recommend. If your dog has current dental issues or is at higher risk, consider asking for a referral to a veterinary dentist. Also ask about any products that might be damaging to teeth such as chews that are too sharp or hard.
2. Teach your dog that dental checks are no big deal
When I was a kid, I watched the family dog get expelled from the show ring because when the judge tried to look at her teeth, she tried to bite him. She simply wasn't used to anyone poking around in her mouth. So for the sake of your vet — and yourself if you are going to carry out direct preventive care — get your dog used to you looking at his teeth. You can do this in stages, beginning with just touching the lip area and later lifting the lip, opening the muzzle and lightly touching the teeth. Never go beyond what your dog is comfortable with, and pair these comfort-building sessions with praise or treats.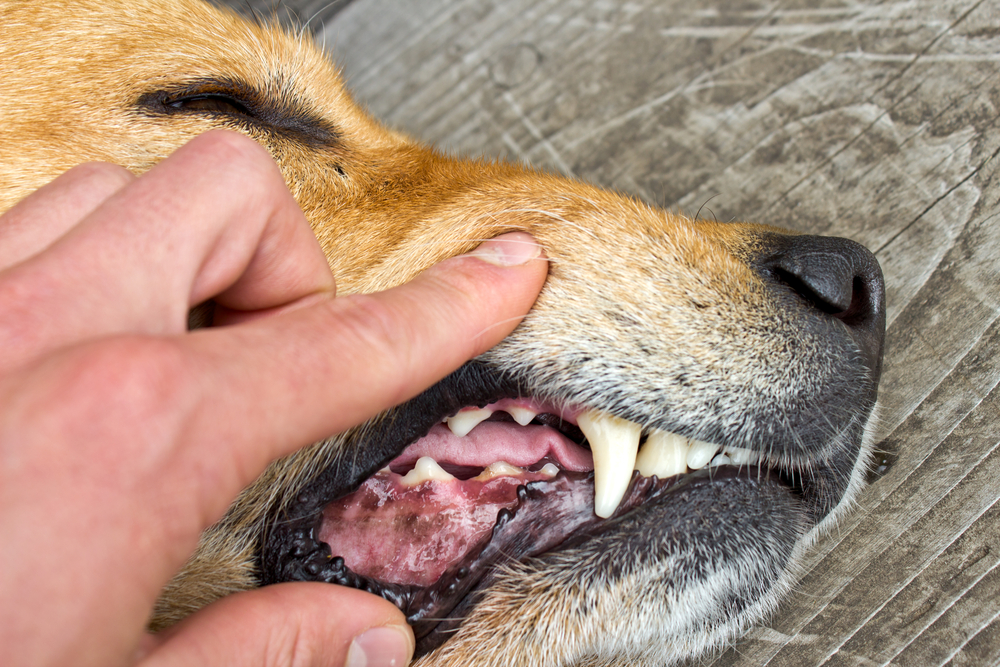 3. Pay attention to warning signs
Once you get used to what it looks like in there, be alert to any changes in teeth and gums and seek veterinary assistance for significant growths, lesions, or fractures that are more than superficial chips. Every dog might have "doggie breath," but if his panting is awful, something might be going wrong. Dental problems may also be behind a sudden lost of interest in food or toys.
4. Brushing
The single best preventive treatment is brushing to break up bacterial films on the teeth before they develop into plaque and cause damage to teeth and gums. When it comes to toothpaste, a palatable, meat-flavored paste is going to be more fun for you dog. Do not use human toothpaste because the ingredients can be irritating. Make sure you select an applicator that is right for your dog's size and gum sensitivity. Options range from brushes to rubber fingertip applicators and presoaked dental wipes. Brush the outside surface of the teeth in small circles, avoiding any contact with the gums.
5. Additives and supplements
You can achieve benefits beyond brushing by using a supplementary product that also reduces plaque buildup. They also provide some limited benefits for dogs that really draw the line at having their teeth touched. These come in a range of forms, including treats, chews, sprays, gels, special diets, and additives for water and food. Research shows that these approaches are effective to various degrees. It is a good idea to look for the "VOHC" endorsement provided by the American Veterinary Dental College for with proven worth.
For toothpaste and any other products, be sure to understand what the products does, check other ingredients for substances you might want to avoid (like xylitol or extra calories), and always stick closely to dosing guidelines. If you use more than one product, check for interactions and duplicate active ingredients (which might lead to giving the dog a higher than intended dose).
6. My take-home message
Of course, experts recommend brushing your dog's teeth every day. But if we did everything conscientious experts recommend, there wouldn't be any time left over for work, sleep or reading blogs. I do, however, think you should add dental care to the long list of things to do from time to time. That is, monitor your dog's teeth yourself, ask about her teeth during veterinary visits, and decide how much of a preventive dental care regime your dog needs, adapting it according to any changes in his or her oral health status. Any preventative method used regularly will do more good than infrequent intensive interventions.
Even if your dog's teeth are always clean and white and never need cleaning, just like Avon's were, remember that this can change quickly if you aren't paying attention to those pearly whites.
Read more about dental care for dogs:
About the author: Emily Kane is a New Zealand-born animal behaviorist of the throw-back radical behaviorist type, albeit with a holistic-yuppie-feminist-slacker twist. She spent many years as an animal behavior researcher and is now more of an indoor paper-pushing researcher. Her early dog-related education came from Jess the Afghan Hound and Border Collies Bandit and Tam. It is now being continued by her own dogs and extended dog family and some cats (and her three aquatic snails Gala, Granny, and Pippin — they think of themselves as dog-esque).