Everyone's dog, the Beagle is friend to all. He loves kids, dogs, family, strangers — and food. He really loves food. And he can detect hidden food with the ease of a skilled contraband detector — which, of course, he just so happens to be.
But what the Beagle likes as much as eating is following his nose, and once he's on the scent of something interesting (especially if it's a rabbit) his ears turn off. Or at least, his ability to understand your calls to "come!" turns off. But so what if he's not the most obedient dog on earth? He's gregarious, exuberant and non-stop fun!
More cool facts about the Beagle:
Besides that amazing nose, the Beagle is known for his loud and melodious bay, which he uses when on the trail — or if just plain excited.
The Beagle originated in the Middle Ages, probably descended from the Harrier breed (which basically looks like a big Beagle). Hunters wanted a smaller dog that they could follow on foot as he trailed rabbits.
Nobody knows the origin of the name Beagle for sure. It may come from the old French "be'geule," meaning "gape throat," referring to his big voice. Or it may be from Old English "begele" or Celtic "beag," meaning small.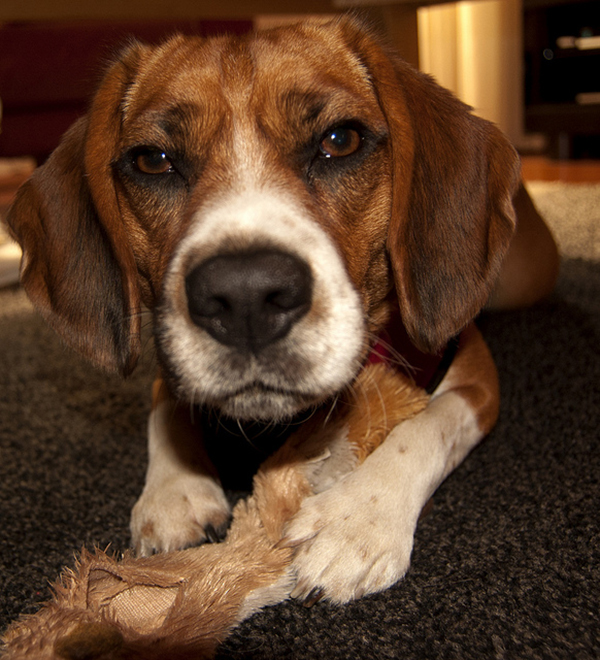 Beagles are scent hounds, which are dogs who trail their quarry by scent. They are in the AKC Hound Group.
The AKC divides the Beagle breed into two varieties: 13 inch (which is for dogs less than 13 inches tall at the withers — the highest point of shoulder) and 15 inch (which is for dogs between 13 and 15 inches). Most parts of the world recognize only one Beagle, usually from 13 to 16 inches. Beagles used to come in a "pocket size," only about nine inches tall, but that variety is no longer bred.
Beagles have one of the best noses in the dog world. They are extensively used for detectors of contraband, explosives, termites, mold, bed bugs and even cancer and cows in estrous — anything that has a scent. The Beagle Brigade is an elite group of Beagles who detect agricultural products.They average around 75,000 seizures of prohibited agricultural products a year.
A Beagle named Champion K-Run's Park Me In First (or Uno to his friends) is the only Beagle to win Best in Show at the Westminster Kennel Club dog show. He has been the most popular winner with the public of any Westminster victor in the last few decades.
The most famous Beagle of all is Snoopy of Peanuts cartoon fame. Charles Schultz, creator of Peanuts, owned a Beagle.
Presidents Lyndon Johnson and Grover Cleveland owned Beagles. President Johnson caused a public uproar when he lifted one of his Beagles (who were named Him and Her) by the ears.
Other celebrity owners include Eva Gabor, Sara Gilbert, George Hamilton, Barry Manilow, and Roger Staubach.
The name of the ship Charles Darwin sailed on when he made his observations leading to the theory of evolution was the HMS Beagle, named after the dog breed.
Beagles will eat almost anything, and not stop, so they tend to become overweight easily.
From 1953 to 1959, the Beagle was the most popular dog in America. The breed is currently the fourth most popular AKC breed, and has been among the 10 most popular breeds in America for decades. The breed is far less popular in its homeland of Britain, where it ranks at about the 30th most-popular breed.
Do you own a Beagle? Have you spent time with one? Let's hear what you think about this fascinating breed in the comments! And if you have a favorite breed you'd like us to write about, let us know that, too!
Read more breed profiles:
About the author: Caroline Coile is the author of 34 dog books, including the top-selling Barron's Encyclopedia of Dog Breeds. She has written for various publications and is currently a columnist for AKC Family Dog. She shares her home with three naughty Salukis and one Jack Russell Terrier.