In 2012, I was in triage after having my heart broken into countless pieces thanks to the end of a long-term relationship and engagement. Not only was my heart shattered, but so was my trust, as I learned of the years of lies told to me by my ex. Needless to say, it was hard to date anyone for a while after that horror show.
Along with family and friends, my dogs brought me through the anger, depression, and sadness. When the tears wouldn't stop flowing, Bella and DiDi (my furry sisters) and Toby (my furry son) were there licking them away. If I spent too long lingering in bed feeling down, the dogs would get me up.
Six months ago, I reentered the dating pool, and as I did so, I made sure my dogs were right there with me. My future boyfriend would need to like Toby and not mind his constant presence, and he would understand how precious Bella and DiDi were to me. These three dogs literally saved my life and gave me something to live for when everything was falling down around me.
I began to mingle with eligible bachelors online and in person. A few weeks into my new dating journey, I sparked with someone.
Alex and I met through an online dating site. After two weeks of great conversations, we decided to meet. In preparation for our dinner date, I nervously put on my makeup and spent 30 minutes debating what to wear. The thought of meeting a good guy who would also get on the floor and play with my dogs filled me with hope.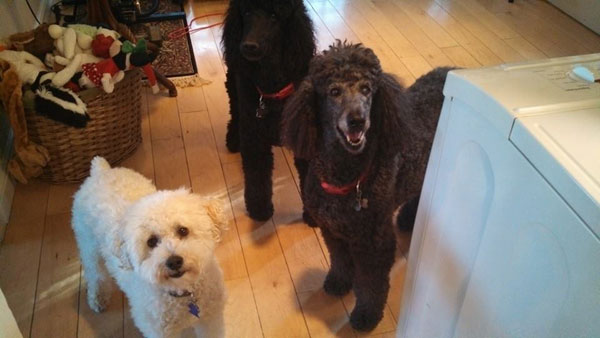 After walked through the door and greeted Alex, my stomach sank — he was furiously responding to a work email on his BlackBerry, and he continued for the next 10 minutes. He said his job required him to check in on email during the evenings. I reminded myself to be patient as he typed away. Finally he detached from the BlackBerry and complimented my outfit.
It felt nice to be back out there again, and the date was pleasant — until the end. Alex awkwardly tried to kiss me but failed to make contact with my lips. Then he just dashed off to his car like he found out I was carrying the plague. No laughing off the embarrassment or walking me to my car (which happened to be on the opposite side of a large and dark parking lot).
As I drove home, I thought, "What if Toby made a huge stink while doing his business? Would this guy run away as well?"
After a few more weeks of dating, Alex revealed what he really wanted. Unfortunately, it didn't involve getting to know me better or playing fetch in the yard with my dogs.
Sometimes single men are like dogs — they just want to chase tails.
A few weeks later, I regrouped and locked eyes with a man named Justin at a singles event. We talked, but unfortunately I needed to leave in order to let Toby out. Justin seemed to understand my dog-parent predicament, and we agreed to meet up again at another event or via Facebook. The initial connection was smoldering. I was eager to see him. Weeks went by, and finally, I received a Facebook friend request from him. I happily accepted — only to learn that he was in a committed relationship. I wondered if Toby was the only man in my life I could trust.
Dogs are wonderful judges of character. The one time Toby was around my ex he cried, growled, and stood behind me. Also, there had been numerous times where Bella and DiDi barked their heads off at disloyal family members and acquaintances who turned out to be trouble. I made a decision to check extra carefully into the character of my next date, via Bella, DiDi, and Toby.
Next came Jack, a paramedic and firefighter with two rescue dogs he adored. Jack was everything I had hoped to find in a date and boyfriend. He was straightforward, kind, funny, career-driven, and a doting dog dad. I was excited for our date. Probably too excited — I envisioned all our dogs playing in the yard together as Jack held me in his arms.
In real life, Jack came across as energetic and personable, but about 20 minutes into our first date, he decided to tell me how much he liked having sex. I wrote it off as a nervous comment. Then he started to talk, in detail, about how his sex life with his ex became awful. It took a lot of willpower to swallow my dinner and hold onto the idyllic picture of Jack, our dogs, and me frolicking in the yard.
I left the date feeling confused and uncertain, but the next day, Jack outdid himself: He regaled me with a story about him being intimate with a date while one of his dogs went to the bathroom in the hallway. What? Sometimes the "best in show" is just a turd in life.
I am still looking for the right guy, and I am confident that when he comes along, I will know it — and Bella, DiDi, and Toby will know it, too. Their tails will be wagging.
Read more about rescue on Dogster:
About the author: Margot Ahlquist is a dog mom, professional life coach, and creator of Paws to Talk, where the motto is "Life Support For Dog Lovers." She lives near Boston with her dogs Bella, DiDi, and Toby. Margot recently released a product kit, Paws By Your Side, which helps dog lovers cope with the loss of their dogs.